Stippled with the world's largest share of freshwater lakes and flanked by the Pacific and Atlantic Oceans, the Great White North has more fly fishing holes than an angler has time. But don't let that stop you: we've rounded up five salmon and trout hotspots across the country – based on experience level – plus a bucket-list destination even the most seasoned fisher will appreciate.
Before you venture out into Mother Nature, however, it's essential that we remember to leave no trace and to treat the fish with dignity, so be sure to check out our tips on fish-handling at the end. Our country's salmon population has hit a record low, and it's up to us to preserve these slippery critters for generations to come.
Whether you're looking to try your hand at this time-honoured sport or treat dad to a Father's Day fishing trip (the holiday is just around the corner!), our lineup of locations is the perfect jumping-off point.
Beginner: Prince Edward Island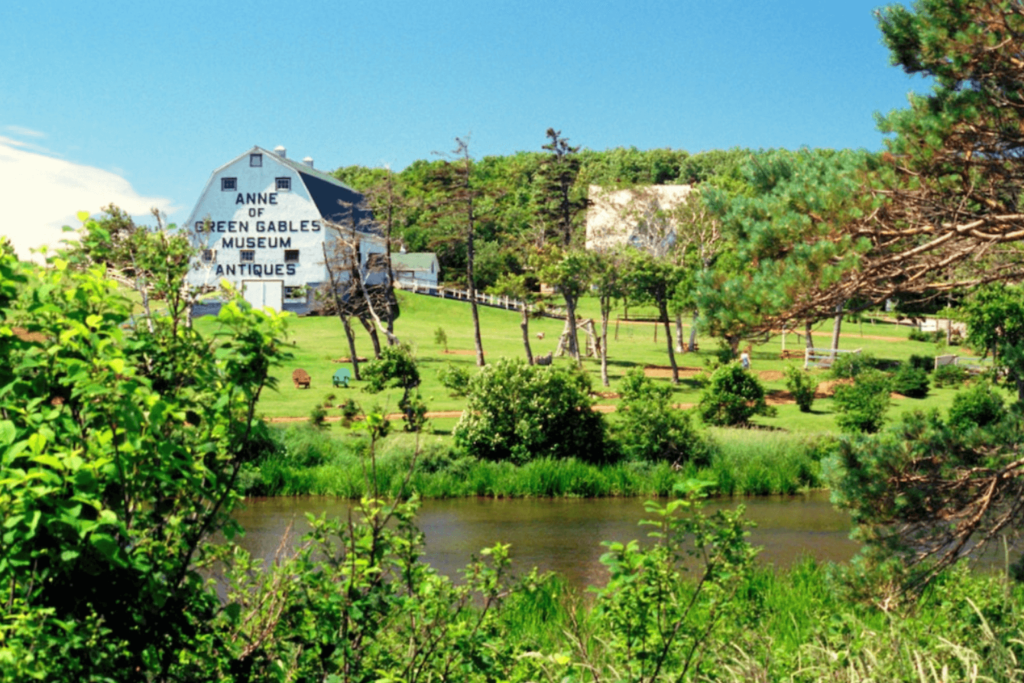 Brook trout fishing season runs from April 15 to September 30.
The country's smallest (and only) island province, where windswept cliffs rise from rust-red shores, may be known as the "tuna capital of the world," but what's kept closer to its chest is its wealth of brook trout.
Within its dozens of excellent streams, these brilliantly coloured, and incredibly skittish, fish are often found lazing about near banks, docks, any sheltered place – as is common among trout – and are outsmarted with gently laid lures.
Avid anglers in PEI continuously cite a couple of rivers that are rife with brookies: Morell River and West River. And while both spin and fly fishing work equally well in these waterways, outfitter and guide PEI Fly King has crowned its preferred method, and invites fishers of all experience levels to take a crack at the artful pursuit. You won't feel like a fish out of water with this certified fishing guide at your side.
Other species you're likely to find: Atlantic salmon, rainbow trout, striped bass
Get your fishing license here.
License-free fishing dates for residents: May 20 to 23 (Family Fishing weekend).
Beginner: Lake Superior, Ontario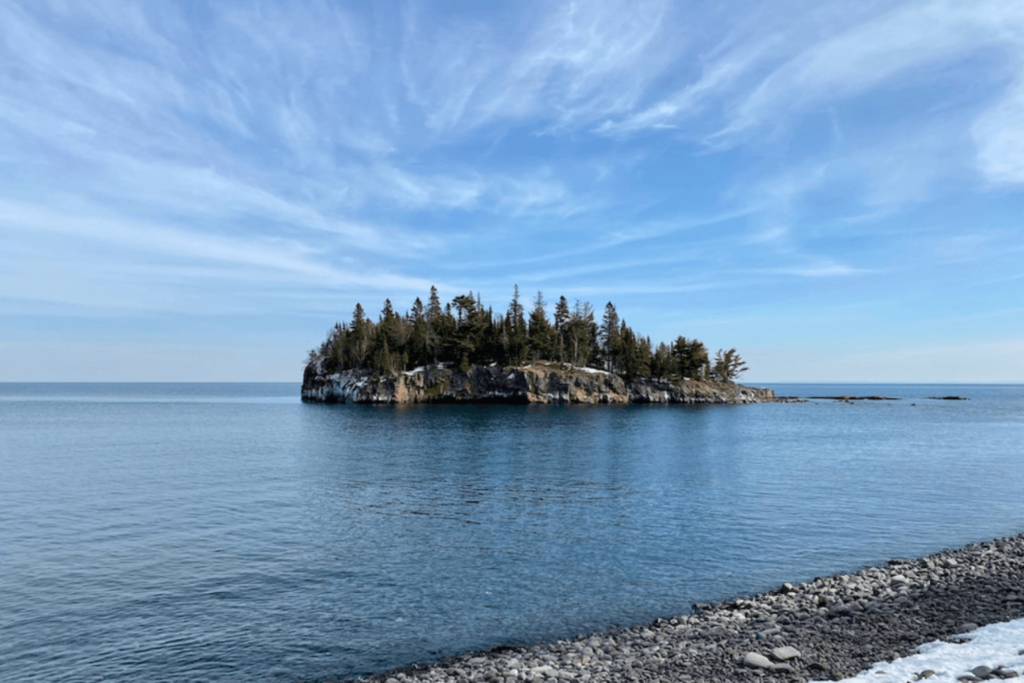 Lake trout season runs from January 1 to September 30; salmon season runs year-round.
Wilder and more remote than the other four Great Lakes, Lake Superior, or "gichigami" to the Indigenous Ojibwe people that've been fishing this inland sea for centuries, offers superlative tranquillity and the promise of reeling in lake trout and coho and Chinook salmon.
Its clear, emerald waters average eight metres of visibility, and, with the surrounding boreal forest acting as insulation, the lake is free from noise pollution.
Though you could fish this vast expanse of water from the shore, your best bet is to charter a boat and enlist the expertise of a local fly fishing guide. Presenting both standalone experiences and packages with lodging, North Superior Charters takes groups around secluded Moss Island (one of Superior's hundreds of islands) on a 16ft deep draft aluminum boat to troll for sea life.
Other species you're likely to find: Smallmouth bass, brook trout, walleye, northern pike, whitefish, and perch
Get your fishing license here.
License-free fishing dates for residents: June 18 to 19 (Father's Day weekend) and July 2 to 10 (Family Fishing week).
Intermediate: Gaspé Peninsula, Quebec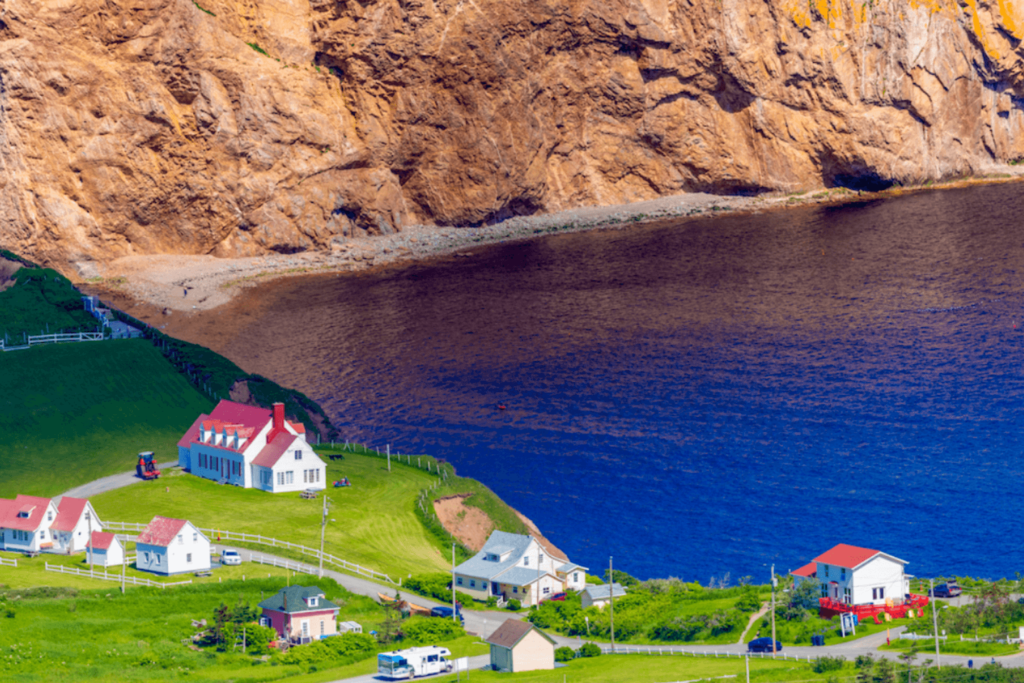 Salmon season runs from May 25 to September 30.
Trickling down from the Chic-Choc Mountains over beds of stones, the dozens of Atlantic salmon-rich rivers found in Eastern Quebec's Gaspé Peninsula are as clear as can be, with turquoise hues that twinkle under the sunlight.
It doesn't take a keen eye to spot the massive silver swimmers here; in fact, because of the terrific fishing odds, the area uses a lottery system to prevent overuse. But don't be deterred, a percentage of reservations are held back for registrations made 48 hours in advance.
The three primary waterways that beckon anglers from far and wide are Dartmouth, Saint-Jean, and York Rivers, with Saint-Jean the choice stream of advanced rod benders. And it's fly fishing that's most common – though spin-style also fits the bill.
For an all-inclusive fly fishing package that includes a stay in a comfortable, rustic cabin, consider the St-Jean Lodge, nestled against the namesake river. In the morning, you'll work up a sweat fly fishing; and come afternoon, you can continue exploring the great outdoors or settle down in the lodge for some gracious hospitality (its chef will whip up meals tailored to your preferences).
Get your fishing license here.
License-free fishing dates for residents: June 3 to 5.
Advanced: Fraser Valley, British Columbia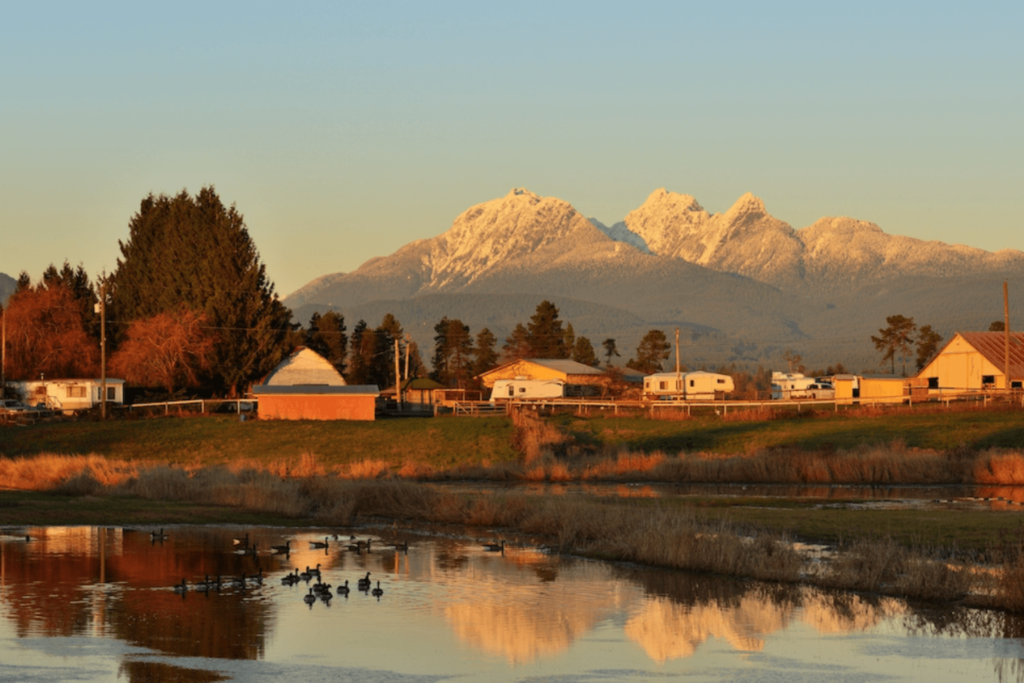 Salmon seasons runs from July 1 to December 31.
Home to the Fraser River, British Columbia's largest river system, Fraser Valley is a recognized agricultural wonderland, supplying a profusion of produce to the province, and a salmon-fisher's paradise. The fecund valley boasts all five species of Pacific salmon – coho, Chinook, chum, pink, and sockeye – as well as close proximity to Vancouver, at about a two-hour drive.
There's truly not a bad place to drop a line in this neck of the woods.
Even if you're unlucky, the age-old proverb "a bad day fishing is better than a good day at work" holds true, with the soul-stirring backdrop keeping spirits as high as the nearby mountaintops. Though, if you're looking to reel in some trophy-worthy catches, Vedder and Harrison Rivers (both tributaries of Fraser River) will certainly improve your chances.
To take advantage of this salmon hotspot, we recommend the well-appointed Fraser River Lodge, which offers guided day-trip excursions, customizable packages, and the option of resting in one of its eight wood-clad rooms. Its team of professional guides will lead you to their favourite fly fishing holes on a fully covered boat, followed by a barbecue lunch on the shore. If you're a Bear Grylls-type, be sure to book a heli-fishing excursion.
Other species you're likely to find: Steelhead; Dolly Varden, bull, and cutthroat trout; white sturgeon
Get your fishing license here.
License-free fishing dates for residents: June 17 to 19 (Family Fishing weekend).
Bucket-list Location: Haida Gwaii, British Columbia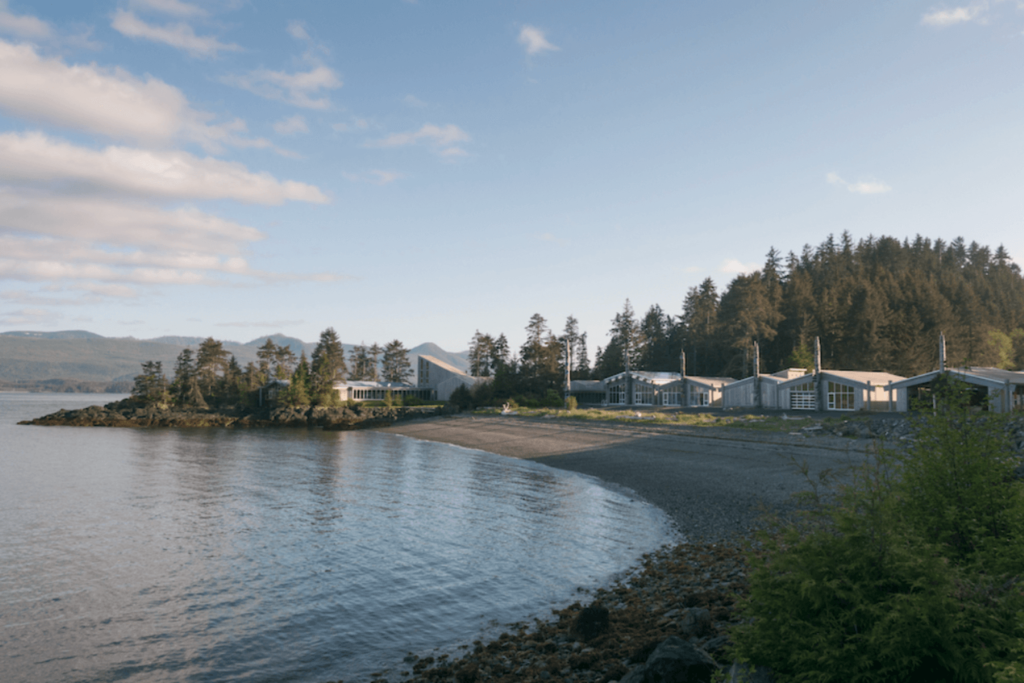 Salmon season runs from May to September.
This north-lying archipelago, which sits 80km off BC's coast, is oft-considered the "Galápagos of the North," and for good reason: its remarkable biodiversity boasts unique subspecies not found anywhere else in the world, including the mighty Haida Gwaii black bear. Unlike the Galápagos, however, the fly fishing possibilities at Haida Gwaii are abundant, especially when it comes to salmon.
Located amid the Pacific salmon's migratory path, which leads them from their arctic feeding grounds to their spawning grounds along the pacific coast, Haida Gwaii is primed for triumphant fishing endeavours. The Chinook caught in this lesser-known corner of the globe can reach exceptional sizes (the biggest yet was 38kg); although 9 to 13kg salmon are more likely to bite down on your bait.
If an expedition to the ancestral homeland of the Haida People rouses the adventurer within, a stay at Langara Island Lodge will exceed your fly fishing lodge expectations.
Tucked within a moss-draped temperate rainforest, this immersive retreat covers all the bases, providing guests with their own private boat and guide at your disposal. The lodge will even secure your fishing license. And all that salmon you catch? Well, it's vacuum-sealed, neatly packed in an insulated parcel, and sent back on the plane with you.
Other species you're likely to find: Halibut, lingcod, snapper, steelhead, rockfish
License-free fishing dates for residents: June 17 to 19 (Family Fishing weekend).
The unwritten rules of fish-handling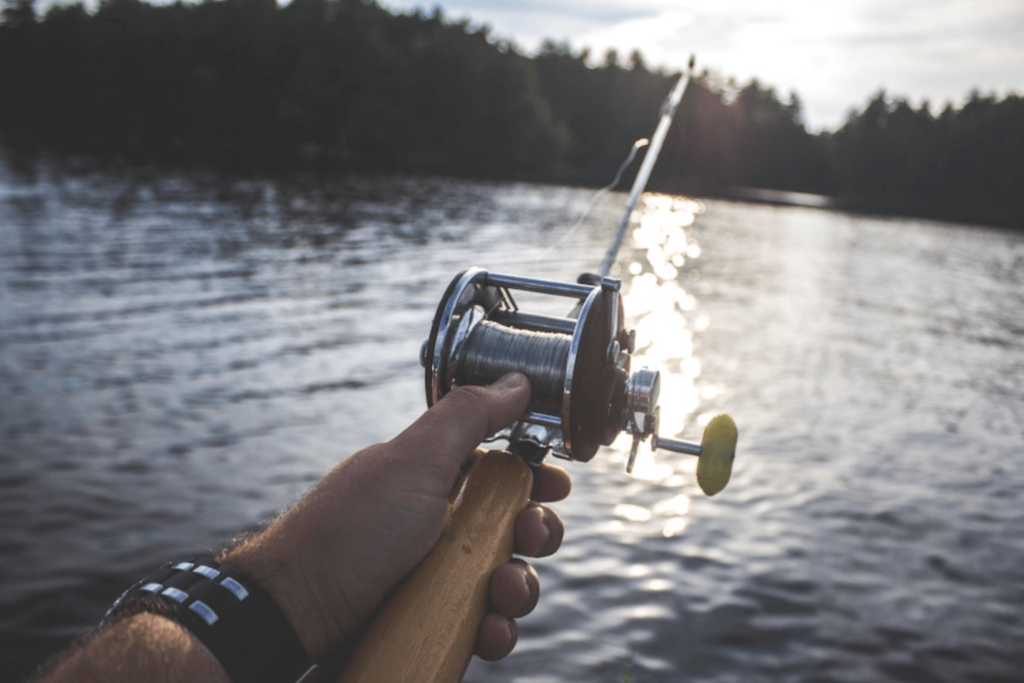 Most recreational fishing is catch-and-release, unless otherwise specified in each province's regulations. If you plan on heading out on the water without a guide, keep these tips in mind. And remember: the goal is to handle the fish as little as possible.
• When in doubt, use barbless hooks for easy extraction and to prevent undue stress and injury to the fish.

• Once you land a fish on your line, bring it back to the boat (or wherever you're fishing from) as soon as possible, and always use a rubber net for larger fish – traditional nylon nets strip the fish's scales.

• Wet your hands or wear puncture-proof gloves before handling the fish. This helps emulate and preserve the slimy texture of their bodies, which is especially important for trout who are enveloped in a protective, jelly-like film.

• When releasing, hold the fish horizontally in the water to allow it to swim off on its own – do not throw the fish back in the water.

It's time to set your out of office to "gone fishing." For more "out of office" inspiration, read our post about some of California's best national parks.