Charlie Hibbert has been at the culinary helm of Thyme, a restored Cotswold manor and farm in Southrop, since 2018, when the property's Ox Barn restaurant opened its doors. Dishes are modern and seasonal British fare – but what really elevates this innovative chef's cooking is a deep-rooted connection to the land and farm.
Hibbert kindly shared with us one of his favorite main dish recipes: bavette, beetroot, horseradish, and radicchio. Bavette is a cut of beef that's often overlooked, but it's packed with flavour and makes a regular appearance on Hibbert's menus.
This recipe is featured in COOK, our members-only fine-dining cookbook, filled with recipes from Michelin-starred and award-winning chefs and mixologists.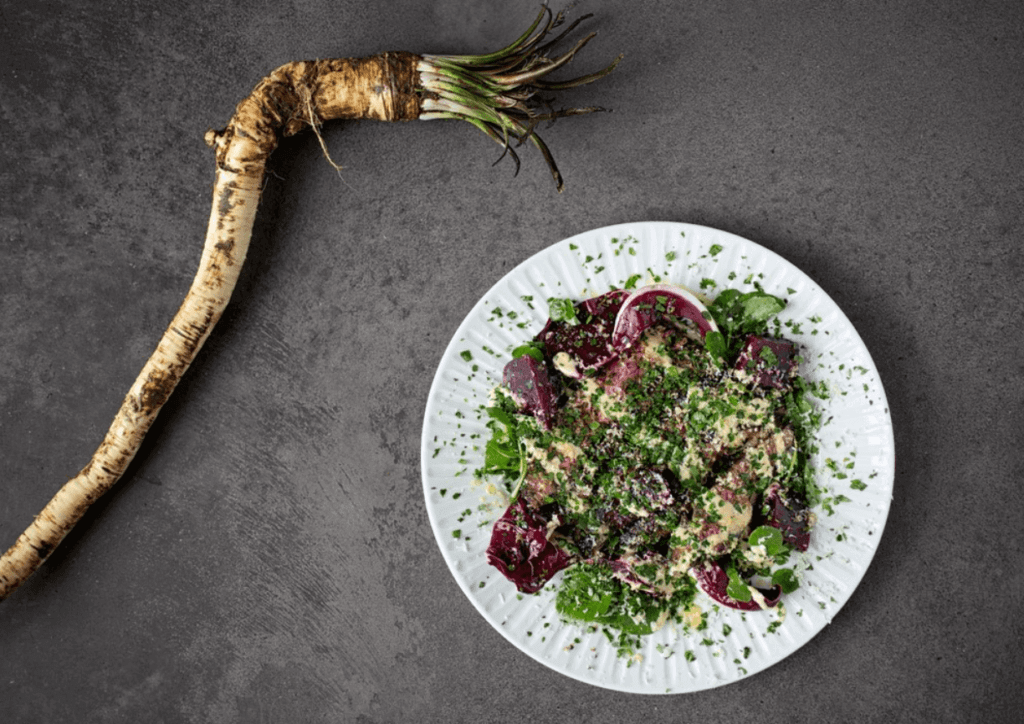 Charlie Hibbert's bavette, beetroot, horseradish, and radicchio recipe
Serves: 4
Prep time: 15 minutes
Cook time: 45 minutes
Skill level: Medium
Ingredients
1kg bavette steak
Olive oil
Sea-salt flakes and black pepper
For the vegetables
5 small red beetroot
Salt, to season
2 white onions
1 stick horseradish
2 large bunches watercress, washed
1 head radicchio,
cut from the stem and washed
Olive oil, to dress
Red-wine vinegar, to dress
1 bunch parsley, chopped
For the mustard dressing
2 tbsp caster sugar
1 tbsp apple-cider vinegar
4 tbsp Dijon mustard
200ml double cream
Instructions
Preheat the oven to 200C. Remove the bavette from the fridge and allow to reach room temperature. Place the beetroot in a pot and cover with water. Add a couple of big pinches of salt to the pot, and place it on the stove over a high heat to come to a boil. Cook for 30 minutes. Drain and set aside until you're ready to peel the beetroot.
Meanwhile, cut the onions in half (skin intact) and place them on a roasting tray. Roast in the oven for 20 minutes until soft. Set aside.
While the beetroot and onions are cooking, make the dressing. Place the sugar and vinegar in a bowl, add the mustard, and whisk to combine. To finish, add the cream and season with a pinch of salt. Chill in the fridge until ready to use.
Oil the bavette then season with a generous amount of sea salt and black pepper – a hot peppery crust is required. Place a frying pan over medium to high heat and allow the pan to get smoking hot. Sear the steak for six to seven minutes, without turning it. When a lovely brown crust has formed, flip the steak and cook on the other side for a further six to seven minutes. Cooking time varies depending on the thickness of the bavette, so be prepared to judge when it's done. With this particular cut, the secret lies in the resting. Leave the bavette in a warm place and allow it to rest for 10-15 minutes before slicing.
Peel the beetroot and chop into large chunks; peel away the skin from the roasted onions. Peel away the outer layer of the horseradish and grate the vegetable.
Now it's time to assemble the dish. Scatter watercress and radicchio leaves on a large serving plate, and lightly dress with olive oil and a splash of red-wine vinegar. Next, scatter over some of the beetroot and a few petals of onion. Slice the bavette across the grain and place three to five slices over the leaves. Pour over the mustard dressing, a good grating of horseradish, a scattering of parsley, a final flourish of olive oil and some salt and pepper.
Looking for something sweeter and simpler? Check out our recipe for Vegan Chocolate & Hazelnut Overnight Oats.