Art Basel is the oldest and most important contemporary art fair in the world, which sees 300 leading galleries descend on the small city for four days of exhibitions, talks, networking, and parties. It attracts collectors looking to snap up pieces by emerging wave makers, as well as art lovers who simply want to put their finger on the pulse of what's hot in the art world right now.
Most of the exhibitions take place in large gallery spaces, but curator Samuel Leuenberger oversees Parcours, a city-wide project that brings artwork to the streets and public spaces for the public to consider and interact with. Since it launched in 2009, it's become a major highlight of the fair and we caught up with Leuenberger to discover what it takes to bring his vision to reality. Read on to learn more about Leuenberger and his latest curatorial feat at Art Basel.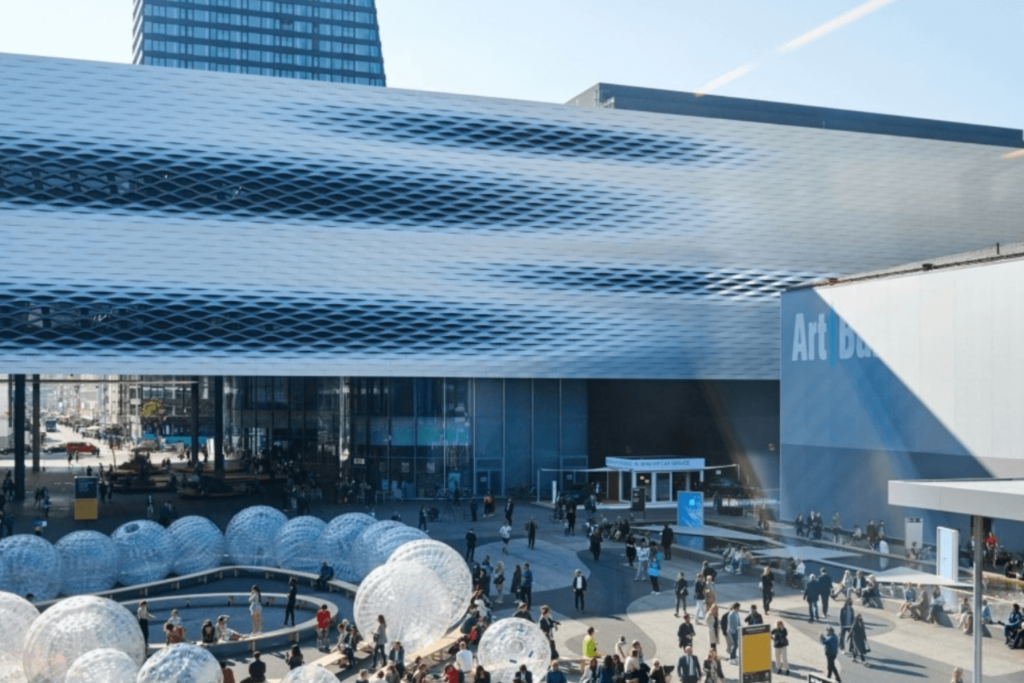 How long have you been involved in the art world?
From galleries to auction houses, I've been working in the art world in different capacities for almost 25 years. I worked in the Kunsthalle Zurich, before starting my own not-for-profit exhibition space called SALTS which enables young and emerging artists to create powerful new work. Today, I spend my time balancing this with other independent projects, Art Basel, and private consultations.
How did you first get involved in curating Art Basel?
I was very lucky that Art Basel was interested in what I was doing at my exhibition space and the artists I chose to work with. They approached me to see if I was interested in applying for the position to strengthen the visibility of the Parcours project.
What makes Art Basel so special?
It's truly one of a kind. It provides superb quality of art, combined with a networking experience that no other fair can match. I find that fairs in cities such as London, New York, or Los Angeles lose many of their visitors to the sheer vastness of the metropolitan glamour. I love the fact that Basel is small and containable.
For first-time visitors to Art Basel, what can they expect from the event?
If you are new to the collecting game, you may be overwhelmed at first, so I'd recommend you attend in good company. You can expect to encounter the best works from the best galleries across the globe. I always say that if you don't like Art Basel, you might as well get out of the art world and change your passion or buying interests, because I don't think it gets much better than this.
How important is it that Parcours focuses on site-specific work, as opposed to more 'conventional art' in gallery spaces?
Parcours is a project that takes place outside the fair walls in Basel's beautiful Old Town. There are 20 projects infused into the web of the city, meaning the public can witness and interact with art in real-life environments, not simply in all-white galleries. I think it's a very important platform to show what art can do outside the realms of museums and galleries.
How do you decide which artists to include in Parcours?
Conceiving Parcours always begins with a walk through Basel's historical
centre. Though it's something I do often, this is a different kind of walk. I set off thinking about what it means to embed an artwork in the beating heart of Basel, moving slowly to track the changes in the urban fabric, as if conducting an annual survey.
When it comes to choosing the artists, my only limitation is that I can only invite artists that are represented by galleries that take part in the main fair… so this reduces my choice to about 300 galleries representing 10,000 artists! It's a daunting task, but as you can imagine, I have a long wish list of artists that I admire and would love to work with, so I start with them and build a group around that selection.
Is there a framework or theme running through this year's edition at Parcours?
Believe it or not, I am still working on this year's edition and the theme is only just starting to emerge. Identity plays a big role in it – I'm interested in what artists represent, their presence in society, and the characters they shed light on.
Who are the up-and-coming Swiss artists on your radar right now, and what makes them stand out?
There are so many to mention, but right now I love the work of Pedro Wirz at Kunsthalle Basel. He's rocking the art scene with his out-of-this-world hand-crafted objects, textiles, and earth pieces.
Do you have much time during Art Basel to explore other galleries and events? If so, what aspects excite you most?
Sadly, I have little time to explore during the week itself, but I always make sure I stroll through the Unlimited area, discover new galleries and artists at Liste Art Fair, and join the late-night mid-week parties to celebrate.
Do you have any insider tips on spending time in Basel during the event?
I like to eat dim sum at Peng Dumplings in the fun Gundeli neighbourhood, or spend evenings at one of the many bars in the industrial harbour. Most of all, I encourage everyone to attend the largest garden party of the week at SALTS in Birsfelden, which takes place on the Thursday evening.
Aside from Art Basel, what are the other global art events that you look forward to most each year?
This year we're blessed with another edition of the famous Venice biennale, as well as documenta in Kassel, Germany, and later in the year the Lyon biennale.
Looking to explore more of Switzerland during your Art Basel holiday? Read our post about Schloss Schauenstein, a restaurant set in an old Swiss castle in the charming city of Fürstenau.