Gone are the days when vegan eating was just a new year's resolution – these days, healthy plant-based cuisine is no longer a fad but a lifestyle choice for many. Luckily, London's restaurant scene has really upped its game in recent years and is now home to some of the most reputable, trailblazing plant-based restaurants and chefs, with an incredible offering of culturally diverse, culinarily advanced, and environmentally conscientious dining options – ranging from cafes and casual eateries to Michelin-starred gourmet temples.
Our specialists in our Fitzrovia office know London's food scene inside out and have rounded up the capital's best fully vegan restaurants, as well as others offering impressive plant-based menus and dishes – don't hesitate to contact us for reservations.
Fully vegan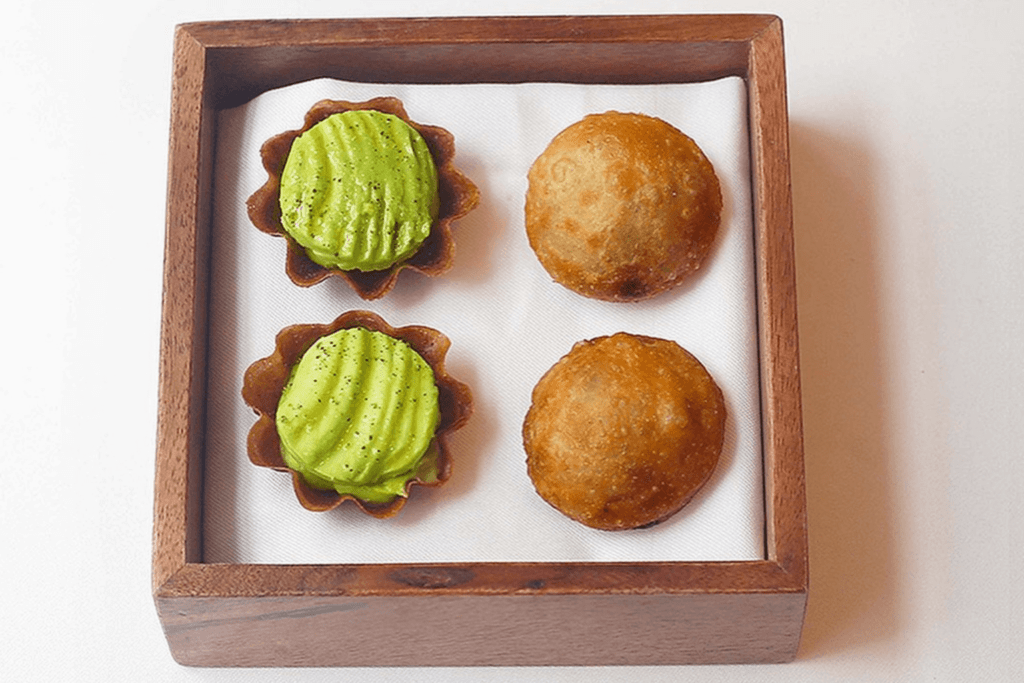 Gauthier Soho
21 Romilly Street, London W1D 5AF
Alexis Gauthier has made history twice – in 2015 as the first chef in the UK to offer a vegan tasting menu, and again in June 2021, when his gourmet temple in Soho became the first Michelin-starred restaurant to offer an entirely vegan dining experience. Following both a health and ethical epiphany, Gauthier himself turned vegan in 2016 – a bold move for a highly successful French chef. Moving away from traditionally rich, meat-heavy French cuisine, Gauthier Soho offers a seven-course vegan tasting menu, featuring dishes such as his legendary 'faux gras', made from lentils, walnuts and soy sauce.
123V
Fenwick, 63 New Bond Street, London W1S 1RQ
From vegan Michelin-starred cuisine to plant-based fast food, Alexis Gauthier's restaurant replicates a casual LA-style eatery (within the elegant confines of department store Fenwick, that is). Bringing together influences from around the world, the menu is filled with guilty pleasures, with the California cheeseburger and sushi already garnering a cult following. Both look and taste uncannily like the real thing, thanks to Beyond Meat patties thrown together with other perfectly balanced burger ingredients, and a mix of pea and soy proteins standing in for tuna and salmon.
Plates
93 Kingsland Road, London E2 8AG
The creation of brother-sister duo Keeley and Kirk, children of award-winning chef Nigel Haworth, this vegan eatery is a favourite haunt among Shoreditch locals and curious wayfarers alike. Tucked away discreetly in an alley off the main drag, the soft lighting and spare decor in Plates' interior contribute to its undeniably cool ambiance. It offers a tri-weekly-altered tasting menu with innovative dishes such as bread rolls with carrot and liquorice purée. The genius doesn't stop there – the siblings also run a food studio and cookery school for budding plant-based chefs and home cooks.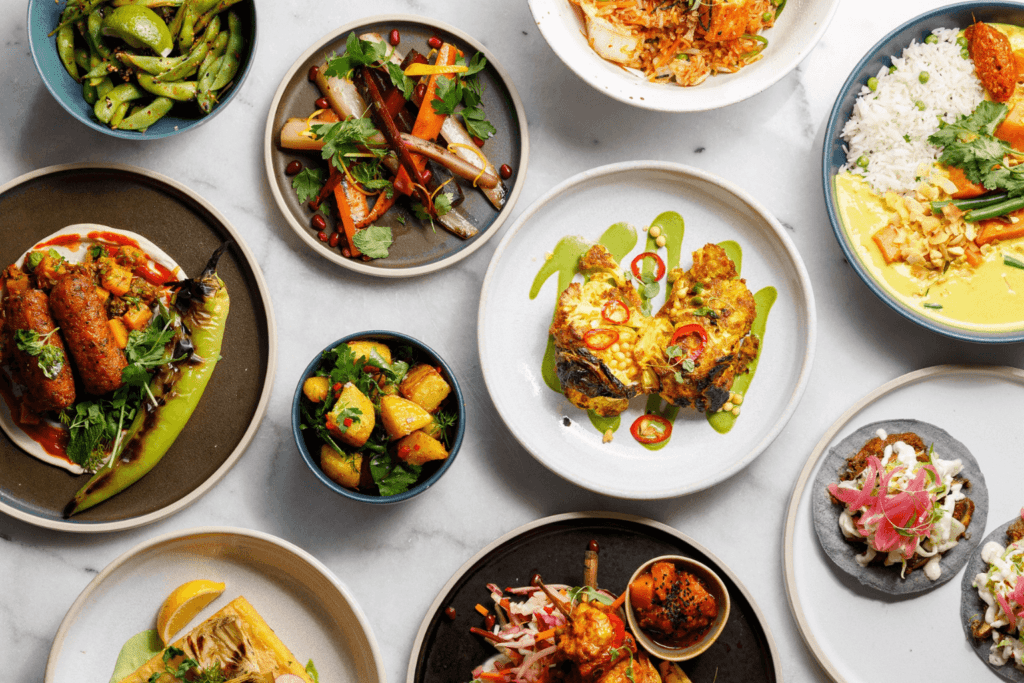 Mildreds
Various locations
A 30-year-old-and-counting stalwart, Mildreds Soho is set in what was originally a seedy 18th-century town house club. Its unconventional past somehow continues to find its way into its creative present – one in which it breaks the rules and leads the way in a new approach to food that puts vegetables on a pedestal. Proclaimed 'the best vegetarian and vegan food in Soho', diners can enjoy dishes as edgy as Bhatti Ka Chik'n Kebabs and as refined as a classic Ruben. Today you can also get your Mildreds fix at several other branches in Camden, King's Cross, Dalston, Covent Garden, and at Borough Market.
Holy Carrot
2-4 Hans Crescent, London SW1X 0LH
Located within the hallowed wellness walls of Urban Retreat in Knightsbridge, restaurateur Irina Linovich's restaurant is all about plant-based food that not only tastes good but also makes you feel great. Using ethically sourced, seasonal produce, the menu is a gluten-, sugar-, preservative- and additive-free affair. If that sounds a bit intense, fear not. Dishes such as kohlrabi tartar, crispy quinoa maki, and beetroot protein pasta with creamy edamame sauce and tempeh 'bacon' crumbs make for highly satisfying post-spa-treatment fuel.
Plants by de
18 Weighhouse Street, London W1K 5LU
Opened last summer, Plants by de is the latest conquest of ever-innovative plant-based icon Ella Mills, aka Deliciously Ella. Together with husband Matthew Mills, the bestselling cookbook author launched the all-vegan restaurant just off Oxford Street in a quiet Mayfair neighbourhood. Serving dishes inspired by the brand's cookbooks and app recipes, Plants offers a breakfast menu complete with coconut yoghurt topped with Deliciously Ella granola as well as lunch and dinner menus featuring favourites such as spaghetti with chestnut and red wine ragù, and cashew and miso mac and cheese.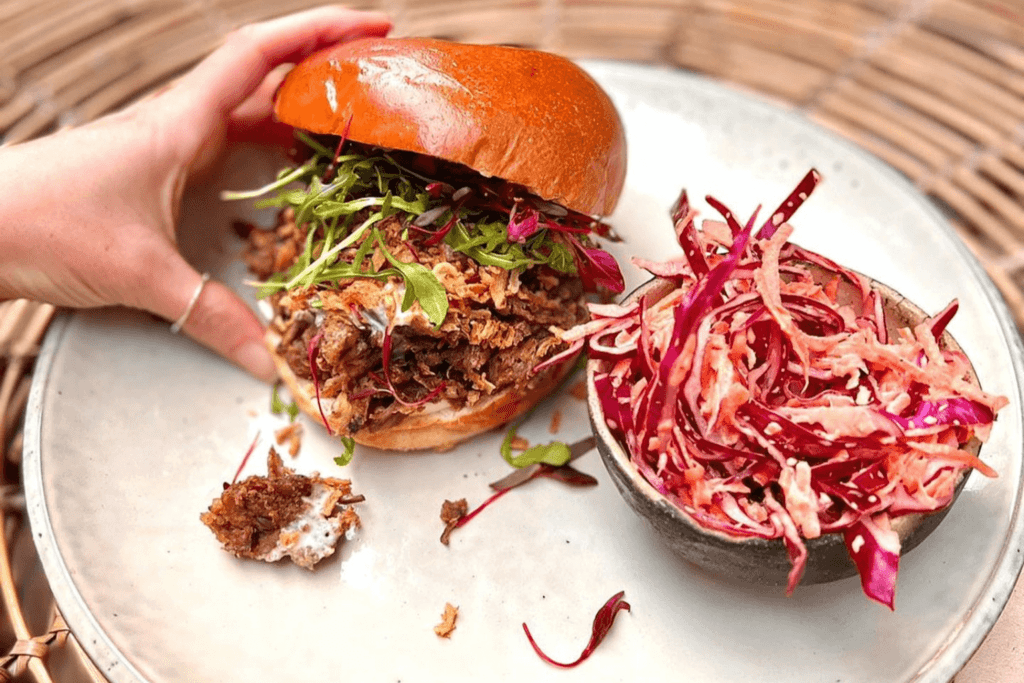 WAVE
11 Dispensary Lane, London E8 1FT
The brainchild of the creators of Cupcakes and Shhht, WAVE (an acronym for we are vegan everything, in case you were wondering) has established a firm vegan fan base among Hackney locals. In a relaxed California-meets-Bali interior, guests enjoy a menu with a wide range of moreish comfort food, including berry pancakes, gut-loving bowls, the 'save the salmon' bagel, and WAVE's famous mac and cheese – available on Mondays only. On your way out, you might be tempted to pick up a little something from the new homeware and lifestyle range, featuring hand-picked ethical brands.
Stem & Glory
60 Bartholomew Close, Barbican, London EC1A 7BF
Customers can eat well while doing good when dining at London establishment Stem & Glory. With social initiatives such as its meal for meal project, in which the restaurant donates a meal to someone in need for every meal purchased, and environmental enterprises such as Offset, in which diners can opt to offset the carbon emissions incurred by producing their meal, this restaurant exemplifies the myriad opportunities to make dining more than just an eating experience – it can be a positive-impact-making experience, too.
Vegan-friendly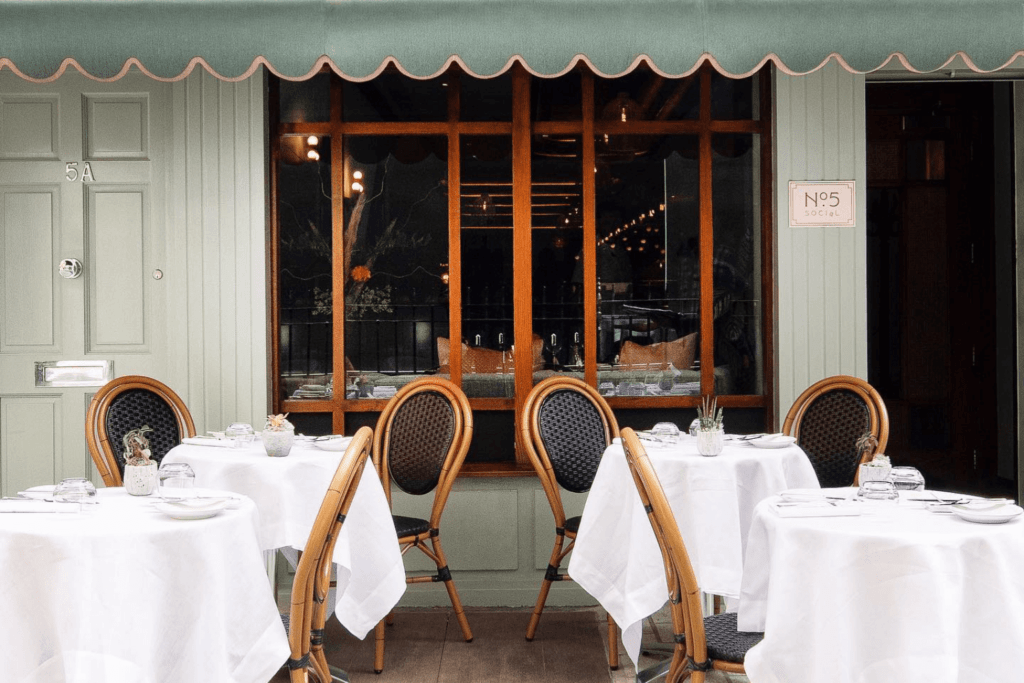 Pollen Street Social
8-10 Pollen Street, London W1S 1NQ
Boasting culinary accolades including a Michelin star and five AA Rosettes, Pollen Street Social is a must-visit London restaurant for vegans and non-vegans alike. Under the influence of renowned chef Jason Atherton, it offers a fully plant-based tasting menu in addition to its other fine-dining options, presenting vegan-friendly cuisine that is just as exceptional as its standard fare. From salt baked Crapaudine beetroot and Lincolnshire celeriac to artichoke barigoule, Atherton allows the vegetable to be the hero.
Pied à Terre
34 Charlotte Street, London W1T 2NH
An icon on the London food scene, Pied à Terre is the oldest independent Michelin-starred restaurant in London and the UK. This French bistro continues to make history and break ground, most recently under the guidance of Greek-born chef Asimakis Chaniotis, who wows diners with one of the best vegan tasting menus in London. Offering a classic French dining experience that also pays homage to the chef's Greek heritage, guests can enjoy dishes as unique as Delica pumpkin with bergamot and shiitake and kombu tea, and as classic as barbeque 'rib' with celeriac rose and hazelnut.
Rovi
59 Wells Street, London W1A 3AE
Plant-based menus might be par for the course for Yotam Ottolenghi, but the emphasis on live-fire cooking and fermentation at this Fitzrovia restaurant marks a new direction for the Israeli-English chef. And while (sustainably sourced) fish and meat do make an appearance on the menu, it's the humble vegetable that's the undoubted star of the show – in dazzling dishes such as chewy grilled carrots with hawaij-spiced greens and lentils, honey pickled kumquats, crispy garlic and oil.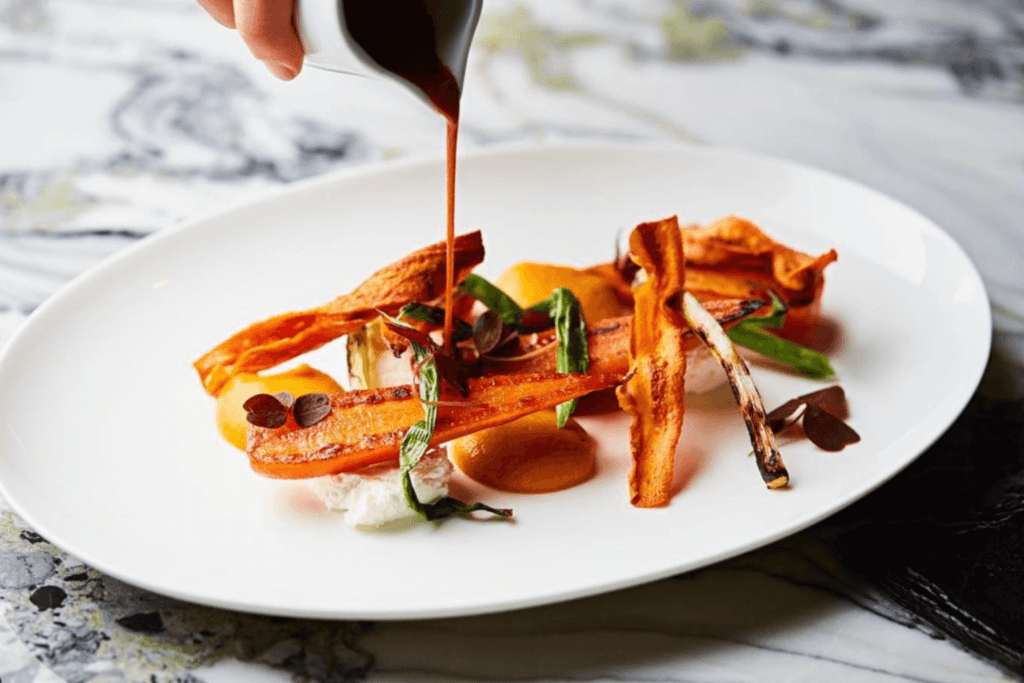 Fallow
2 St. James's Market, St. James's, London SW1Y 4RP
Condé Nast Traveller's best restaurant in London 2020, Fallow found a permanent home in St. James's this year following a prolonged residency at 10 Heddon Street where it amassed a loyal following among many of our members. Founders Will Murray and Jack Croft met over the stoves at Dinner by Heston Blumenthal before setting out on their own to create an inventive take on British cuisine that concentrates on well-sourced produce and an in-house butchery to reduce waste – and they even grow mushrooms in the restaurant itself.
Native at Browns
39 Brook Street, London W1K 4JE
A paragon of sustainable cooking, Native focuses on using foraged, zero waste ingredients to take advantage of the best nature has to offer while also maximising its potential. Spearheaded by head chef Ivan Tisdall-Downes and director Imogen Davis, the restaurant continually sets a high bar when it comes to utilising seasonal produce and approaching every culinary creation with a focus on ethics and environment. Located within cult fashion store Browns, the dining experience is aesthetically inspiring and delicious, with dishes such as Forge Farm pumpkin velouté and celeriac 'cacio e pepe'.
The Gate
Various locations
Michael and Adrian Daniel have been pioneering plant-based eating since 1989, when they opened what was to become one of London's most notable vegetarian dining experiences. Stemming from an Indo-Iraqi heritage, the brothers recreate the diverse Arabic, Indian and Jewish flavours of their childhood, with a carefully curated menu that will appeal to both vegetarians and vegans. Try healthy, beautifully plated dishes such as three types of mushrooms served on a risotto cake with a creamy cep sauce at their flagship Hammersmith restaurant, or the newer outlets in Marylebone, St John's Wood, and Islington (reopens late spring 2022).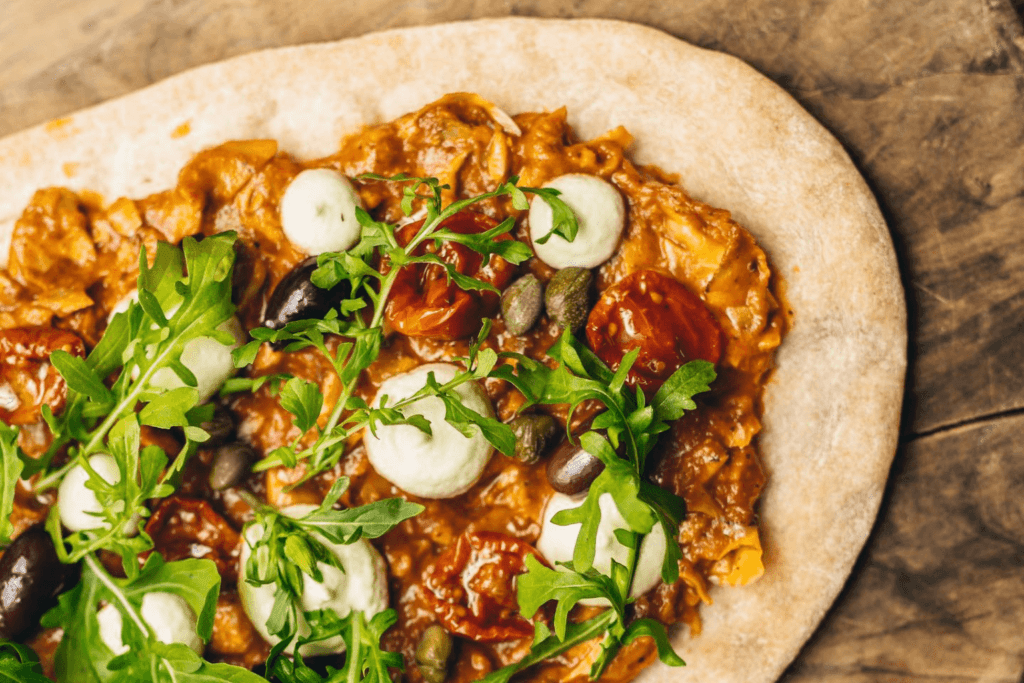 Farmacy
74-76 Westbourne Grove, London W2 5SH
Contrary to what the name suggests, Camilla Fayed's Notting Hill venture does not dispense medicine, though you can start your visit with a 'farmaceutical' shot or CBD special. Farmacy is part of the heiress's 'conscious eating revolution', with a menu that is full of organic vegetables fresh from her biodynamic farm in Kent. The extensive, almost entirely vegan offering (bar an egg or two, if you so wish) also includes brunch and high tea menus, as well as a wide range of drinks featuring everything from cold-pressed juices and 'farmaceutical' teas to biodynamic wines and refined-sugar-free cocktails.
Linnaean
Embassy Gardens, 2 New Union Square, Nine Elms, London SW11 7AX
A one-stop shop for all your well-being needs, Linnaean – located in the sleek Nine Elms redevelopment – encompasses a hair and nail salon, medi-spa and vegan café. Martin Brudnizki (of Annabel's fame) has created a flower-filled, pastel-hued space in which to enjoy a macrobiotic menu that is sustainable, seasonal, zero-waste, and almost entirely plant-based. Colourful, flavoursome creations, such as the signature matcha pancakes with fresh fruit or homemade granola and matcha yoghurt, hit the spot – with our members also rating the vegan bottomless brunch and afternoon tea.
Chakra
33C Holland Street, London W8 4LX
Vegan Indian food lovers, rejoice. Led by a team of chefs trained at India's most luxurious hotels, Chakra offers extensive plant-based alternatives in addition to its classic Indian staples – think Pindi Channa, a chickpea dish infused with carom seeds, and Baingan ka Bhartha, an eggplant-based main. Central to the restaurant's dining philosophy is its interior design, which evokes a sense of well-being through 'bringing the outdoors in'. Lush with plants, woven seating, and beautifully tiled floors, it's an ideal destination for those seeking a restaurant experience that's as much about the food as it is about the ambience.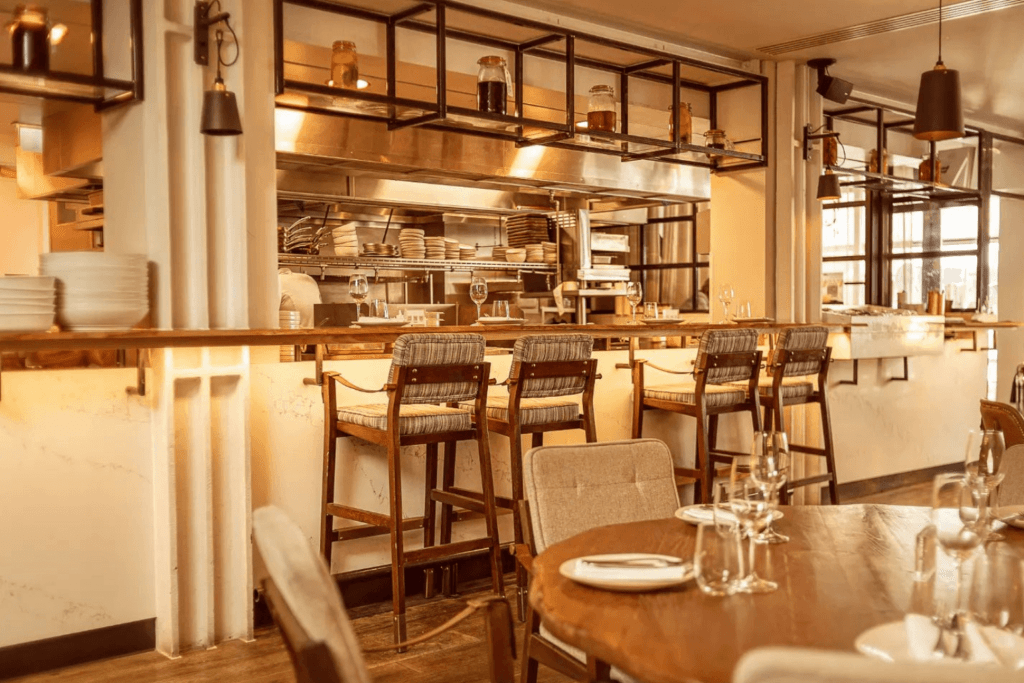 Meraki
80-82 Great Titchfield Street, London W1W 7QT
Owned by the family behind ROKA and Zuma, this contemporary Greek restaurant has brand-new à la carte and set vegan menus worth shouting about. From the beetroot carpaccio and Mykonian Greek salad with cucumber, kritamo, tomato and olives, to black truffle risotto and smoked grilled aubergine with tahini, pecans and crispy kale, the highly satisfying dishes are full of flavour and substance. Most ingredients come straight from Greece, and are served in the relaxed dining space, or, in summer, on two al fresco terraces.
If you want to know the best wines to have with your vegan cuisine, read our article on how to bluff your way through wine tasting like a pro.