Perseverance, commitment, and undeniable talent have served Japanese chef Natsuko Shoji well in her career – culminating in her being named Asia's Best Female Chef 2022 by Asia's 50 Best Restaurants.
The path to culinary glory has not been without its challenges, however. The long hours in the kitchen during her formative years took their toll both on her health and family life, and as a female chef – still a rarity in Japan – the 33-year- old faced gender discrimination, particularly when first trying to open her restaurant.
After having been promoted to sous chef at two-Michelin-starred Florilège within three years of joining its kitchen ranks, Natsuko Shoji left in 2012 to open her own patisserie, été, in Tokyo's Shibuya neighbourhood in 2014. She quickly gained a reputation – and in 2020 the title of Asia's Best Pastry Chef – for her couture- inspired cakes, works of art based on patterns by the likes of Louis Vuitton and Chanel, painstakingly rendered in the finest fresh fruit and presented in elegant black jewellery box-style coffrets.
Today, été includes a 10-course tasting menu of delicate French- inspired dishes. As it is by invitation only, the space is probably Tokyo's most exclusive dining experience. It seats just six diners around a single table, and getting a reservation is no small feat – but well worth the effort (see p54). We chat to Chef Natsuko Shoji about her inspirations, ambitions, and the power to influence a new generation of Japanese chefs.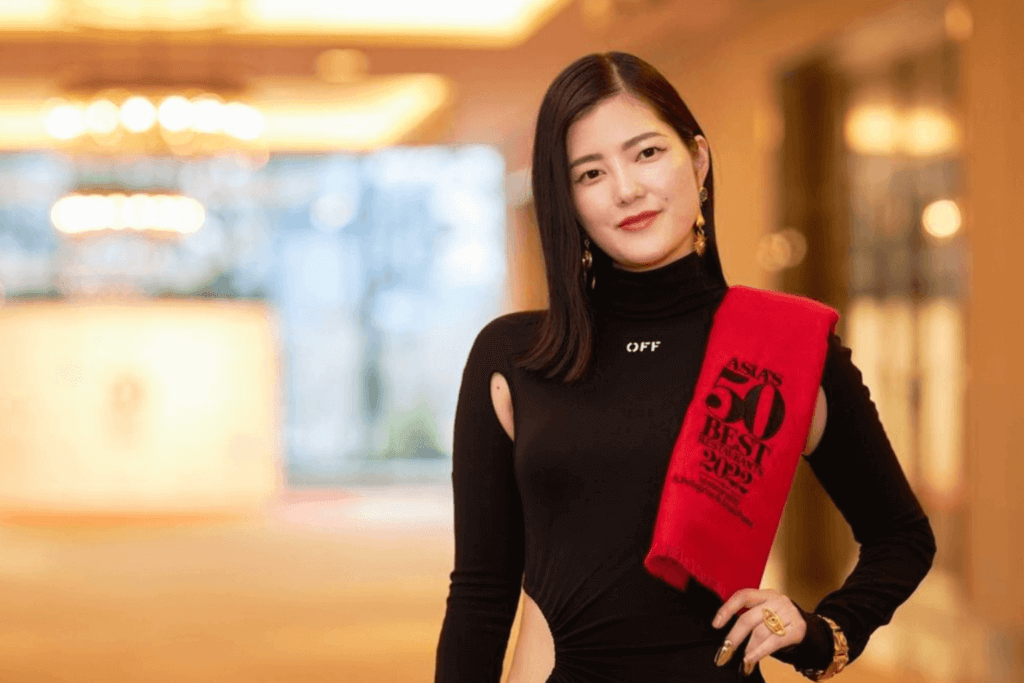 Ten: Where do you find inspiration for your culinary creations?
Natsuko Shoji: Fashion and art! Luxury fashion houses think on a global stage, and I'd like to do the same at my restaurant, where I use creativity to show a different world to our guests. There are, in fact, many similarities between fashion and the culinary arts – particularly the long creative process, which includes the making of trial versions before obtaining the final product.
Ten: And what do you love most about the world of restaurants?
Natsuko Shoji: Restaurants offer people from all walks of life and different backgrounds the chance to come together and connect.
Ten: What makes a world-class chef?
Natsuko Shoji: Most importantly, you need to devote 100% of yourself to work. Cooking is my life, my everything – I was just a teenager when I attended a cooking class at my junior high school. I made chou à la crème and immediately fell in love with the creative process. I went on to major in the culinary arts, and have never looked back. Apart from this dedication, you also need to be able to create something unique – something special that's never been seen before.
Ten: You've established an impressive career. What has been your professional highlight so far?
Natsuko Shoji: To receive the Asia's Best Female Chef award. I'm ambitious, and this has been a lifelong goal of mine, and an achievement that I hope will inspire other young female chefs in Japan. There's still a lack of female chefs here, mainly because of societal structures and restraints. Women still earn considerably less than men, and are expected to be the ones to stay home and look after the family.
Ten: Talking of other female chefs, who do you look up to?
Natsuko Shoji: Leonor Espinosa, of Leo in Bogotá, Colombia. If I could dine at just one restaurant anywhere in the world, it would be hers! She's the female chef I respect most – I admire how she works with the local community, and how she uses the power of food to do good and solve social problems as well.
Ten: Talking of the next generation, can you tell us more about your sustainability project?
Natsuko Shoji: I've collaborated with my alma mater Komaba Gakuen High School to install a bio-based food- waste disposer, thereby introducing students to the importance of sustainability. The waste is broken down into organic liquid fertiliser that can be used for the vegetables grown on the school's farm, which are then not only used in the students' cooking practice, but also incorporated into dishes served at été.
Ten: What was the most memorable advice you received from a guest or food critic?
Natsuko Shoji: It was just after I opened été. I was struggling at the time because I was an unknown chef. One of my guests said, 'I'm so glad you're young, as it means that I'll be able to taste your dishes until the end of my life.' I'll never forget this feedback, [how this person was starting] a lifelong trust in me! It was really uplifting and inspiring.
Ten: Tell us about your idea of the perfect meal — what would you eat, who'd be at the table, and where would you be?
Natsuko Shoji: It would be at Daniel Calvert's restaurant, Sézanne, in Tokyo – I've admired him for a long time. He uses high-quality Japanese ingredients to create extraordinary French cuisine in his own style – it's on another level. And I'd be dining with customers who've been supporting me all this time!
Ten: Do you have a guilty food pleasure?
Natsuko Shoji: Sour cream and onion Pringles – delicious.
Ten: Can you tell us about your most treasured kitchen item?
Natsuko Shoji: A tweezer set from chef Gregoire Berger of Ossiano in Dubai, from a recent collaboration.
Ten: Your all-time favourite dish you've created?
Natsuko Shoji: My caviar mille-feuille, which I originally created for a Hermès jewellery exhibition – I like to compare Japanese caviar to black diamonds. I've worked as both a chef and a pastry chef, and this dish combines both skills to create something unique and original.
Ten: If you weren't a chef, what would you be doing?
Natsuko Shoji: I'd be a modern artist, as I love to be creative and create something from scratch – it's so similar to being a chef!
Curious to learn about more world-renowned chefs? Read our interview with Hélène Darroze.