London may be under stricter Tier 2 restrictions, but this still allows groups of up to six people to enjoy drinks or food together in an outdoor setting. Lots of restaurants have been creating comfortable outdoor spaces and revamping existing terraces to ensure diners can continue to enjoy social gatherings over great food even as the weather takes a turn and evenings draw in.

We know many of our members will still want to dine out in the coming months, and we're here to help you find great places to do so safely outdoors. Read on for a selection of our members' favourite al fresco spots, and get in touch for bookings and more recommendations in your area.

Dalloway Terrace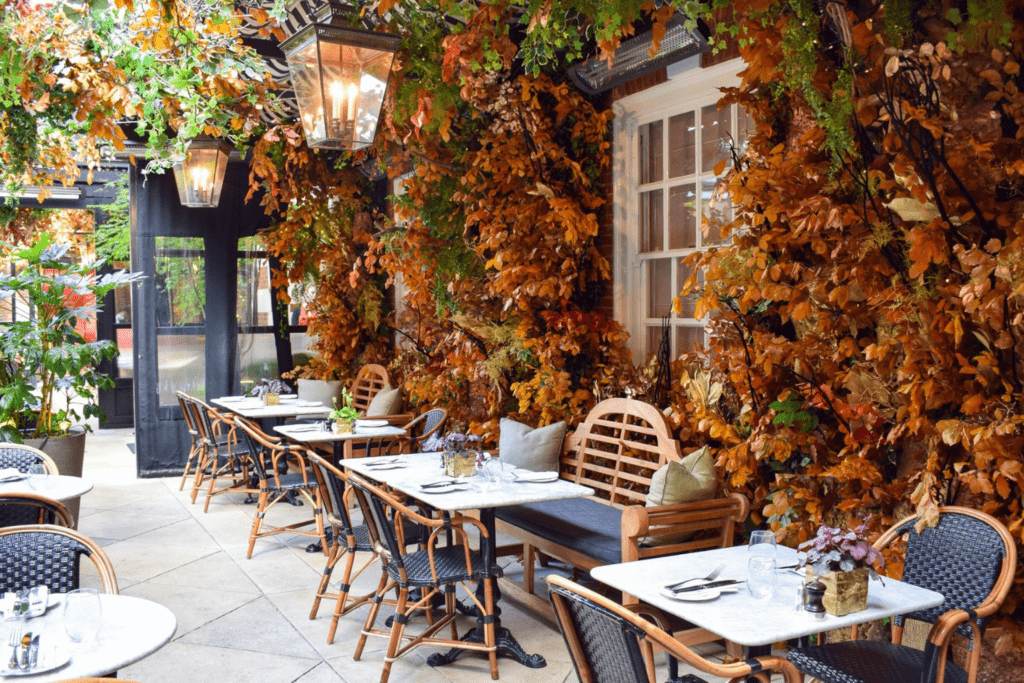 16-22 Great Russell Street, Fitzrovia WC1B 3NN

Set within a lush, secluded garden, this picturesque terrace feels miles away from its Bloomsbury surroundings. The seasonally led and thoroughly British menu focuses on the hearty classics, and the thick blankets and heaters make this a cosy spot throughout the chillier months.
Book through us to enjoy complimentary fizz on arrival.
The Garden at Corinthia London
Whitehall Place, Westminster SW1A 2BD

Anyone who visited this mosaicked outdoor courtyard this summer will be surprised at how it is transformed once the weather turns. Throughout autumn and winter, it's all about fires, blankets and whisky. From the all-day menu, it's best to focus on the grill section – particularly the mixed seafood cooked over the coals – and the chocolate and malt mousse shouldn't be missed.
The Ivy Chelsea Garden
195, 197 King's Road, Chelsea SW3 5EQ

This extensive, uncovered garden and terrace is the ideal spot to enjoy The Ivy's iconic culinary staples year-round if the weather is dry.
First-time visitors can book through us to enjoy complimentary Champagne on arrival for up to four people from 4pm on Sundays and all day Mondays to Thursdays.
Become a member to access these exclusive benefits
For priority access to the best restaurants, exclusive hotel prices, expert knowledge and member-only offers & benefits, become a member today for just £9 for the first month. Monthly memberships available, cancel anytime.
Bentley's Oyster Bar & Grill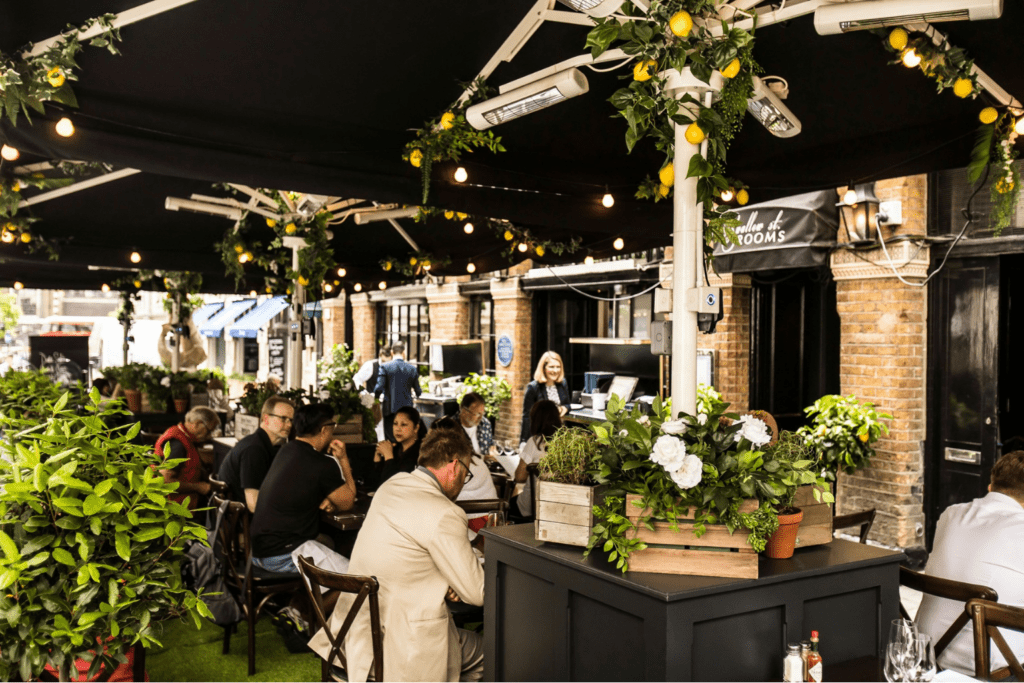 11-15 Swallow Street, Mayfair W1B 4DG
Richard Corrigan's shrine to seafood has a large heated terrace that's well sheltered from the elements. Start any meal here with the towering seafood platters and finish with an Irish coffee to warm up on colder evenings.
When booking through us, you and your guests can enjoy a complimentary glass of Champagne to start proceedings.
HIDE
85 Piccadilly, Mayfair W1J 7NB

Like many restaurants, HIDE has made the most of what outdoor space it has, and the pavement heated terrace is a great spot for lunch or an early dinner. They provide blankets for extra warmth and Ollie Dabbous' menu will cast you across Europe and beyond.
FLORA at JOY
344 Ladbroke Grove, Kensal Green W10 5BU

Chef Stevie Parle has rejoined forces with designer Tom Dixon to open a beautiful outdoor restaurant, FLORA, at Portobello Dock, at what used to be their member-favourite restaurant, Dock Kitchen. With a menu focusing on hyper-seasonal dishes, the restaurant is part of a project called JOY, complete with an aperitivo bar and farm shop.
Coq d'Argent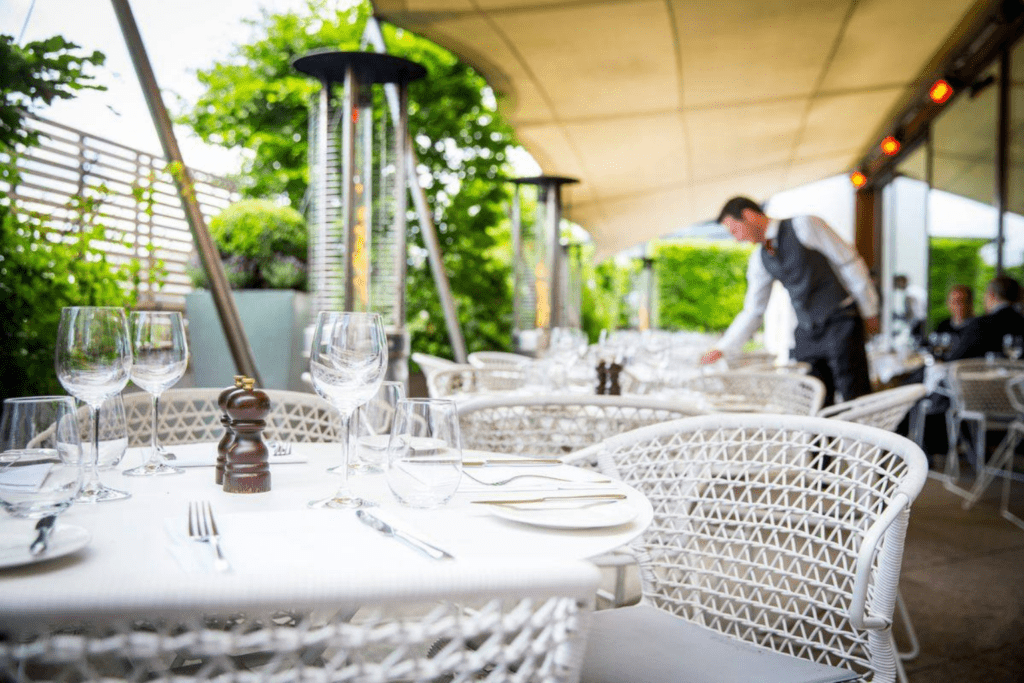 1 Poultry, City EC2R 8EJ

Outdoor socialising is nothing new for this well-known al fresco hangout, and in the run-up to Christmas things get particularly festive with its Alpine makeover. Reservations are always essential, so make the most of our relationship and contact us for bookings.

We'll also arrange a glass of fizz on the house for you and your guests to get the experience underway.
Stanley's
151 Sydney Street, Chelsea SW3 6NT

This new restaurant has been proving popular, despite opening at one of the strangest times possible. The large outdoor terrace is already a big hit with local members looking to socialise outdoors, and the banquet seating with built-in heating is ingenious.
Allegra at The Stratford
20 International Way, Queen Elizabeth Olympic Park E20 1FD

Sitting on the seventh floor of The Stratford, guests will be able to enjoy chef Patrick Powell's modern European cuisine on three different terraces. Our favourite is the gorgeous Sky Terrace, with wild flowers, cedar pathways and Olympic Park views.
Orrery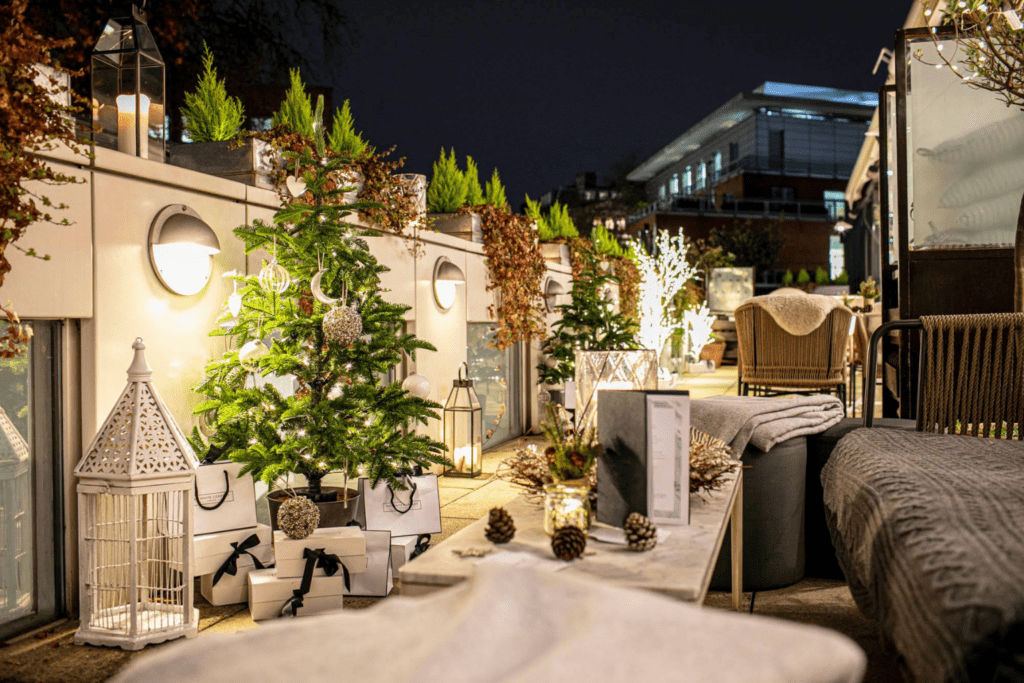 55 Marylebone High Street, Marylebone W1U 5RB

Situated in a converted stable block, the elegant first-floor dining room features large arched windows overlooking St Marylebone Church's gardens.
The covered, heated terrace is a great option for drinks and snacks or a full lunch or dinner – ask us to secure your spot and we'll make sure you and your guests each enjoy a complimentary glass of fizz upon arrival.
Plaza Pastor
Coal Drops Yard, King's Cross N1C 4DQ

Coal Drops Yard and Granary Square have a great choice of al fresco options, but this heated terrace outside Casa Pastor often flies under the radar. Add some heat to your evening with the Mexican-flecked menu – we know how much our members love the 24-hour marinated, slow-cooked pork tacos.
If this list has made you hungry but you are unable to dine out, read our guide of the best London restaurants which deliver.
Please note, in line with government restrictions, we will only be able to make bookings for up to six people per table outdoors and all restaurants will close at 10pm. Indoor dining can only be booked for members of the same household, and the rule of six and support bubble rule applies.