One of our 22 global offices just happens to be in Oslo, giving us on-the-ground expertise – read on for travel inspiration.
One of the world's most visually arresting countries, Norway is worth a visit for its natural beauty alone. Its dramatic coastline, arguably Europe's greatest, covers wildly different terrain along an elegantly elongated shape – from the warm coasts in the south to the steep-sided fjords and imposing mountains in the west and the towering glaciers and stark Arctic landscapes in the north. Not to mention some 50,000 islands along the way, as well as a rich wildlife teeming with whales, reindeer, moose, polar bears, and Arctic foxes.
Oslo and the Oslo-Bergen Railway
Travel from Oslo to Bergen via Flåm on the famous Flåmsbana (Flåm Railway) and you'll be able to tick off cultural cities, architectural gems, and magnificent fjords along the way. This east-west connection makes for a thrilling introduction to Norway.
Dining tip: The hottest table in Oslo is Maeemo, chef Esben Holmboe Bang's three-Michelin-starred love letter to Norwegian cuisine and sustainability.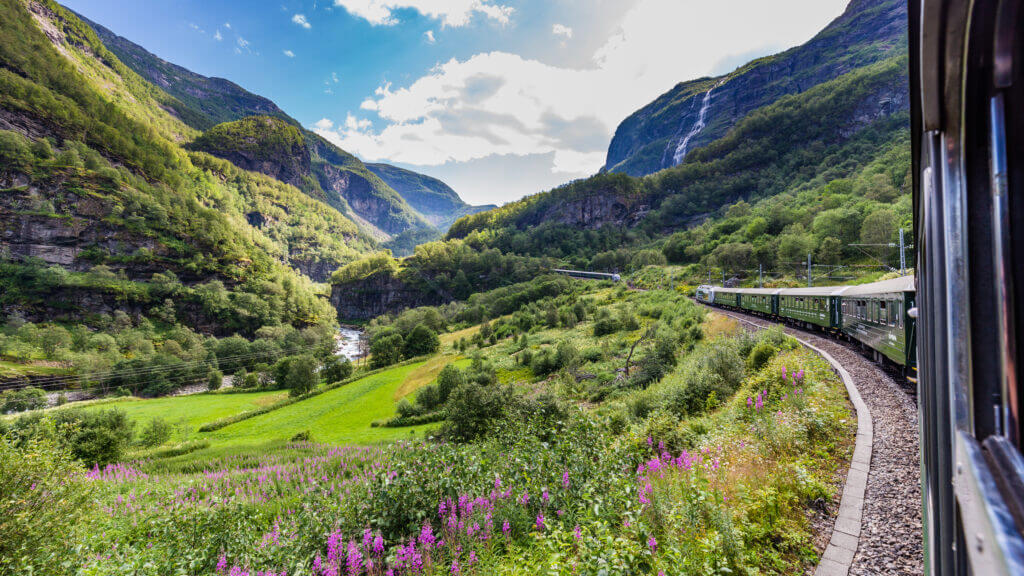 Uncover vibrant Oslo
One of Scandinavia's most dynamic cities – and the European Green Capital 2019 – Oslo is the epitome of Scandi cool. Several major architectural undertakings, regeneration projects, the buzzing contemporary art scene, and a spotlight on Nordic cuisine have turned this compact, fun seaside city into a bucket-list destination in recent years. It's also easy to navigate by foot, so put on comfy shoes and start walking, stopping to refuel at World Barista champion Tim Wendelboe's eponymous cafe and roastery.
Take a scenic train trip on the Flåmsbana
Catch a train from Oslo to the mountain station of Myrdal to take the one-hour Flåmsbana journey to Flåm. One of the world's steepest – and most scenic – railway lines sees the train descend 867m to sea level, running through 20 tunnels and passing vertiginous mountainsides, deep ravines, and thundering waterfalls – truly spectacular scenery.
Get active in picturesque Flåm
Located next to Sognefjord, Norway's longest and deepest fjord, Flåm offers a picture-perfect setting and plenty of invigorating outdoor pursuits, including hiking, kayaking, and fishing. Get your hiking boots on for a walk in the valleys of Flåmdalen and Aurlandsdalen, then join a boat trip through Sognefjord, Aurlandsfjord and UNESCO World Heritage site Nærøyfjord, past soaring mountains and idyllic villages.
Bergen and the western fjords
Travel from Oslo to Bergen via Flåm on the famous Flåmsbana (Flåm Railway) and you'll be able to tick off cultural cities, architectural gems, and magnificent fjords along the way. This east-west connection makes for a thrilling introduction to Norway.
Dining tip: The hottest table in Oslo is Maeemo, chef Esben Holmboe Bang's three-Michelin-starred love letter to Norwegian cuisine and sustainability.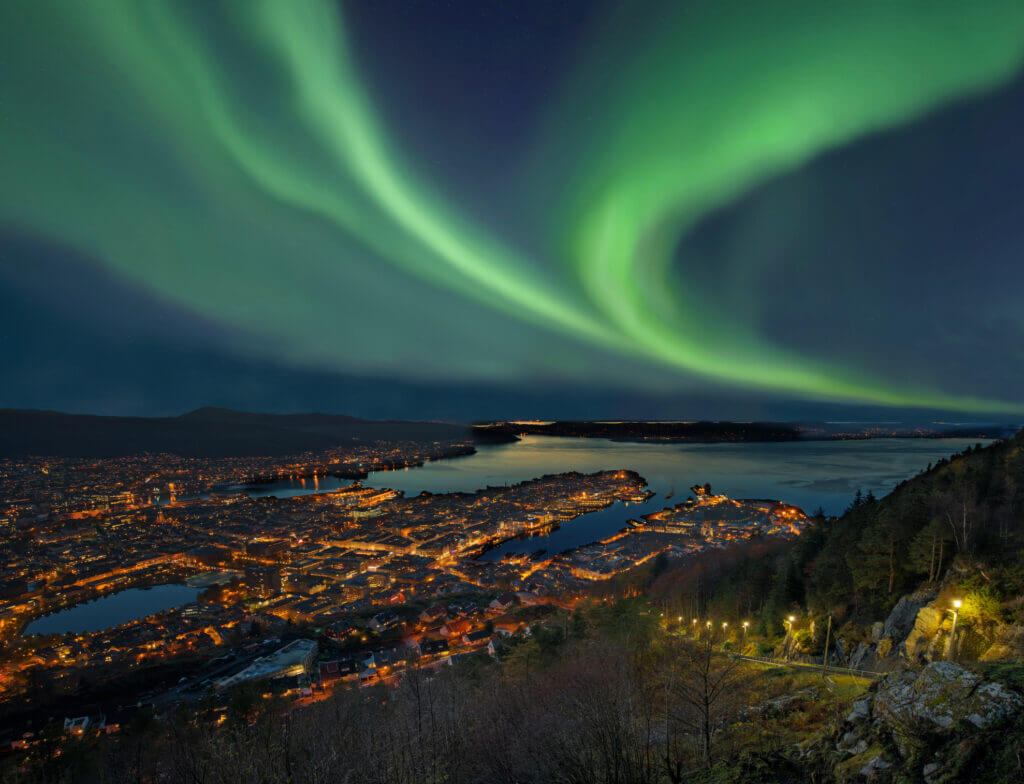 Follow the call to action at Hardangerfjord
This region is a gold mine of outdoor thrills: explore the world's third-longest fjord in a kayak or on a high-speed RIB (rigid inflatable boat) safari; book a guide for the long hike to the top of the world-famous Trolltunga cliff; and venture out on the Norwegian Scenic Route Hardangervidda for further jaw-dropping sights, including the Vøringsfossen waterfall.
Dive into Bergen's Hanseatic history
Postcard-pretty Bergen used to be an important seaport and a member of the Hanseatic League. You can catch a glimpse of Bergen's history during a leisurely walk through Bryggen – the old Hanseatic wharf, first established in the 14th century, is a UNESCO World Heritage site. A visit to the town's outdoor fish market and a cable-car trip to the top of Mount Fløyen are further highlights.
Geirangerfjord and the north-west
The area around the famous Geirangerfjord offers a multifaceted outdoor adventure, with a UNESCO World Heritage site, waterfalls, snow, a scenic train line, and an art nouveau festival town.
Dining tip: Embark on a culinary journey from the highest peaks to the depths of the sea at Apotekergata No. 5, occupying an old warehouse alongside a dock in Ålesund – with summer seating outdoors on a barge.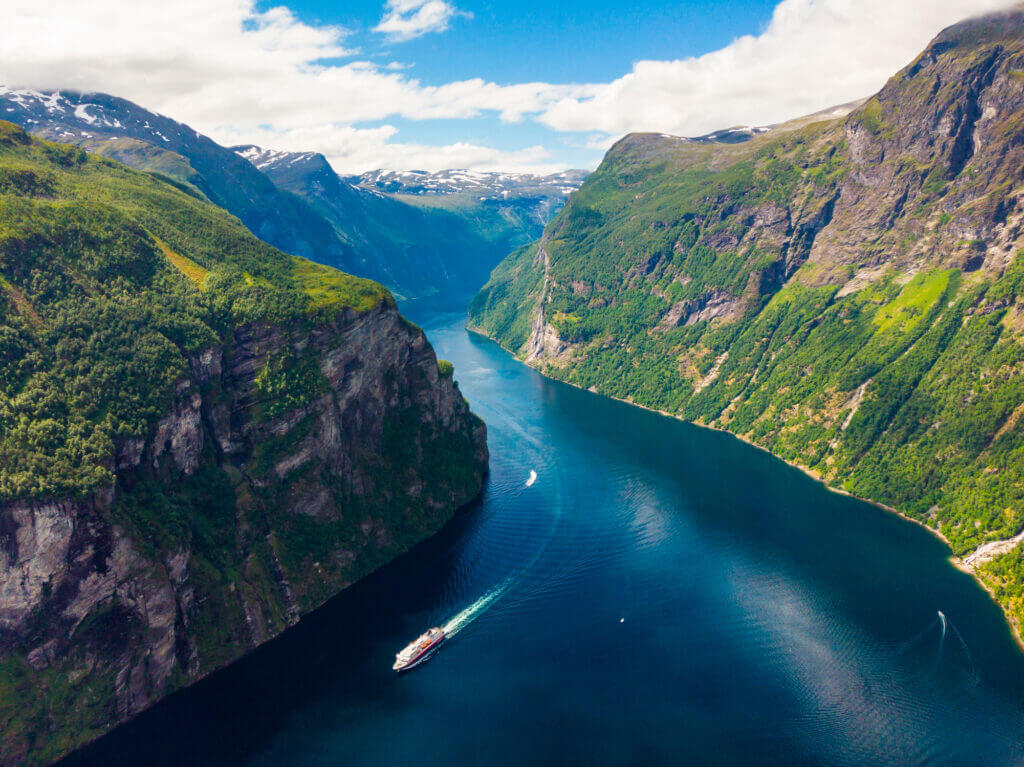 Indulge in cultural pastimes in Ålesund
Stretched out across several islands, Ålesund is known for its Jugendstil (art nouveau) architecture – the result of the city's reconstruction following a devastating fire in 1904. Today, Ålesund is the cultural centre of the region, with various festivals attracting visitors from around the world, who also use the town as a starting point to explore Geirangerfjord.
Get some perspective on Geirangerfjord
Norway's most famous fjord is a sight to behold, its deep-blue waters surrounded by almost vertical cliffs, snow-capped mountain peaks, thundering waterfalls, and lush vegetation. The 20km boat trip along this UNESCO-protected site ranks among the world's most gorgeous ferry journeys. For a different view of Geirangerfjord, book a guided kayak tour – or brave numerous hairpin bends to drive or cycle up to the Geiranger Skywalk, Flydalsjuvet, or Ørnevegen viewing platforms, for fantastic panoramic vistas from the top.
Board the Rauma Line
Called one of the world's most beautiful train journeys, this scenic one-hour-40-minute trip will take you from Dombås to the mountaineering capital Åndalsnes, past Bjorli, the Romsdalen valley, Trollveggen rock face, and the unique Kylling Bridge. From Åndalsnes, hike to the infamous Romsdalseggen ridge, join a ski tour, or explore Geiranger-Trollstigen – one of Norway's 18 Scenic Routes.
Lofoten and Nordland
Moving into arctic territory, long, slim Nordland enthrals visitors with its staggering peaks, glittering fjords, wild beaches, and timeless fishing villages – and offers a thrilling introduction to the northern lights and Norway's famed midnight sun.
Dining tip: Not so much a restaurant as an exhilarating four-day foodie adventure, Kitchen on the Edge of the World invites acclaimed chefs (including Nieves Barragán Mohacho and Fuchsia Dunlop in September 2023) and intrepid guest to the remote Lofoten archipelago.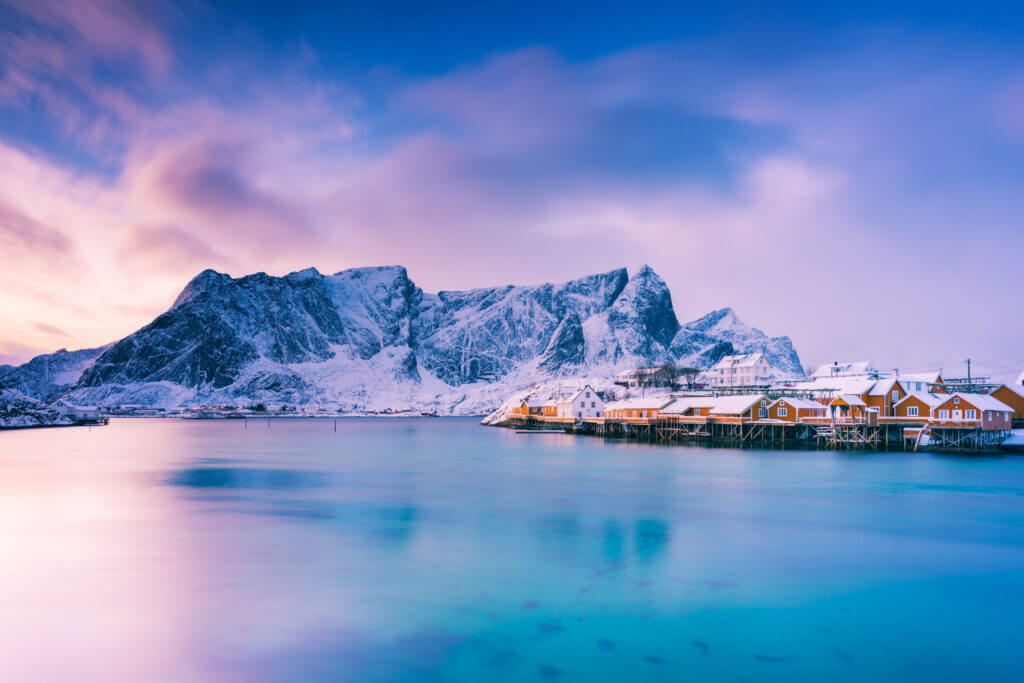 Island-hop in Lofoten
The best way to fully appreciate the rugged, dramatic beauty of the scenic Lofoten archipelago is to go on a road trip along the E10. Separated from the mainland by Vestfjorden, the drive connects the main islands of Austvågøy, Vestvågøy, Flakstadøy, and Moskenesøy with road bridges and tunnels, making for a seamless journey. For sightseeing of a different kind, look out for the public restrooms in Eggum – Norway is renowned for featuring some of the world's most beautiful public facilities, many of them found along the Norwegian Scenic Routes.
Drive the Kystriksveien coastal route
Considered one of the top choices among the country's Norwegian Scenic Routes, this winding coastal drive through Nordland is a must for anyone progressing northwards. If you can't make the full 650km drive from Trøndelag in the south to Bodø, just north of the Arctic Circle (and European Capital of Culture 2024), experience some of the highlights between Sandnessjøen and Storvik.
Go whale watching in Vesterålen
Just north of the Lofoten Islands and the Arctic Circle, the archipelago of Vesterålen is prime whale-watching territory, with year-round sightings of these gentle giants of the sea almost guaranteed. Join a guided safari in summer for a glimpse of the mighty sperm whales, or in winter to admire orcas and humpback whales.
Northern Norway
The northern lights, midnight sun, whale watching and other epic natural adventures, including ski touring and hiking, make Norway's northern parts a dream destination for outdoor enthusiasts (who don't mind sub-zero temperatures).
Dining tip: Two of the Svalbard archipelago's most appealing options are Restaurant Nansen, specialising in Nordic fusion cuisine, and Barentz Gastropub, which holds the distinction of serving the world's northernmost beer – both at our partner Radisson Blu Polar Hotel Spitsbergen in Longyearbyen.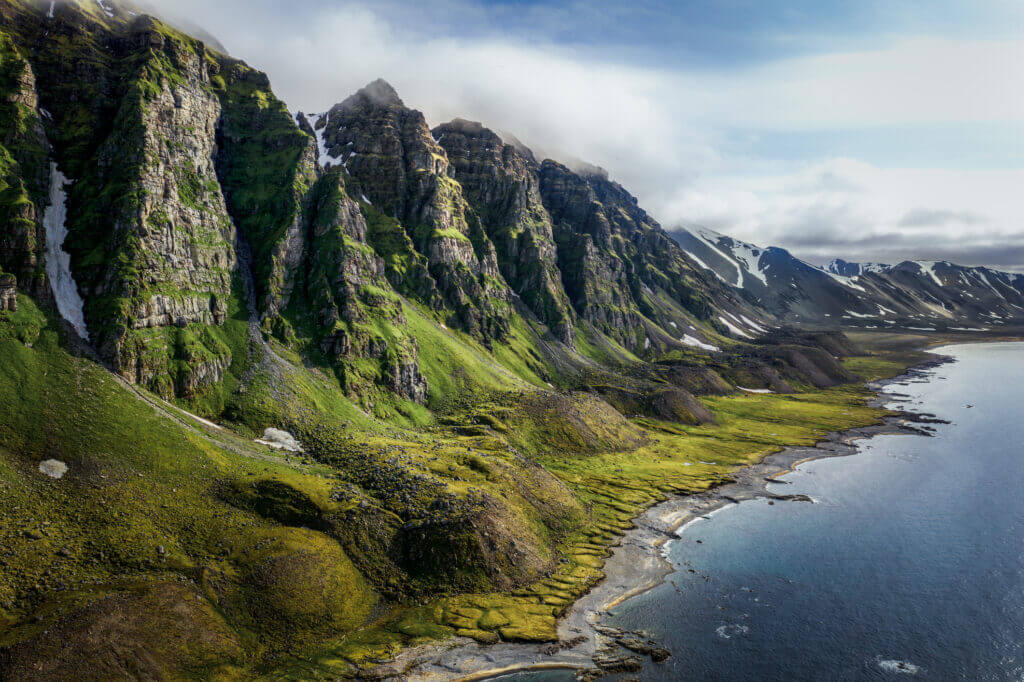 Witness the northern lights
There is no more awe-inspiring natural phenomenon than the northern lights, or aurora borealis – and arguably no better place to experience them than Northern Norway. Visible during the Arctic winter's long nights, they dance across the sky in a celestial ballet of vivid greens, blues, pinks, and violets – an unforgettable experience for those lucky enough to catch them.
Explore Tromsø
The capital of the Arctic is the perfect base for a host of outdoor pursuits, from witnessing the northern lights in winter and the never-setting midnight sun in summer, to dogsledding, whale watching, and hiking. Then there's the fascinating local Sami culture, as well as a buzzing nightlife – as the world's northernmost university town, Tromsø, knows how to party.
Go on Arctic adventures in the Svalbard Islands
Located in the middle of the Arctic Ocean, halfway between Norway and the North Pole, this archipelago captivates with its rich wildlife – including a few thousand polar bears – amid a stark and eerily beautiful Arctic wilderness. Explore the islands' nature reserves and national parks, and make sure to visit Longyearbyen – the islands' largest settlement offers a surprisingly wide range of cultural activities.
Read more about Summer Adventures in Sardinia here
Interested in Living x Ten, learn more about our membership here