There's never been a better time than autumn to drive Canada's network of highways, when a journey from one urban centre to another becomes a series of brilliant vistas as the leaves turn from green to a blaze of red, orange and gold. This year, a vacation by car is more appealing than ever, offering you the flexibility to change your itinerary when needed, travel in a safe environment, and stop frequently to enjoy the fresh air and snap gorgeous photos.
Our sample itinerary through Central Canada takes you from Toronto to Ottawa, then on to vibrant Montreal and historic Quebec City, along highways lined with spectacular scenery. While the gorgeous surroundings will take care of themselves, the concierge is here to help plan your stay in each city. Depending on how much time you wish to spend in each city, this road trip can take anywhere from four days to two weeks.
Remember when booking through us, members have access to exclusive discounts, benefits and offerings.
Ottawa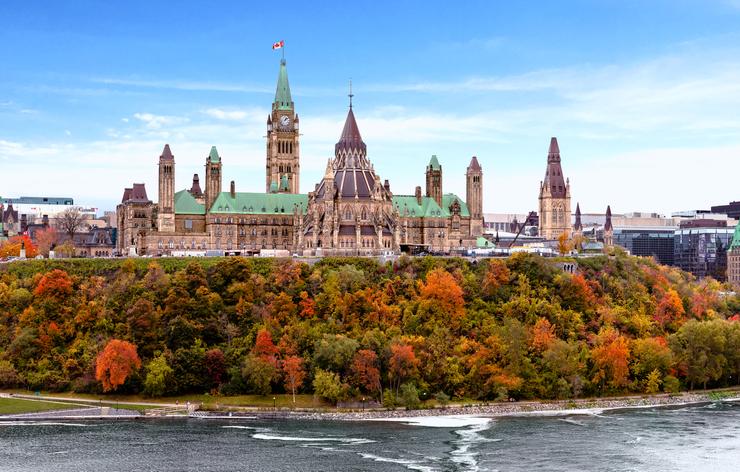 The scenic drive North to Ottawa from Toronto via Highway 401 and Highway 416 will take just under four and a half hours to complete. Canada's capital city has an abundance of sites to see, museums to visit, and activities to experience that will entice the whole family. We recommend spending a day at the Canadian War Museum, and strolling the lively shop, restaurants and bars of the Byward Market area.
Where to Stay
For your hotel stay, we recommend the Andaz Ottawa Byward Market, a stylish downtown venue with contemporary design and spacious rooms.
Where to dine
Atelier – Known as one of the most innovative venues in town, this restaurant lives up to its reputation with its eccentric culinary creations. Located in an unexpected building in Ottawa's Little Italy, with no sign or advertisement anywhere, the mystery goes on with a blind 12-course tasting menu. Expect true works of art and colourful plates to keep you entertained all night long.
What to Do
While tours of the historic Parliament Hill buildings where the House of
Commons and Senate sit have been put on hold, other not-to-miss attractions in Ottawa include the Canadian War Museum, the Canada Science and Technology Museum and the National Gallery of Canada. You can also plan to stroll the Rideau Canal, which winds through the downtown surrounded by shops and museums, and turns into a popular skating rink in winter.
You can also drive 30 minutes to Eco-Odyssée, a beaver habitat that will give you an opportunity to learn more about Canada's famous animal or visit a nearby winery such as Jubilani Vineyard, where the tasting patio is open to guests and you can enjoy an orchard picnic when you book in advance.
Mont-Tremblant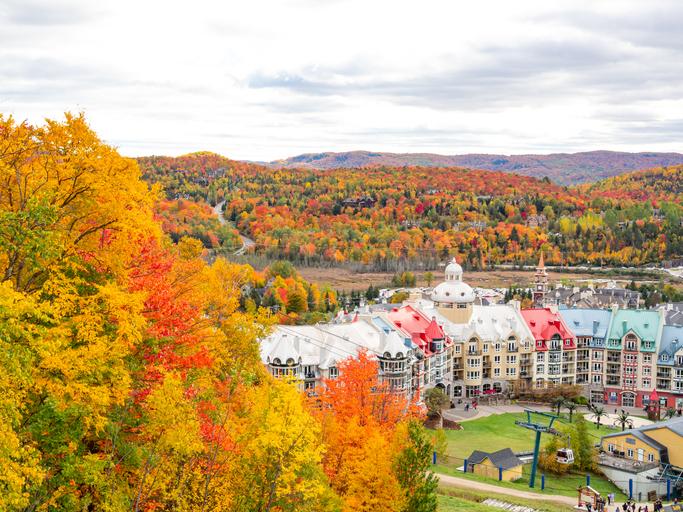 From Ottawa, take the Autoroute 50 East and QC-323 North to the next destination, Mont-Tremblant, for a total driving time of just under 2 hours. While known for being a ski resort, Mont-Tremblant attracts visitors all year long with its picturesque village and peaceful forests with a vast selection of hiking trails.
Where to Stay
For overnight accommodations, we recommend staying at our partner hotel Fairmont Tremblant, a luxury resort offering spectacular views of the majestic Laurentian landscape and nestled in the pedestrian village at the base of the mountain.
Where to Dine
La Savoie – La Savoie is an authentic French restaurant offering hearty meals made from fresh ingredients in a vibrant atmosphere. On the menu at La Savoie is a wide selection of fondue and a children's menu for kids aged 12 and under. The fondue choices at La Savoie include cheese, broth, oil and red wine. Other menu items include beef filet mignon, scallops and shrimps. Don't miss the chocolate fondue for dessert!
What to Do

While in the area, check out the array of activities at Mont Tremblant National Park, where you'll enjoy hiking, camping and loads of outdoor activities such as canoeing, day fishing, and paddling in Rivière du Diable. You can also hike the stunning Tonga Lumina trail up the mountain, or spend a day on the lakeside beach in Domaine Saint-Bernard, where you can also look through the province's second-most powerful telescope at Velan Pavilion.
Montreal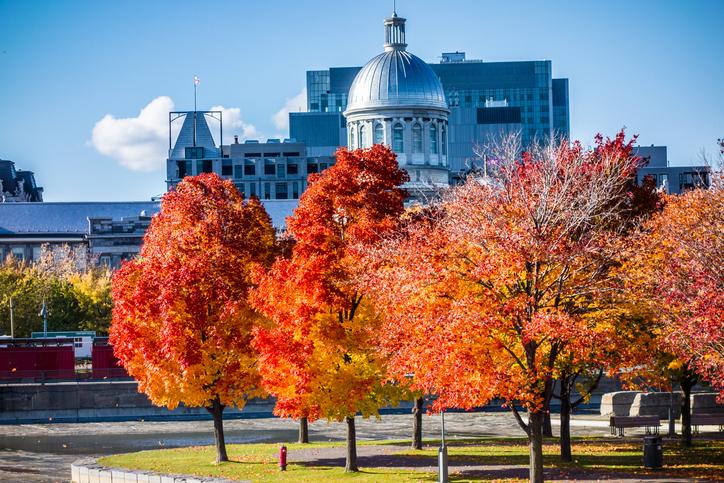 From Mont-Tremblant, the Route Transcanadienne / Autoroute 15 South takes around an hour and forty minutes and is the most direct route to Montreal, the second-most populous city in Canada. While visiting this exciting city, take time to meander down the cobbled streets in Old Montreal, sample the local poutine and marvel at the Notre-Dame Basilica, a true masterpiece of Gothic Revival architecture.
The city's European vibe includes an array of intriguing restaurants and welcoming green spaces, including the tranquil public park at the top of Mont-Royal, where you'll enjoy gorgeous views of the island.
Where to Stay
Located in the heart of Montreal, we recommend staying at the sophisticated, urban Fairmont The Queen Elizabeth, a long-time destination for visitors to the city that offers proximity to sight-seeing as well as Montreal's vibrant Rue Saint Laurent, also known as The Main.
Where to Dine
Joe Beef – Having come in at 81 on the World's Best Restaurants list, this casual eatery's spin on haute cuisine involves simple, hearty dishes such as lobster spaghetti and pork terrine with bacon. The dining room is small, with only a dozen tables and the atmosphere is casual, with friendly staff putting guests at ease. Look out for the specials scrawled across the chalkboard.
What to Do
Some not-to-miss attractions in Montreal include the Od Port area, including the Notre Dame Basilica, and historic Place Jacques-Carter, the cobbled square at the heart of picturesque Old Montreal. You'll also enjoy strolling the manicured and colourful gardens of the Botanical Garden, near the Olympic Stadium and Biodome, which houses animals and plants from around the world.
You can also simply stroll the city and soak up the character of one of its many neighbourhoods, including the shops on Sainte Catherine Street, the restaurants of Little Italy, and the buzzing nightlife of Plateau Mont-Royal. Don't forget to stop for a bag of classic Montreal bagels at one of the city's many bakeries.
Quebec City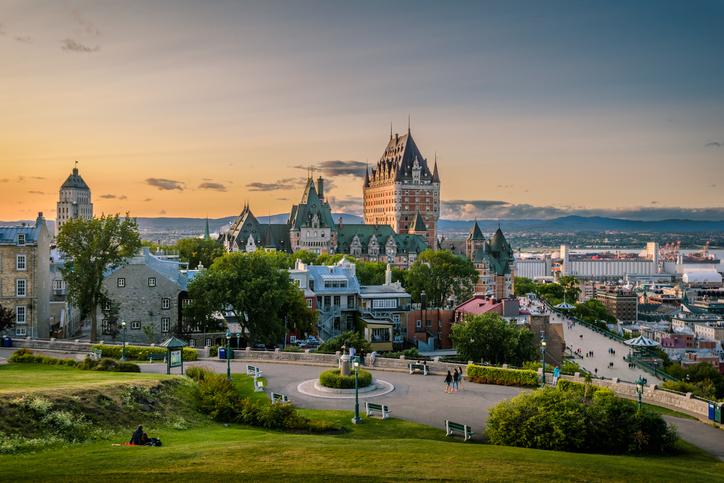 We recommend taking the Autoroute 40 East to our final destination, Quebec City. This scenic drive follows the St. Lawrence River northeast and will take just under three hours to complete. Old Quebec, a UNESCO World Heritage Site and the historic center of Quebec City, boasting more than 400 years of history, is best explored on foot.
Where to Stay
During your visit to Quebec City, we recommend staying at Fairmont Le Chateau Frontenac. Prominently situated in the center of Old Quebec, the hotel truly looks like a castle and provides a level of service that ensures all guests feel like kings and queens.
Where to Dine
Laurie Raphaël – Local celebrity chef Daniel Vézina creates innovative French-Canadian fare at this sophisticated, special occasion restaurant. Choose from a three-course prix fixe or a five-course tasting menu at lunch and dinner. Seasonal dishes have included razor clam salad with sea urchin cream and venison tartare. The sleek interior has clean lines and a neutral colour palette letting the artful plates be the star of your experience.
What to Do
While in town, stroll Place Royale, the cobblestone square filled with quaint
shops in the Old City, and take in Montmorency Falls, a cascade just minutes
from the city centre that is beautifully lit at night, and the city's own beloved Notre Dame Basilica. You can also check out La Citadelle de Québec, where you'll learn about the famous battles that shaped in the country and the Plains of Abraham.
Looking for some more dining recommendations? Read our tip spots for el fresco dining in Canada.
Looking for assistance planning your Canada road trip itinerary? Contact us and one of our lifestyle managers would be delighted to provide expert recommendations and a detailed itinerary suited to your taste.