With many of our members spending more time in the kitchen this year, we've teamed up with some of the world's leading chefs to compile a collection of recipes that will elevate your home cooking, just in time for Christmas. From Heston Blumenthal's sensational Scotch eggs and Gordon Ramsay's contemporary take on a classic beef Wellington, to Marcus Wareing's indulgent custard tart, we're sharing 15 dishes (plus a few classy cocktails) in our COOK magazine to reboot your dinner-party repertoire this season.
Read on to discover four recipes featured in this edition, plus how to download the magazine in full, for free. If you need help sourcing any of the ingredients, our Dining team can organise premium local produce to be delivered to your door. Or, if you'd prefer to see how the pros do it before donning an apron, we can get you booked into a top restaurant ‒ and introduce you to its team of celebrated chefs. All you have to do is become a member.
So, whether you're feasting or foraging, our global team of international experts are on hand to ensure you and your loved ones can cook with confidence and dine in style.
Squid Pasta – Nobu Matsuhisa, Nobu Restaurants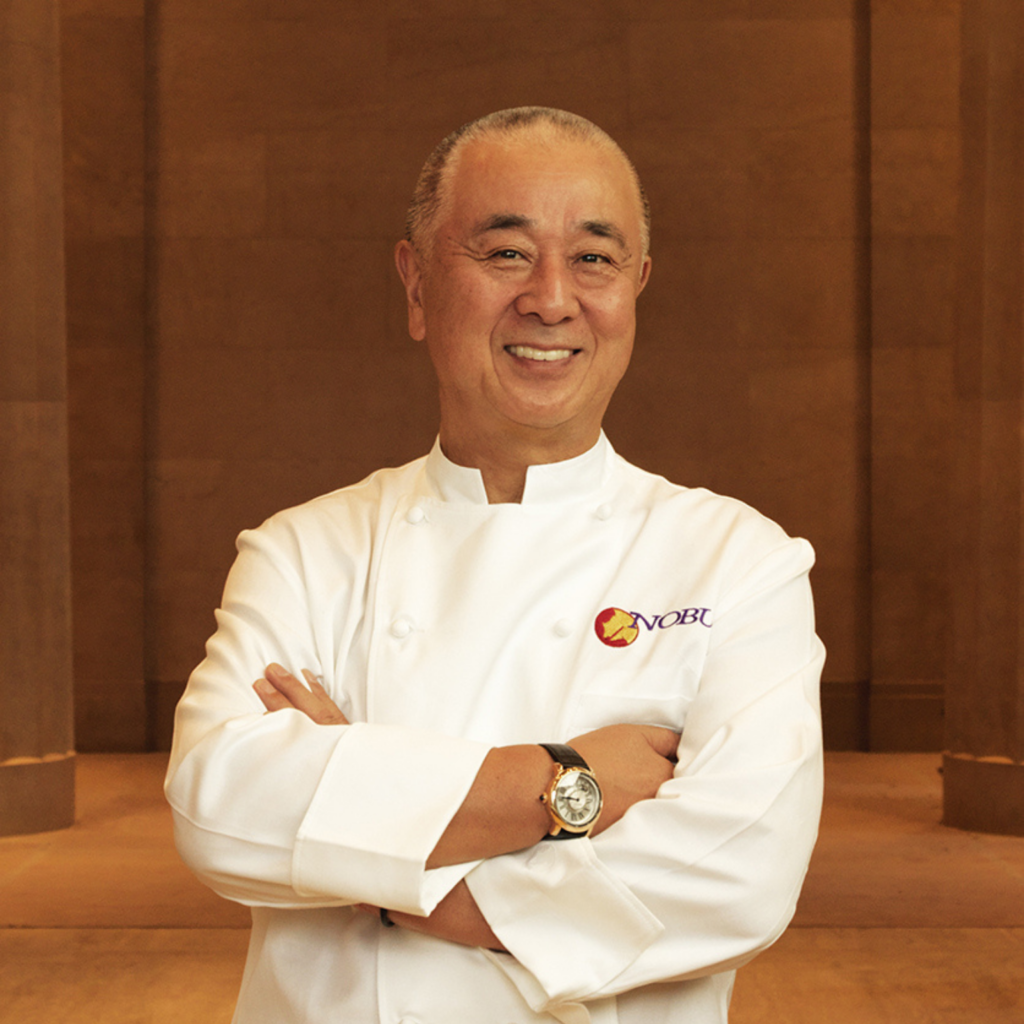 When we interviewed Nobu Matsuhisa for our latest issue of DINE, we asked the chef behind some of the world's most famous fusion cuisine to serve us up an inventive seafood recipe worthy of his global restaurant menus. He didn't disappoint.
Fusing the culinary traditions of Japan and Italy, Matsuhisa's twist on the humble pasta dish (spoiler: it doesn't actually feature pasta) is an easy entertaining win: light on work but big on flavour. Just how we like it.
Serves: 4 gap Prep time: 15-20 mins gap Cooking time: 10-15 mins gap Skill level: Medium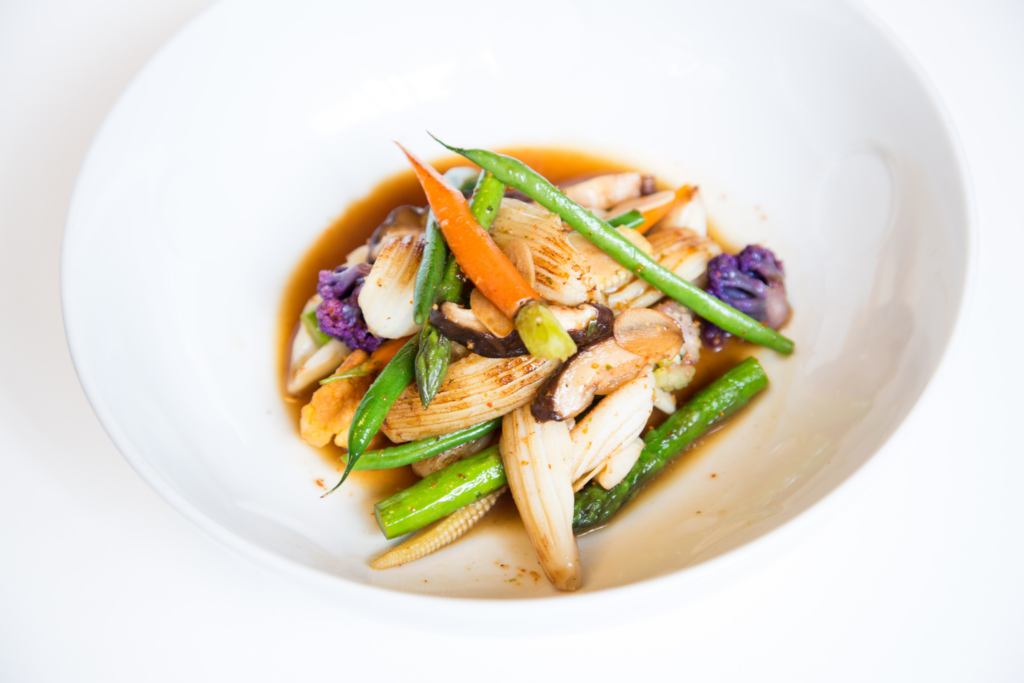 Ingredients
4 broccoli florets, cut into bite-sized pieces
120g cuttlefish or squid tubes
4 tsp butter
1 garlic clove, thinly sliced
4 shiitake mushrooms, stems removed
6 spears asparagus, cut into two-inch pieces
3 tbsp sake
2 tsp soy sauce
Sea salt, to taste
Freshly ground black pepper
Thai 7 Spice, to taste (optional)
Method
Boil the broccoli for 90 seconds in a small pot of boiling water with a little sea salt. Plunge into iced water and drain.
Pat the cuttlefish or squid dry with paper towels. Cut into two-inch-wide strips. Use a sharp knife to make fine vertical incisions down the length of each strip, along the grain. These should be fairly deep, but very close together.
Cut the scored cuttlefish/squid into half-inch-wide strips. Season with a little sea salt and black pepper.
Heat a frying pan over medium heat. Add the butter and sauté the garlic slices. When the aroma of the garlic has been released, turn the heat up to high, add the shiitake mushrooms and fry lightly. Add the cuttlefish, asparagus and broccoli, in that order, and season with a little sea salt and black pepper.
When the surface of the cuttlefish/squid turns opaque, add the sake and soy sauce in a swirling motion just before turning off the heat. Mix the contents of the pan to distribute the sauce evenly. Place in a serving dish and sprinkle with a pinch of Thai 7 Spice, if you have it.
Beef Wellington – Gordon Ramsay, Gordon Ramsay Restaurants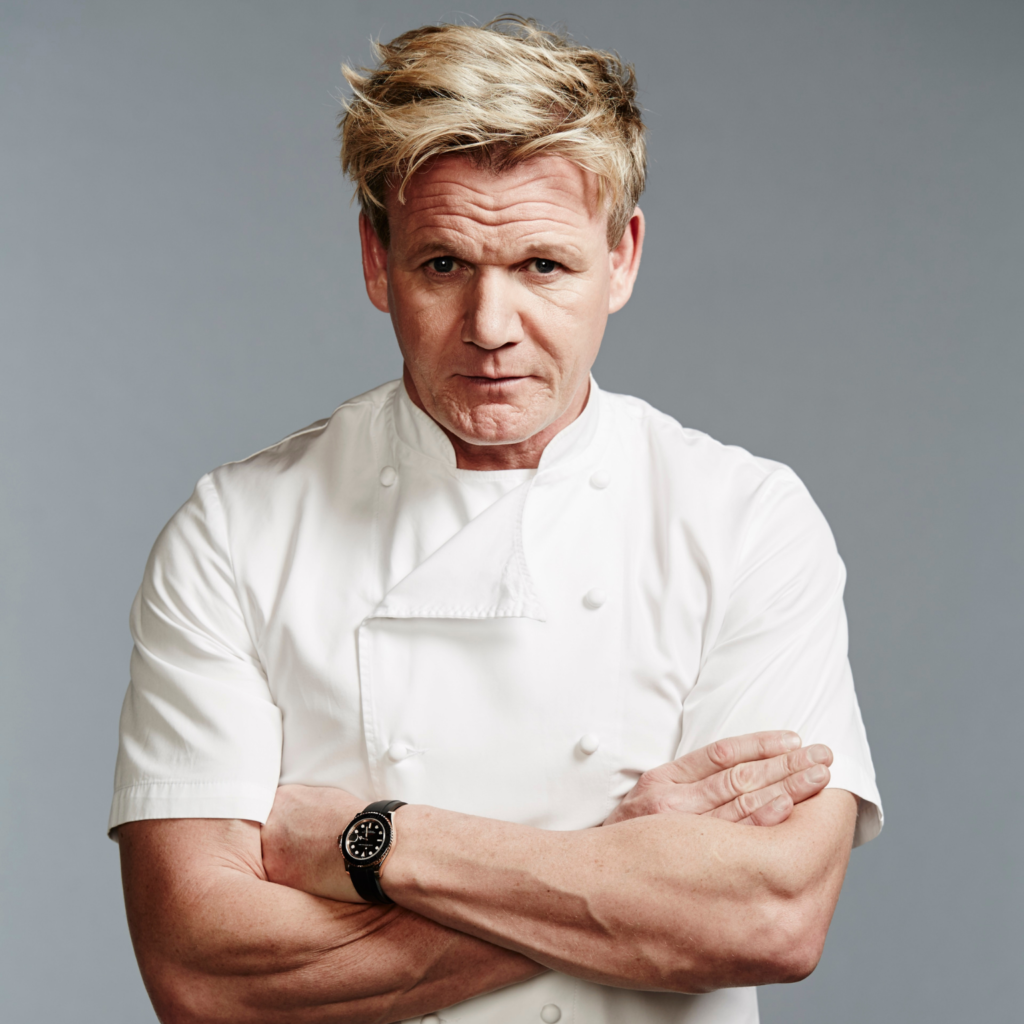 We've been working with Gordon Ramsay and his team since his early days at the helm of London's Michelin-starred Aubergine. More than two decades later, the chef has a global empire of 35 restaurants and seven Michelin stars to his name.
So, who better to rustle up a festive-season favourite? Ramsay has even said this take on the traditional beef dish would make the cut for his "last supper menu". Praise, indeed.
Serves: 4 gap Prep time: 45 mins gap Cooking time: 1 hour, 30 mins gap Skill level: Medium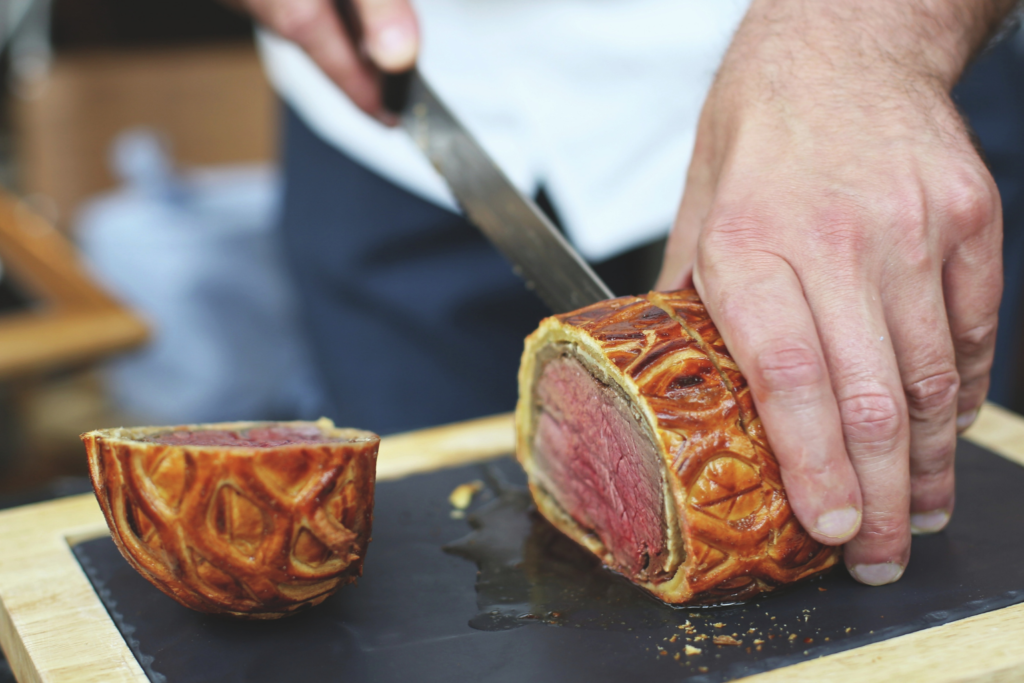 Ingredients
2 × 400g beef fillets
Olive oil, for frying
500g wild mushrooms, cleaned
1 sprig of thyme, leaves only
500g puff pastry
8 slices of Parma ham
2 egg yolks, beaten with 1 tbsp water and a pinch of salt
Sea salt and freshly ground black pepper
For the red-wine sauce
2 tbsp olive oil
200g beef trimmings (ask the butcher to reserve these when trimming the fillet)
4 large shallots, peeled and sliced
12 black peppercorns
1 bay leaf
1 sprig of thyme
Splash of red-wine vinegar
1 × 750ml bottle red wine
750ml beef stock
Method
Wrap each beef fillet tightly in a triple layer of cling film to set its shape, then chill overnight.
Remove the cling film, then quickly sear the beef fillets in a hot pan with a little olive oil for 30-60 seconds until browned all over. Remove from the pan and leave to cool.
Finely chop the mushrooms and fry in a hot pan with a little olive oil, thyme leaves and some seasoning. When the mushrooms begin to release their juices, continue to cook over a high heat for about 10 minutes until all the excess moisture has evaporated and you are left with a mushroom paste (known as duxelle). Remove the duxelle from the pan and leave to cool.
Cut the pastry in half, place on a lightly floured surface and roll each piece into a rectangle large enough to envelop one of the beef fillets. Chill in the refrigerator until needed.
Lay a large sheet of cling film on a work surface and place four slices of Parma ham in the middle, overlapping them slightly, to create a square. Spread half the duxelle evenly over the ham.
Season the beef fillets, then place them on top of the mushroom-covered ham. Using cling film, roll the Parma ham over the beef, then roll and tie the cling film to get a thick, even log. Repeat this step with the other beef fillet, then chill for at least 30 minutes.
Remove pastry from the fridge and brush with the egg wash. Remove the cling film from the beef, then wrap the pastry around each ham-wrapped fillet. Trim the pastry and brush all over with the egg wash. Cover with cling film and chill for at least 30 minutes.
Meanwhile, make the red-wine sauce. Heat the oil in a large pan, then fry the beef trimmings for a few minutes until browned on all sides. Stir in the shallots with the peppercorns, bay and thyme, and continue to cook for about five minutes, stirring frequently, until the shallots turn golden brown.
Pour in the vinegar and let it bubble for a few minutes until almost evaporated. Now add the wine and boil until almost completely reduced. Add the stock and bring to the boil again. Lower the heat and simmer gently for one hour, removing any scum from the surface of the sauce, until you have the desired consistency. Strain the liquid through a fine sieve lined with muslin. Check your seasoning and set aside.
When you are ready to cook the beef Wellingtons, score the pastry lightly and brush with the egg wash again, then bake at 200°C/Gas Mark 6 for 15-20 minutes until the pastry is golden brown and cooked. Rest for 10 minutes before carving.
Meanwhile, reheat the sauce. Serve the beef Wellingtons sliced, with the sauce as an accompaniment.
Quince tart with cream – Charlie Hibbert, Thyme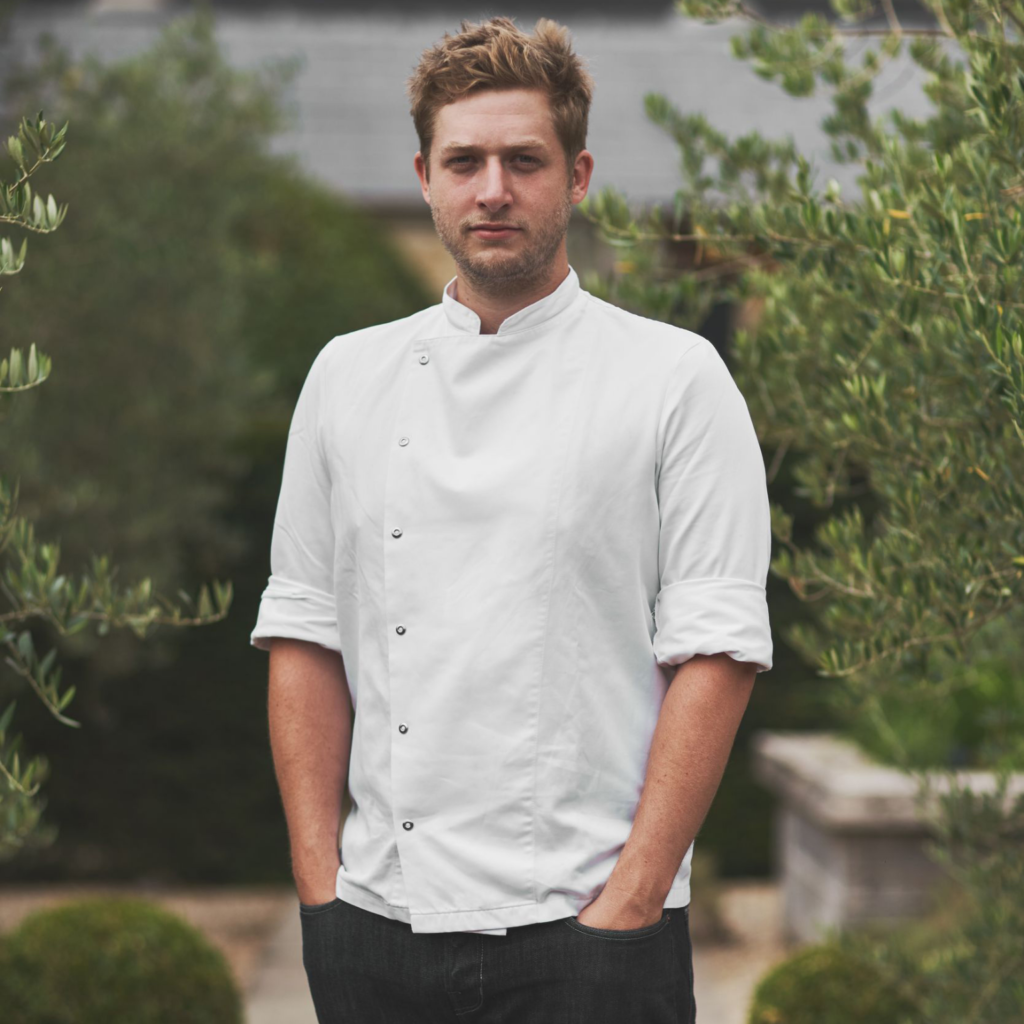 Charlie Hibbert has been at the culinary helm of Thyme, a restored Cotswold manor and farm in Southrop, since 2018, when the property's Ox Barn opened its doors. Dishes are modern, seasonal British – but what really elevates this innovative chef's cooking is a deep-rooted connection to the land and farm.
Inspired by Jeremy Lee's food at Quo Vadis, Charlie created this frangipane recipe as an ode to his former mentor. At Thyme, the dish is made with medlars, but we've substituted that ingredient here with quince membrillo because it's easier to come by.
Serves: 8 gap Prep time: 1 hour, 30 mins gap Cooking time: 1 hour, 30 mins
Skill level: Medium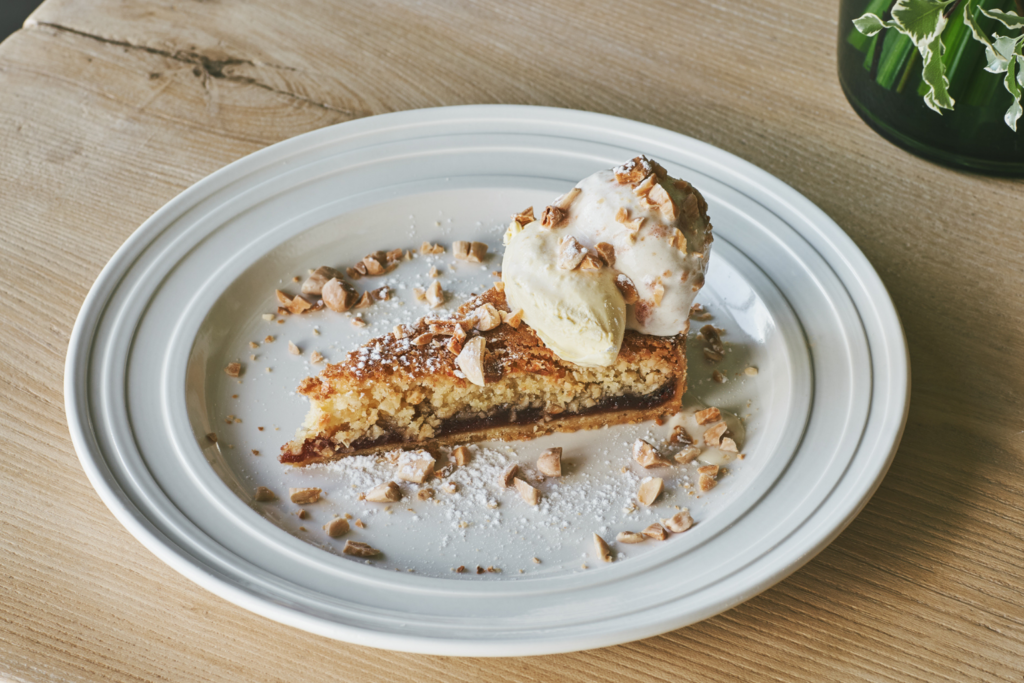 Ingredients
For the sweet pastry
250g plain flour, sifted, plus extra for dusting
125g chilled unsalted butter, cubed
50g icing sugar
1 egg (fridge temperature)
1 egg yolk (fridge temperature)
For the almond frangipane filling
500g unsalted butter
500g caster sugar
4 free-range eggs
500g blanched almonds
120g quince membrillo
To serve
Double cream
Vanilla ice cream
Method
For the pastry: using a food processor, blitz the flour, butter and icing sugar until the mixture resembles breadcrumbs. Add the whole egg and egg yolk and blitz again until the pastry has started to come together.
Dust the work surface with a light dusting of flour. Turn the pastry out on to your work surface and shape it into a uniform ball – do not knead the pastry, this should only take a minute or so.
Rest it in the fridge for at least half an hour.
While the pastry chills, make the filling. Cream the butter and sugar well, before adding the eggs one by one, ensuring each is well incorporated before the next is added.
Grind the blanched almonds in a food processor until they are well chopped but not finely ground – this will give the tart some texture. Add them to the butter, sugar and egg mixture and combine.
Chill the filling completely along with the pastry.
Roll the pastry out on a lightly floured surface and place into a 22cm loose-bottom tart tin. Chill the pastry again for 15 minutes.
Pre-heat your oven to 150°C (normal) or 130°C (fan).
Once the pastry has been chilled for a second time, spread a layer of quince membrillo in the base of the tart, before filling it with the almond frangipane mix. Bake for 90 minutes.
Once cooked, remove the tart from the oven and allow to cool. Serve with double cream or vanilla ice cream.
Breakfast martini – Salvatore Calabrese, The Donovan Bar at Brown's Hotel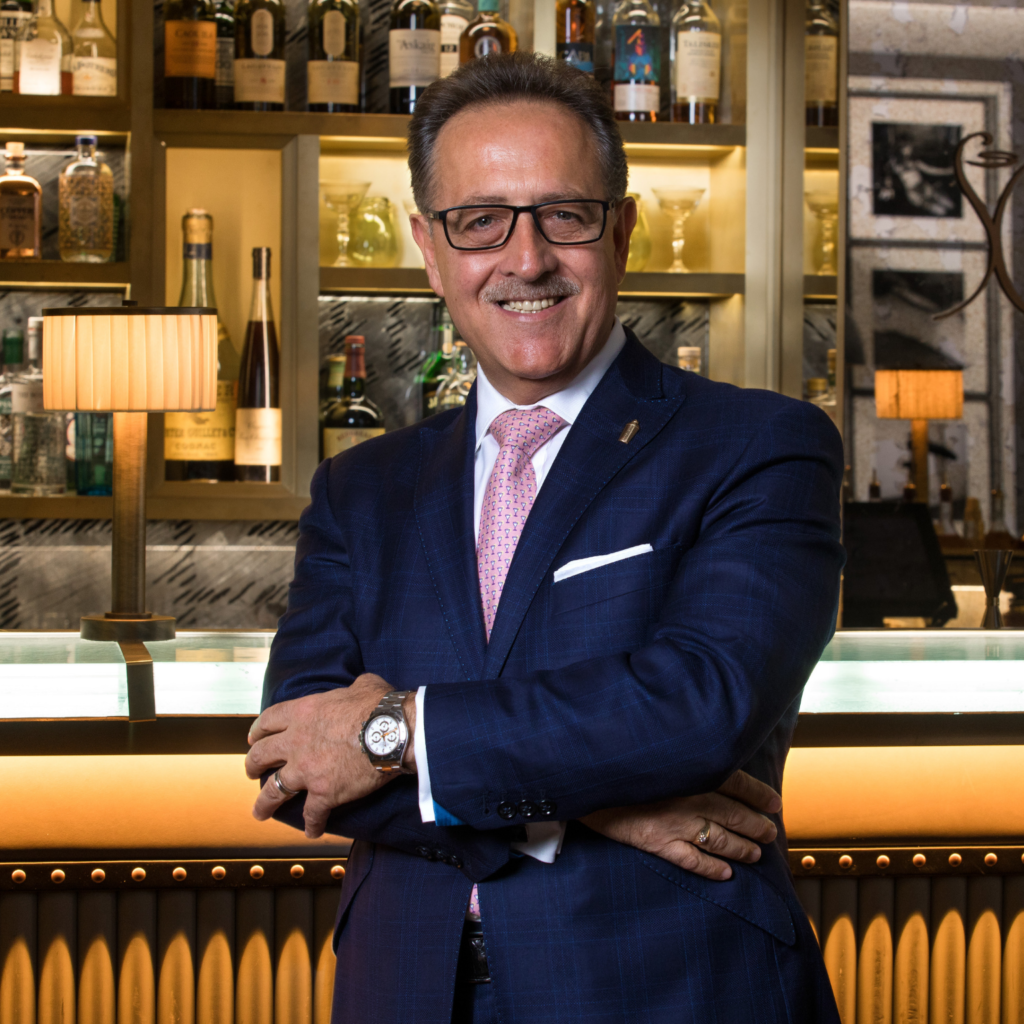 The dream for any bartender is to immortalise themselves with a cocktail, and world-famous mixologist Salvatore Calabrese has done just that with his signature Martini.
Inspired by marmalade on toast, the drink features a hint of citrus with a lingering bittersweet finish, and it's a been a long-time favourite on the menu at The Donovan Bar at Brown's Hotel – no matter what time of day.
Serves: 1 gap Prep time: 5 mins gap Skill level: Easy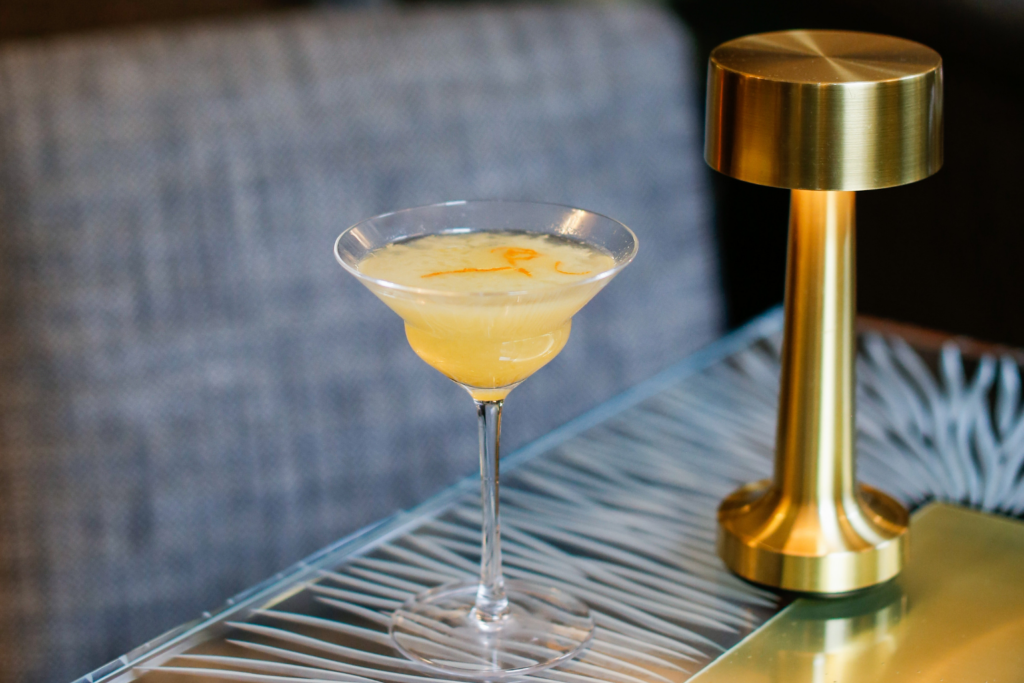 Ingredients
50ml London dry gin or vodka (depending on personal preference)
1 tbsp Cointreau
1 tbsp fresh lemon juice
1 tbsp thin-cut orange marmalade
A twist of orange peel
Method
Pour the gin or vodka, Cointreau, lemon juice and marmalade into a shaker and stir to dissolve the marmalade.
Add ice, shake, and strain into a chilled cocktail glass
Place the twist of orange peel on top of the drink for added aroma, and serve.
Also in COOK magazine…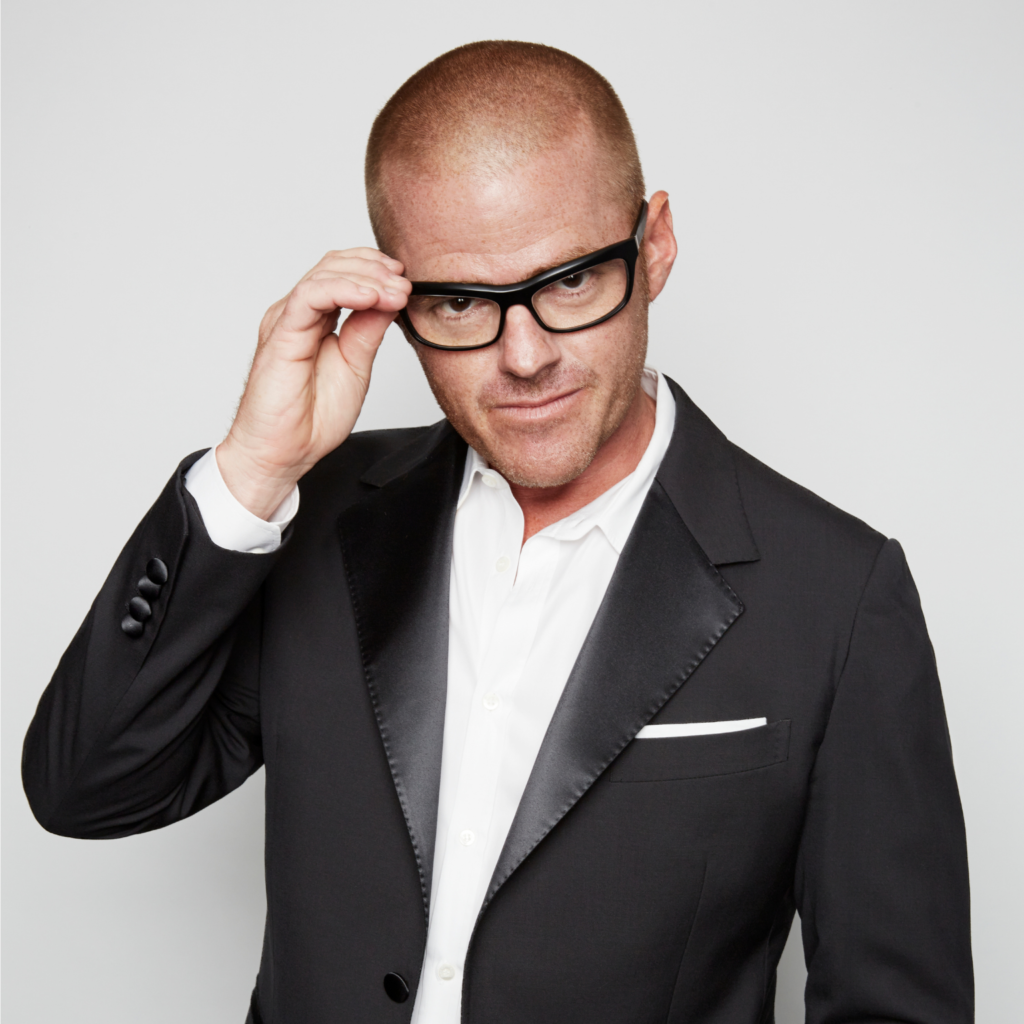 Scotch eggs – Heston Blumenthal, The Fat Duck Group
Heston Blumenthal's molecular magic has resulted in some of the most experimental dishes in contemporary cooking, while The Fat Duck in Bray has inspired a game-changing generation of chefs. But alongside Blumenthal's culinary wizardry, the six- Michelin-star-innovator also has the British classics dialled.
Cue his elevated Scotch egg: a textural treat featuring a crispy, crunchy exterior and an oozing yolk centre.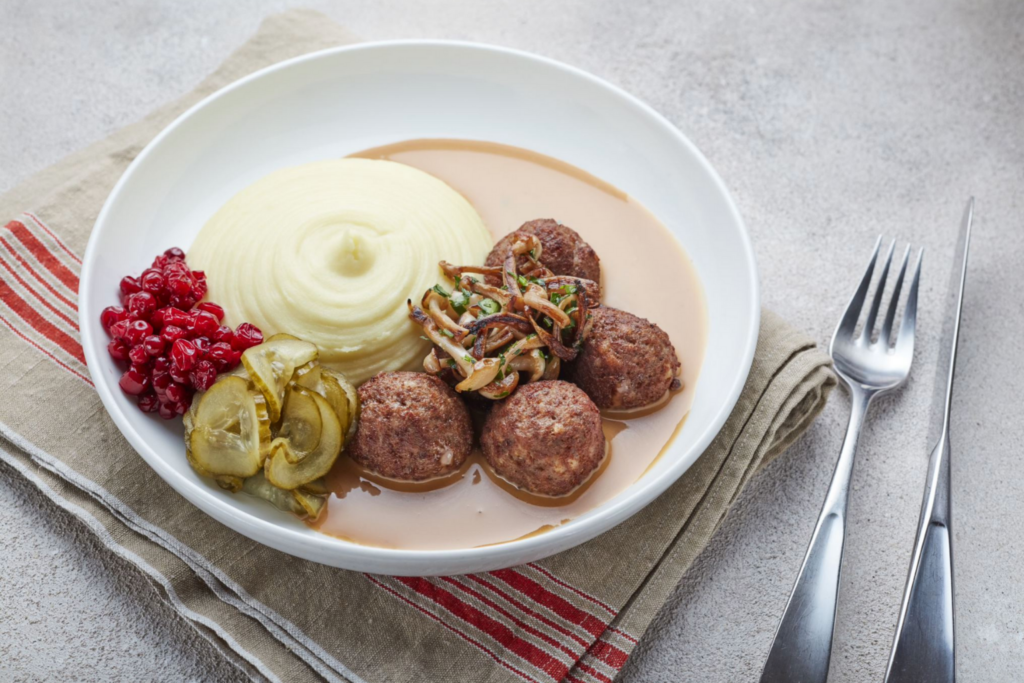 Swedish meatballs – Jorjón Colazo, Aquavit London
Head chef at Michelin-starred Scandinavian restaurant Aquavit London, Jorjón Colazo offers this take on a Nordic classic, defined by its fresh flavours, elegant presentation and quality ingredients.
Seven to nine meatballs per portion is perfect. Serve with creamy mashed potato and a velvety sauce for the final festive flourish.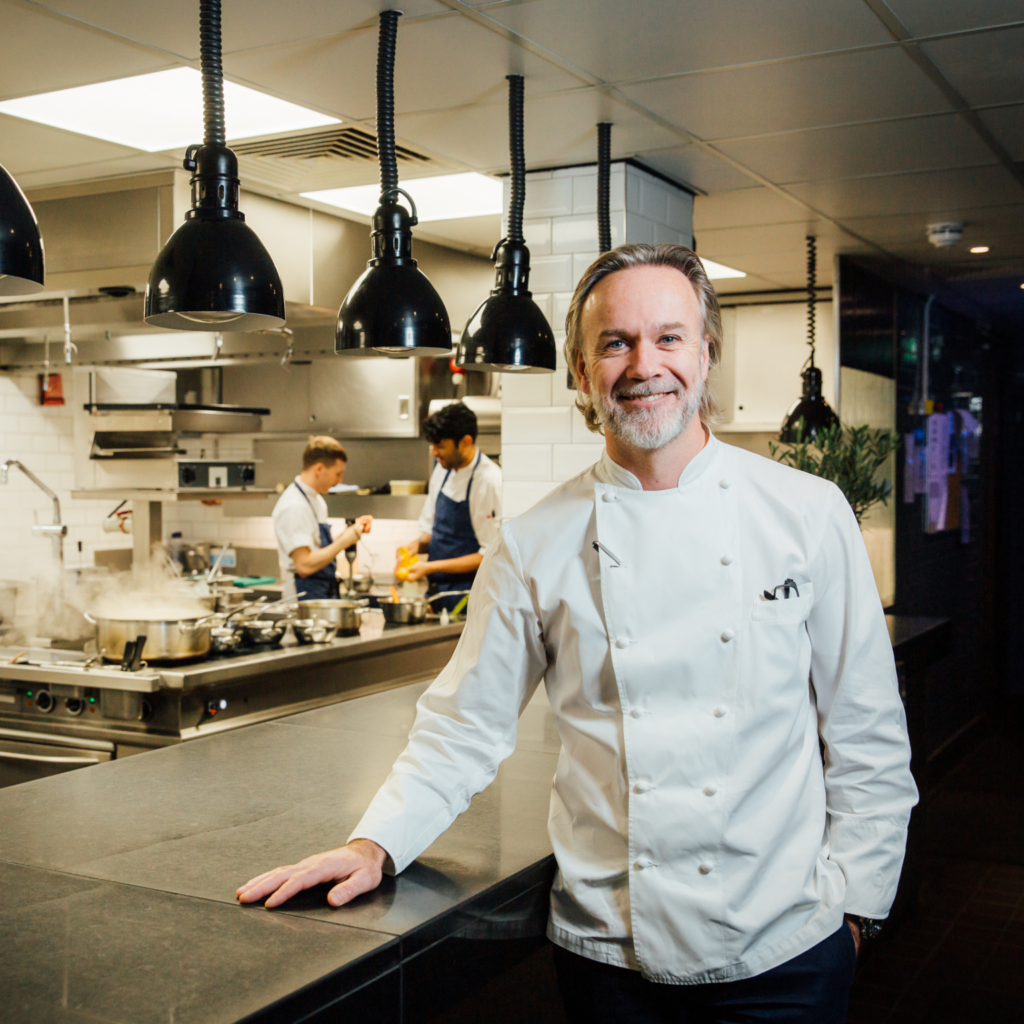 Custard tart – Marcus Wareing, Marcus Wareing Restaurants
Marcus Wareing's contribution to the British food scene has made him one of the UK's most respected chefs. When he isn't casting a critical eye over contestants' dishes on BBC One's MasterChef: The Professionals, he's overseeing menus at his one-Michelin- starred restaurant, Marcus, at The Berkeley Hotel, and The Gilbert Scott at St. Pancras Renaissance Hotel London – venues that often elicit rave reviews from members.
His custard tart received the royal stamp of approval in 2006 when he served it to her Majesty the Queen on her 80th birthday. Now you can create your own regal dessert at home – best served with a dollop of crème fraîche or good-quality vanilla ice cream.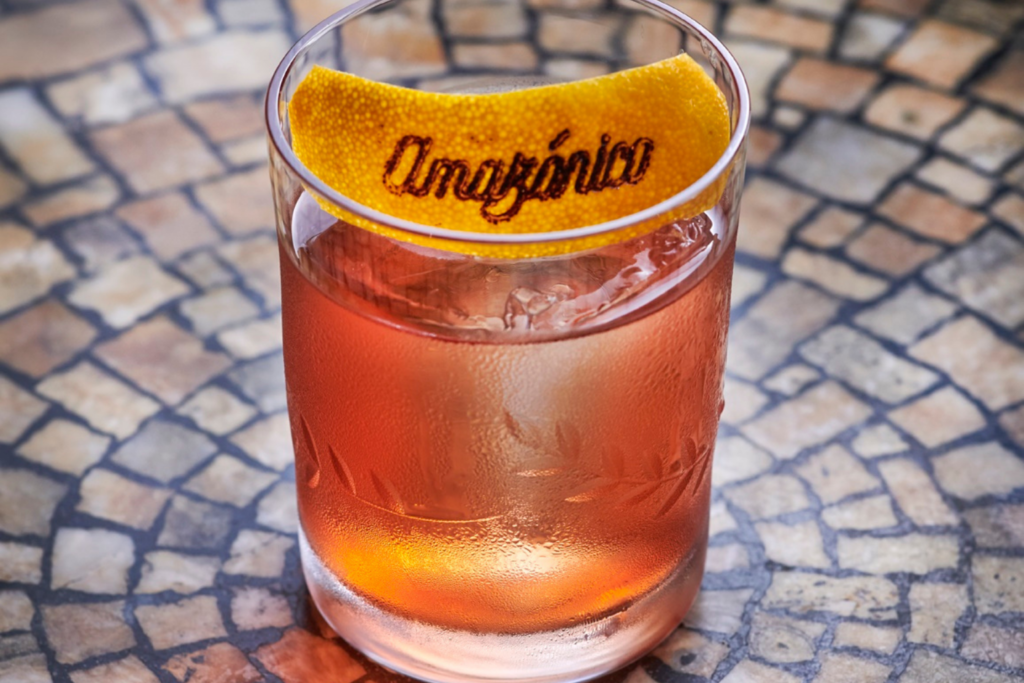 Amazónegroni – Edoardo Casarotto, Amazonico
Many members love Amazónico on Mayfair's Berkeley Square, and we always advise diners arrive early to enjoy a cocktail before taking their seat in the rainforest-inspired dining room.
This pineapple-infused negroni is a standout from the drinks list and it's an easy one to recreate at home. You'll need to make it a day ahead to give the fresh pineapple time to infuse with the alcohol.
COOK magazine also features recipes from many member-favourites, including Ollie Dabbous, Jun Tanaka and Tom Aikens. Click below to download the full magazine, and become a member to be the first to receive the next issue.