The lockdown has our members dreaming of travel, and when it comes to Africa, nowhere personifies the classic image of vast savannahs more than Kenya and Tanzania. To help you decide which of these East African safari greats to choose for your 2021 adventure, we've rated their travel experiences below. Drawing on feedback from our members and Lifestyle Managers, we pit the Great Rift Valley giants against each other in three rounds, covering wildlife, culture and scenery.
If you're looking for more holiday inspiration for 2021, become a member for ideas, advice and bookings. Our team in South Africa is extremely knowledgeable, having collectively experienced safaris across the continent. This also means that members benefit from on-the-ground support, which offers additional flexibility and peace of mind. For now, join us as we swap the lockdown for a pair of binoculars on the acacia-dotted plains of the Serengeti and Masai Mara.
Wildlife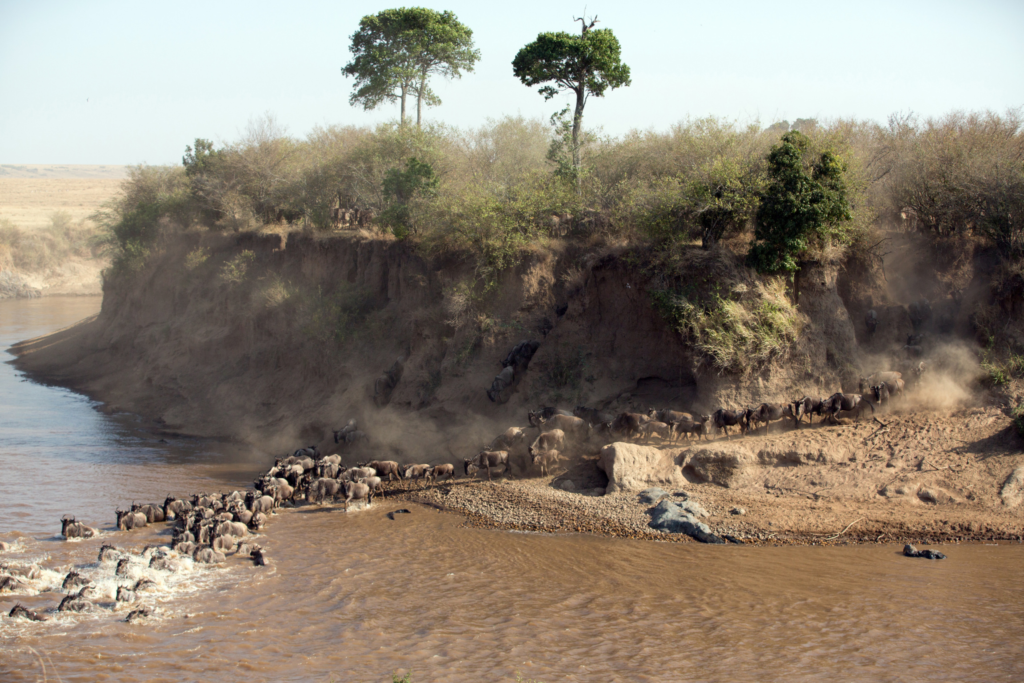 Tanzania
Tanzania can claim Africa's most famous wildlife spectacle in the Great Wildebeest Migration across the Serengeti plains. For most of the year, over two million antelopes thunder across the savannah in search of grazing and water, crossing the Grumeti River around June. Predators, from lions to crocodiles, are in hot pursuit, as are safari vehicles. There's also excitement in Tanzania's other wildlife experiences, such as seeing rhinos in the Ngorongoro Crater.
Base camp: Elewana Arusha Coffee Lodge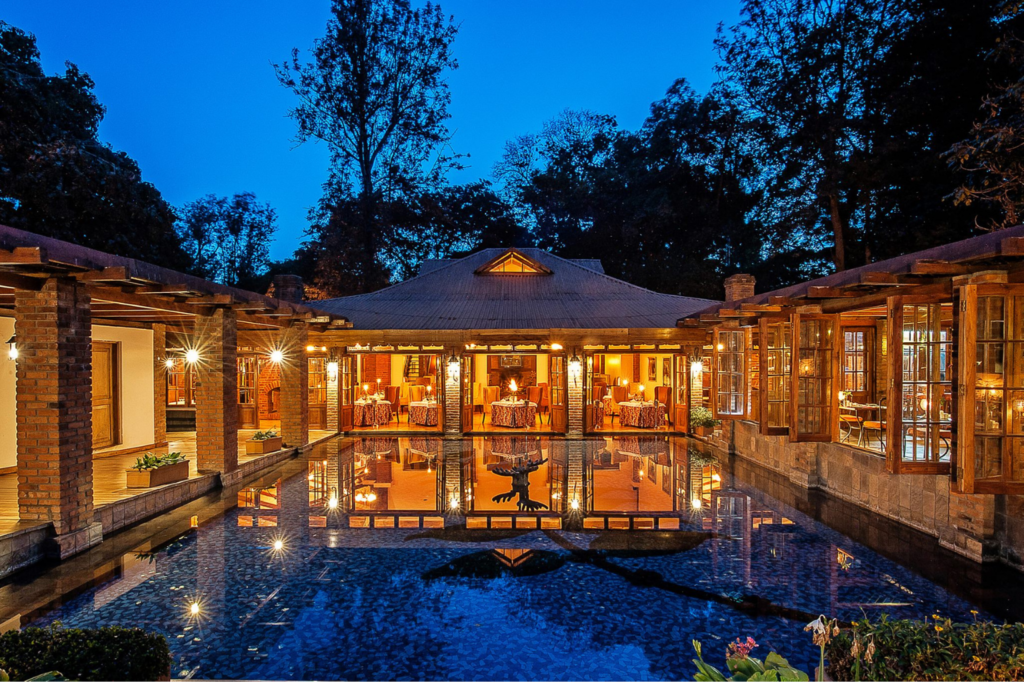 The coffee fields surrounding Arusha, the gateway to northern Tanzania's safari hotspots, provide a decorative theme for Elewana's plantation-style cottages situated among the aromatic coffee trees. Our members get to experience the poolside spa, trips to Arusha National Park and Ngorongoro, and coffee estate tours.
Kenya
Braving the perilous Mara River crossing in July, the wildebeest enjoy the green grass of Kenya's Masai Mara until the October rains. This northern extension of the Serengeti is every bit as spectacular for seeing the migration, with predators from hyenas and jackals to big cats, and the Big Five. Kenya is also home to the pelican-fringed Lake Nakuru and elephant-packed Amboseli National Park.
Base camp: Elewana Tortilis Camp
Named after the acacia umbrella thorn trees surrounding its hilltop perch, this classic East African camp offers luxurious en-suite safari tents with views of Kilimanjaro. This ecolodge in an exclusive private conservancy bordering Amboseli ensures comfort through its thatched lounge, bar and dining area.
Culture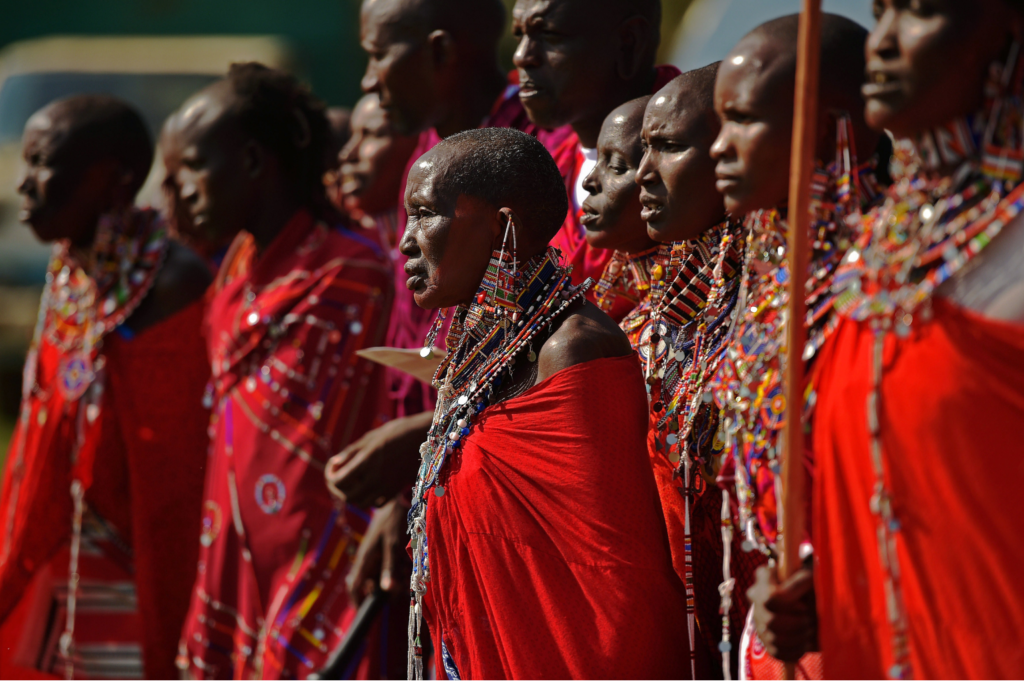 Tanzania
Zanzibar is the capital of Swahili culture, which traces its roots to seafaring merchants from across the Indian Ocean. The spice-scented lanes of Stone Town, with its bazaars, markets, Arab-style houses and ornate Indian-influenced homes, bring the subcontinent to mind as readily as Africa. After a few nights on the beach-lined Spice Islands, as Zanzibar and Pemba are known, you'll feel ready to sail into the sunset on a dhow.
Base camp: Elewana Kilindi Zanzibar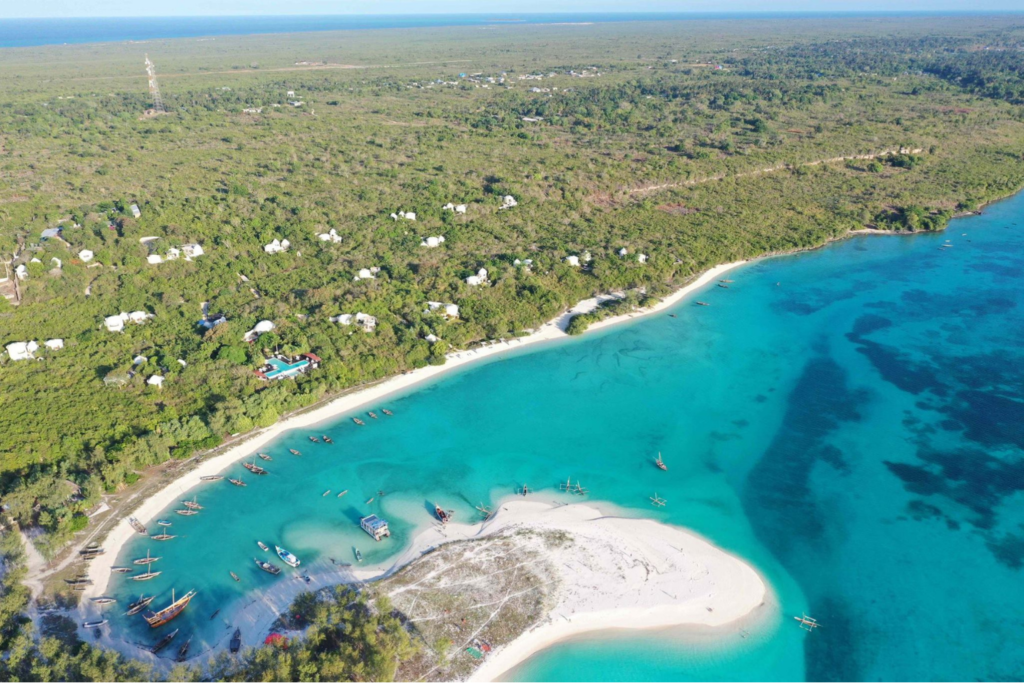 Designed for Swedish pop star Benny from ABBA, Kilindi blends Scandinavian minimalism with Middle Eastern elements reflecting Zanzibar's heritage. The white-domed pavilion suites occupy tropical gardens alongside a pale-sand beach. Our members love the private plunge pools, rainfall shower rooms, and glassless windows with traditional wooden shutters.
Kenya
With their ornate jewellery and bright red robes, the Masai people often serve as a pin-up for Africa's vibrant cultures. Meeting them on the savannah, where they still live a semi-nomadic lifestyle of herding cattle and goats, and witnessing their traditional practices, such as the jumping dance, is the experience of a lifetime. On the coast, Mombasa and dhow-stroked Lamu island are sultry centres of Swahili culture.
Base camp: Governors' Il Moran Camp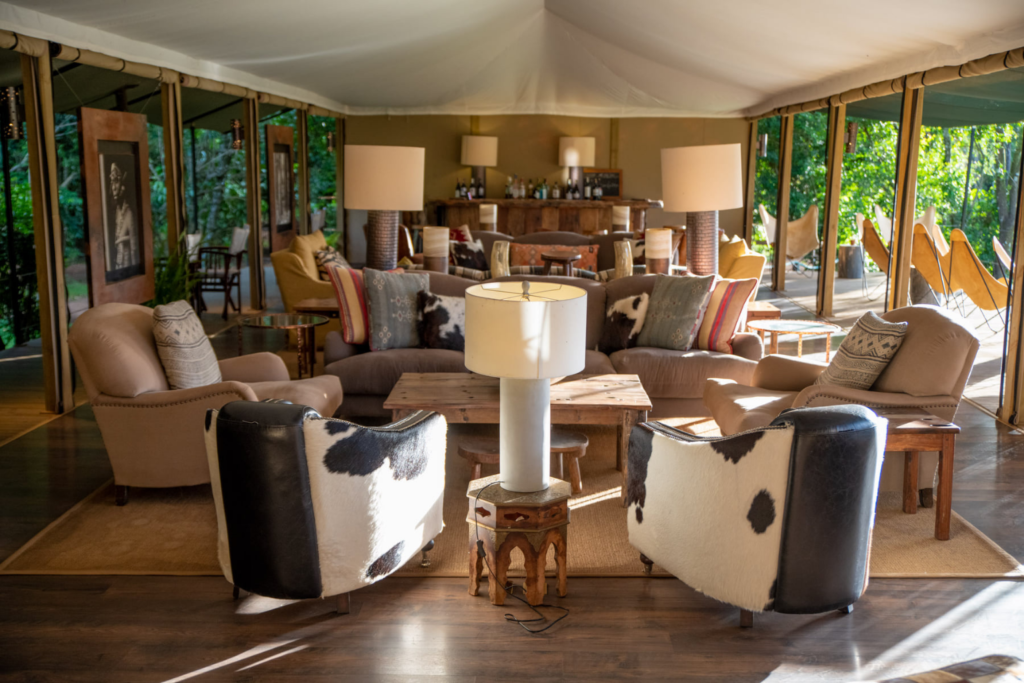 Ideal for members looking for luxury in the wild, Il Moran's 10 tents shelter in a forest by the Mara River, with meals served on a raised wooden deck overlooking the snorting hippos. Amid the decor of tribal portraits and African artefacts, our members have enjoyed the spa treatments and "bush TV" (sunken fire pit).
Landscape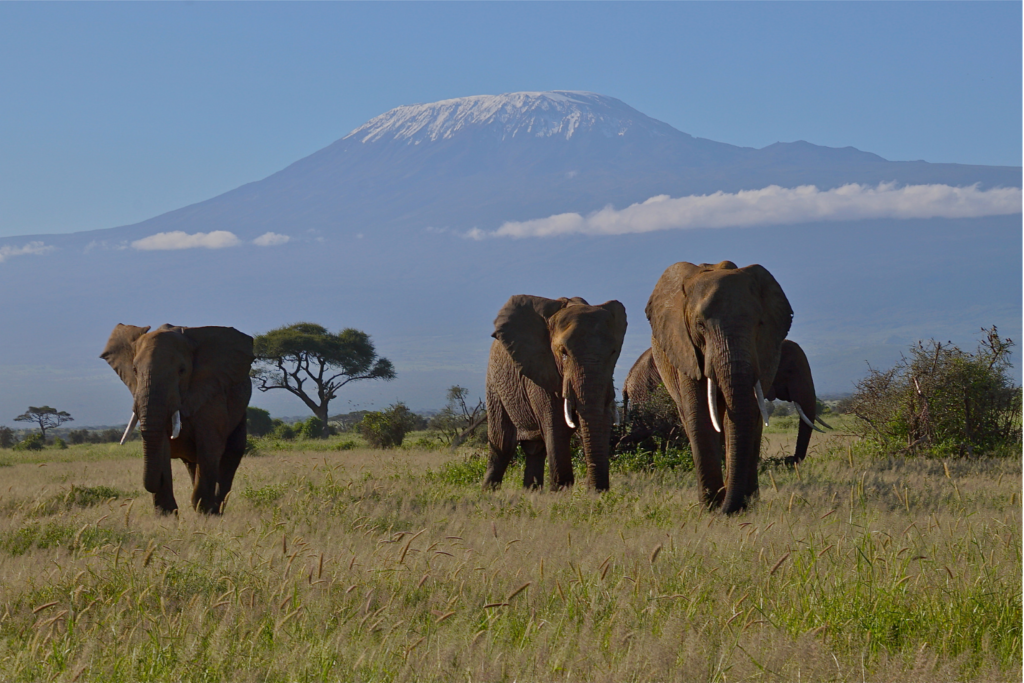 Tanzania
Towering almost 6,000m above the plains, snow-capped Kilimanjaro is Africa's highest peak and a majestic sight to behold. Just as epic is the Ngorongoro Crater, where the full gamut of wildlife adds drama to one of the world's largest inactive volcanic calderas. The Serengeti plains are also legendary, while Lakes Victoria and Tanganyika add watery vistas.
Base camp: &Beyond Ngorongoro Crater Lodge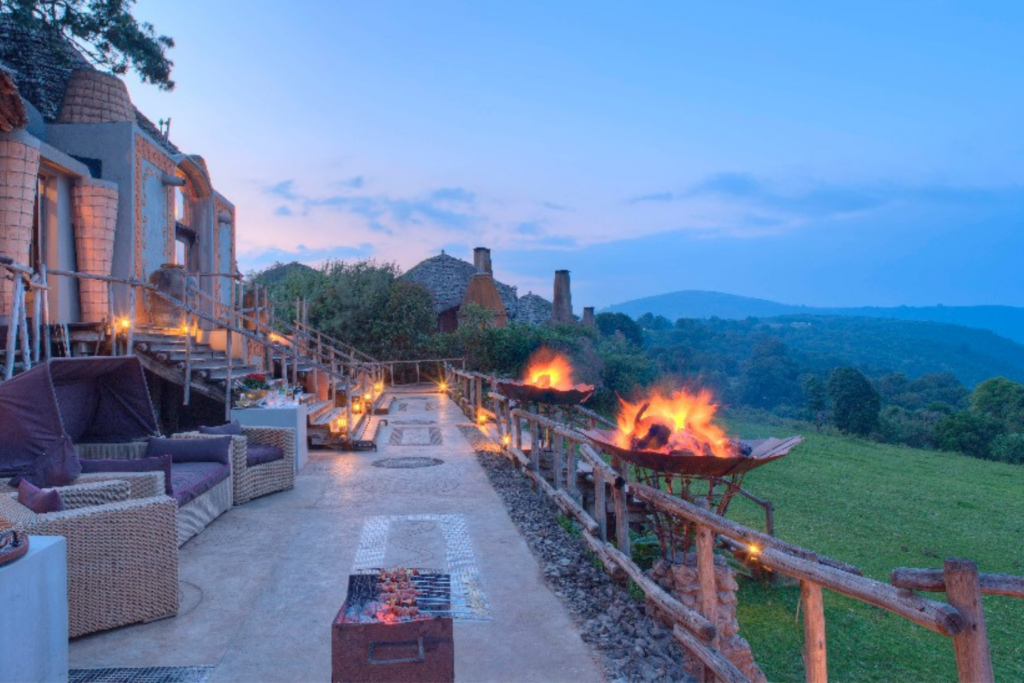 You'll want to pinch yourself at this magical lodge, which brings romance and fantasy to the top of the world, with its elegant baroque châteaux trappings and views across Ngorongoro's flamingo-crowded soda lakes. Our members rate the exclusivity of the glass-roofed suites, divided into three camps, each with private butlers and its own dining and sitting areas.
Kenya
Kenya's answer to Kilimanjaro is Mount Kenya, the continent's second highest summit, which brings glaciers to the equator. And that's only the beginning of Kenya's natural wonders – from the Siria Escarpment overlooking the Masai Mara to the Jade waters of Lake Turkana, and the Indian Ocean beaches to the basalt columns of Hell's Gate National Park.
Base camp: Elewana Sand River Masai Mara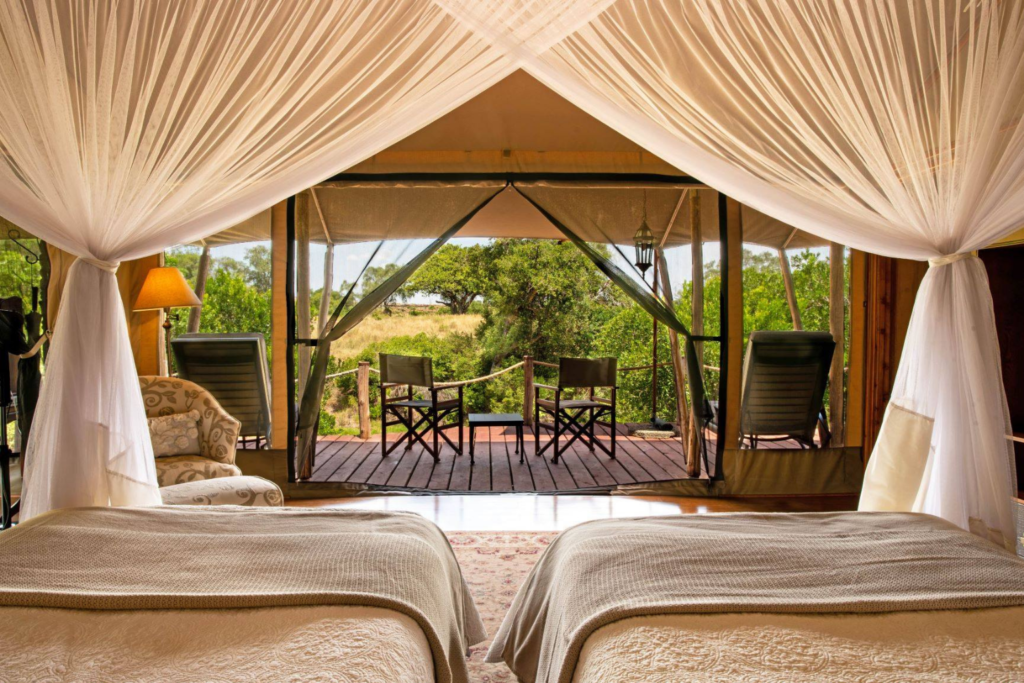 These luxurious safari tents in the Masai Mara National Reserve evoke the 1920s heyday of exclusive tented camps. Members tell us that the secluded riverside site in big-cat country offers exceptional wildlife watching and intimate accommodation under the stars.
Concierge's verdict
After going on safari in both Kenya and Tanzania, Ernest Hemingway wrote:
"I never knew of a morning in Africa when I woke up that I was not happy."
We would readily agree, whether gazing at Kilimanjaro or Mt Kenya, viewing charging wildebeest in the Serengeti or Masai Mara, or dreaming of dhow voyages in Stone Town or Lamu. Tanzania's Ngorongoro Crater is hard to beat, but Kenya's Lake Turkana is a surreal sight in its salty desert, so overall, it's a dead heat between these East African giants.
We've given you our view on Kenya and Tanzania's charms, based on our members' and lifestyle managers' experiences in Zanzibar and beyond. If this has given you lockdown wanderlust, why don't you read our 3 interior design trends for right now and keep yourself busy reimagining your living space until travel opens up again.