As one of the United States' first major thoroughfares, paving the path from Chicago to Los Angeles, Route 66 has long been a symbol of optimism and freedom to travelers heading west. Cruise back to yesteryear with a bite-sized jaunt along the Main Street of America, where relics of past mom-and-pop shops, classic diners, and roadside attractions live on.
Whether you're looking to spring from Springfield, IL, to Springfield, MO, check out what's so great about the Great Plains, or set off on a quest to see the Southwest, our three compact itineraries – complete with must-see attractions, worthwhile detours, and nearby luxury hotels and resorts – will do the trick.
The Best of the Midwest: Springfield, IL -> St. Louis, MO -> Springfield, MO
Total miles: 312
Total driving time (without detours): Approximately 5 hours
Recommended number of days: 3 to 4
Luxury hotel along the way: Four Seasons Hotel St Louis
Starting in the Land of Lincoln, swinging through the Gateway to the West, and landing in Route 66's birthplace, this Midwest jaunt travels through picturesque prairies to historic monuments and memorable attractions, with lots of quirky fun along the way for road-trippers of all ages.
Highlights:
Illinois State Capitol: No visit to Springfield, IL, is complete without getting a glimpse of the Illinois State Capitol. While tours are temporarily suspended, its Renaissance Revival and Second Empire architecture, as well as its eye-catching 405-foot dome, can still be enjoyed by trekking its grounds.
The Abraham Lincoln Presidential Library and Museum: Celebrate the legacy of our acclaimed 16th president by exploring a series of exhibits detailing his path from an impoverished childhood to his remarkable stint in the White House, which was cut short by his tragic assassination.
The Gateway Arch: Climb aboard a one-of-a-kind tram and ascend 63 stories to the top of the country's tallest monument, where you'll enjoy stunning views stretching as far as 30 miles.
Fantastic Caverns: Missouri is home to more than 7,000 caves, but Fantastic Caverns is the only one equipped for ride-through tours. Board a Jeep-drawn tram and marvel at the varied cave formations along the one-mile route.
Notable detours:
Arthur, IL: Located roughly 80 minutes east of Springfield, IL, Arthur offers an inspiring view of the state's largest and oldest Amish community, where more than 1,000 families pursue a more traditional way of life by limiting the usage of modern technology.
Hannibal, MO: Approximately two hours north of St. Louis lies the hometown of the great American author Mark Twain. Walk its charming streets and view the many sites that inspired his classic novels The Adventures of Tom Sawyer and Adventures of Huckleberry Finn.
The Path of the Grapes of Wrath: Oklahoma City, OK -> Amarillo, TX -> Santa Fe, NM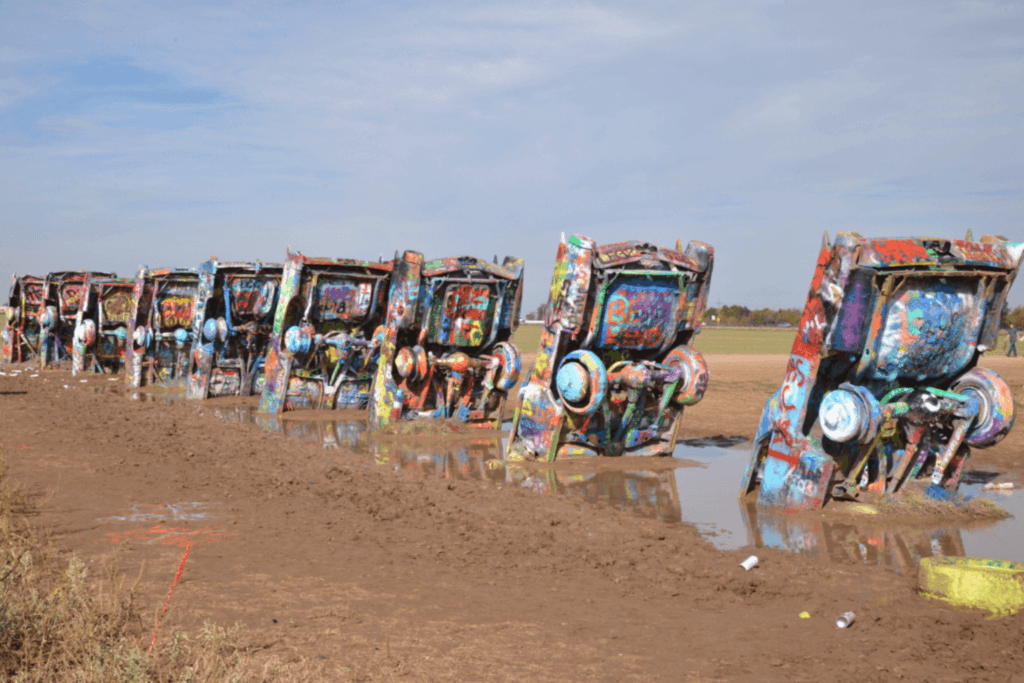 Total miles: 538
Total driving time (without detours): Approximately 8 hours
Recommended number of days: 4
Luxury hotels along the way: 21c Museum Hotel Oklahoma City and Inn and Spa at Loretto
This Mother Road excursion follows a segment of the Route 66 journey west that many Americans were forced to make during the 1930s Dust Bowl, as depicted in John Steinbeck's celebrated historical novel. Beginning in the Sooner State, swooping through the colorful city of Amarillo, and concluding in Santa Fe, let the Great Plains woo you with its rolling green hills, steep buttes, and vast canyons.
Highlights:
Oklahoma City National Memorial & Museum: Pay your respects to the 168 people who lost their lives in the tragic 1995 Oklahoma City bombing. This museum and memorial is filled with heart-wrenching accounts, artifacts, and photographs from the devastating attack that affected thousands of families in the community.
The Big Texan Steak Ranch & Brewery: Featured in numerous movies and TV shows, including Waking Up in Reno and Man v. Food, this famous Route 66 landmark serves up 72oz steaks – and they're free if you're able to consume your entire meal in less than an hour.
Cadillac Ranch: Grab a can of spray paint and have at it! Since 1974 this public art installation, featuring ten half-buried, graffiti-covered Cadillacs, has welcomed road-trippers to legally tag to their hearts' content.
Santa Fe Plaza: This National Historic Landmark, surrounded by local boutiques, art galleries, and restaurants, is the heart and soul of Santa Fe. Buzzing with activity daily, this is where the city gathers for live music, farmers' markets, and vibrant celebrations.
Notable detour:
Taos, New Mexico: An hour and a half north of Santa Fe, Taos boasts a wide selection of outdoor pursuits, including white-water rafting, hiking, and even llama trekking.
Though the UNESCO World Heritage site, Taos Pueblo, is temporarily closed, the Taos Visitor Center is open to the public and provides an insightful overview of the 1,000-year-old Native American adobe village.
A Zest for the Southwest: Gallup, NM -> Flagstaff, AZ -> Kingman, AZ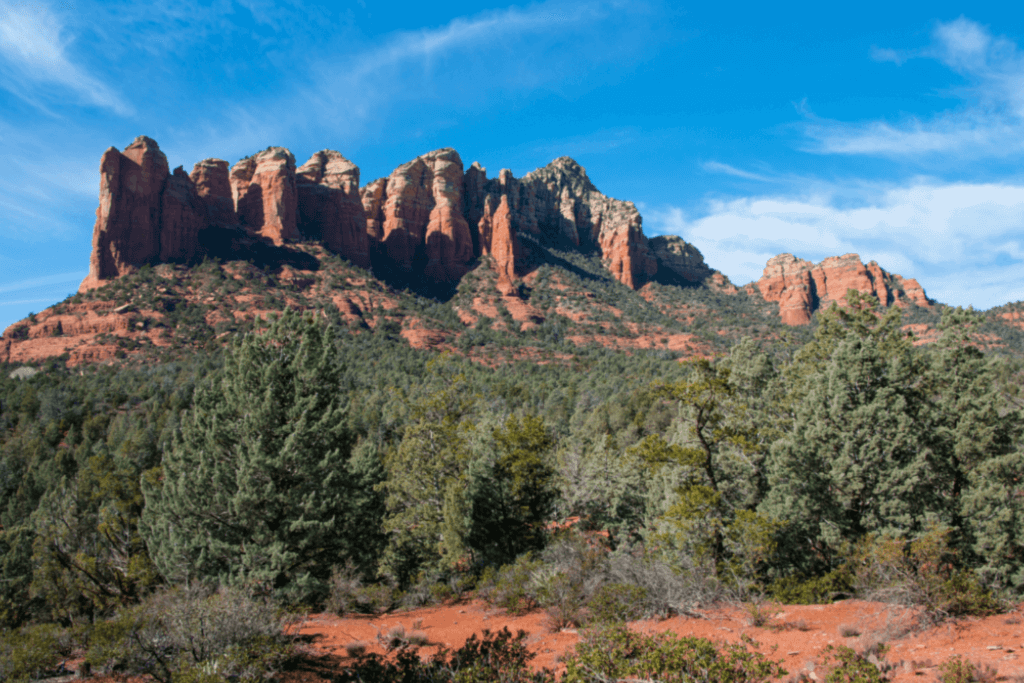 Total miles: 332
Total driving time (without detours): Approximately 5 hours
Recommended number of days: 4
Drive past jaw-dropping red-rock formations, volcanic mountains, and sun-kissed desert landscapes full of saguaro cacti on this Route 66 journey from Gallup to Kingman, with a scenic pit-stop in Flagstaff. This unforgettable road trip offers convenient access to the Grand Canyon, the Petrified Forest National Park, and Sedona.
Highlights:
Gallup Cultural Center: Celebrating the diverse culture and history of Gallup, this intimate museum highlights the traditions of local Native American tribes, the city's pivotal role in the southern transcontinental rail route, and its place along Route 66.
Lowell Observatory: Famous for discovering Pluto, Lowell Observatory welcomes visitors to peer deep into the universe with its state-of-the-art public telescopes. Daytime visits lend themselves to informative science talks and historical tours, while nighttime is best for those looking to stargaze.
Keepers of the Wild Nature Park: If you've been concerned about the well-being of the animals featured in the infamous Netflix docuseries Tiger King, this nonprofit animal sanctuary is home to seven big cats previously owned by Joe Exotic. Join a guided safari tour and hear the rescue stories of the park's 130 wild animals.
Notable detour:
Meteor Crater Natural Landmark: Roughly 49,000 years ago, an asteroid with a diameter of up to 50 meters collided with Earth, creating what's now the best-preserved meteorite impact site on the planet, located six miles south of Route 66, between Gallup and Flagstaff.
Looking for adventures farther North? Read our post about the best fly fishing spots in Canada.