Change has been in the air for a while on Ibiza, the Balearic Island still associated with all-night raves and unabashed hedonism. The parties still exist, of course, but at the same time, a gentler way of life has taken hold of the island – seen in the rapid development of its luxury agriturismo, as well as its back-to-the-roots culinary scene.
Many ibicencos have been nurturing island ingredients and farm-to-table dining for years, but today, every restaurant worth its salt has its own vegetable patch, home-grown organic ingredients are indispensable, and a leisurely drawn-out lunch is the new night out.
This rebooted ruralism is kicking off in the island's wilder northern half, past the bohemian village of Santa Gertrudis de Fruitera – itself often considered the true and traditional heart of the island, as well as its culinary capital. Verdant farmland, dotted with old fincas and bursting with produce, trails down to the coast, where stylish chiringuitos see world-class chefs taking up residence for the summer – the kind of places where going for a swim in between courses is perfectly acceptable.
Add to that a burgeoning organic wine scene, led by Juan Riera and Stella González of Can Rich, and a growing number of organic farms such as Terra Masia – which champions biodynamic farming, runs workshops and family events, and trains up volunteers in the art of sustainable planting and growing – and you have yourself a bona fide foodie destination.
Our Ibiza specialists have roamed the island to find the top spots to dine at right now – from a newly Michelin-starred hotel restaurant to true farm-to-table properties and hot new beach spots, plus member favourites with exclusive benefits, for those keen to explore Ibiza's party side. Please note that many restaurants are only open in season, from April to October – chat to us for further details.
* = number of Michelin stars
Michelin-starred hotspots
La Gaia by Óscar Molina*
Ibiza Gran Hotel, Passeig Joan Carles I, 17, 07800 Eivissa
Ibiza's only hotel restaurant to receive a Michelin star.
Ibiza Gran Hotel's flagship restaurant landed a coup in December 2021, when it earned a coveted Michelin star – the only hotel restaurant on the island to do so. As one of Ibiza's most acclaimed culinary voices, multi-award-winning chef Óscar Molina is committed to sourcing prime seasonal, local ingredients, which impart an authentic Mediterranean flavour to each dish.
The result is two showstopping tasting menus, the 10-course Tanit and 14-course Posidonia, served in a low-lit, laid-back ambience. We recommend going all out with the latter, which features a roll call of beautifully plated standout dishes – and the optional wine pairing is excellent.
Perfect for: Art aficionados – both the culinary offering and artworks displayed throughout the hotel merit a visit.
Es Tragón*
Carretera Cap Negret, s/n, 07820 Sant Antoni de Portmany
Ibiza's only other Michelin-starred restaurant is a leisurely fine-dining experience in a tranquil countryside setting.
Located in a country house just outside Sant Antoni de Portmany, surrounded by pine trees and overlooking the Mediterranean Sea, Es Tragón presents a peaceful oasis for a gourmet meal. Head chef Álvaro Sanz Clavijo earned his stripes cooking in two- and three-Michelin-starred kitchens around the world before settling on Ibiza. His multi-course tasting menus earned Es Tragón its own Michelin star in 2020 – the first restaurant on the island to receive the honour.
The perfectly executed and presented dishes use home-grown produce to take diners on a culinary journey throughout Spain – best enjoyed on the terrace.
Perfect for: A different type of drinks pairing – the 'liquid harmony' pairing can include anything from wine to sherry and rum.
Farm-to-table dining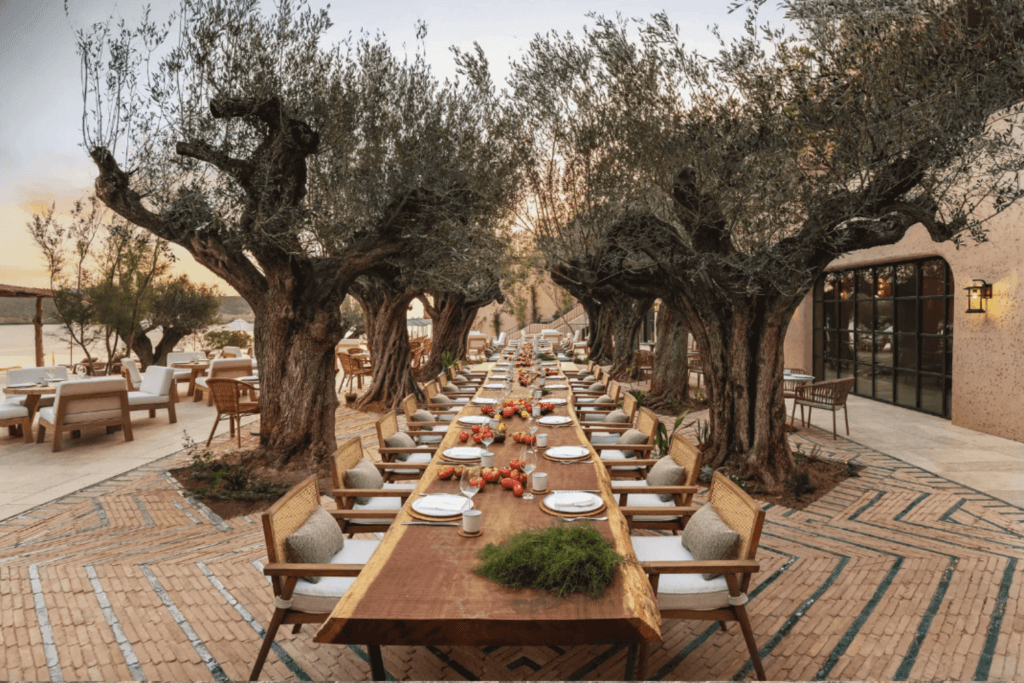 Cas Gasi
Camino Viejo de Sant Mateu, s/n, 07814 Santa Gertrudis de Fruitera
Located in the lush heartland of Ibiza, this tiny family-run countryside hotel and restaurant offers agritourism bliss.
Surrounded by more than 400 olive trees, as well as almond, fig, and orange groves, Cas Gasi is the kind of bohemian hideaway you might book for dinner (it is now also open to non-guests), only to come back for a prolonged stay.
As one of the first hotels on the island to establish an organic vegetable garden more than 20 years ago, you can expect much of what you find on your plate to be garden-to-fork produce – from the seasonal mushrooms in your linguine to the leafy greens accompanying your red mullet.
Want to impress your other half? Book the Ibiza Six Senses experience for two, which includes a four-course menu, private yoga session, and access to the spa and wellness area.
Perfect for: A romantic date.
Aubergine by Atzaró
Carretera Sant Miquel (between Santa Gertrudis and San Miguel)
Part of Ibiza's haute-luxe Atzaró Group, Aubergine exemplifies the island's farm-to-table food scene.
Located in a traditional finca, with several vine-covered terraces and airy dining rooms, Atzaró's countryside retreat seems made for leisurely lunches.
Most of the menu's organic ingredients come straight from the on-site vegetable garden, which guests are encouraged to visit – meander past colourful vegetable patches, fragrant pergolas, and fig-laden trees before sitting down to enjoy highly satisfying – and mainly plant-based – dishes, washed down with carrot and turmeric kombucha or a quinoa vodka with Sicilian lemonade.
If time allows, we also highly recommend a visit to Atzaró's seaside sister, Atzaró Beach.
Perfect for: A long, lazy lunch gathering with friends – just because, or to celebrate a special occasion.
Jul's
Edificio Can Mariano, 07818 San José
A slice of Greece in rural Spain.
It's back to its roots at this gorgeous Greek restaurant, where many of the seasonal ingredients you'll find on your plate would have come straight from Jul's own organic farm, or from trusted local suppliers – in fact, everything you taste will have been produced locally, including the drinks, which are fermented and distilled on-site.
Chef Christos Fotos combines traditional ways of cooking – think plenty of fire and smoke – with modern techniques; the result is a menu of dishes that seem both thoroughly modern and reassuringly familiar.
Perfect for: Al fresco dining amid twinkling lights.
Bottega il Buco
Carrer Vénda de Parada, 12, 07814 Santa Gertrudis de Fruitera
Il Buco's first international outpost is a homecoming of sorts.
Donna Lennard and Alberto Avalle's perpetually packed New York restaurant, Il Bucco, has its roots firmly planted between Italy and the Iberian Peninsula – which made the opening of an Ibiza branch a natural progression.
Located in the foodie town of Santa Gertrudis, the charmingly rustic restaurant and focacceria follows its big sister's philosophy of serving simply prepared ingredients, sourced both locally and in Avalle's native Italy.
Mouthwatering Jose smoked trout, salumi, and house-made ricotta are best enjoyed with a glug of Il Buco's own brand of olive oil, and washed down with a glass of organic vino.
Perfect for: Bread lovers – chef Guido Trombettoni's focaccia, which uses ancient whole grains from Sicily, is worth its carbs in gold.
HaSalon Ibiza
Six Senses Ibiza, Carrer Camí de sa Torre, 71, 07810 San Juan Bautista
The founding father of new Israeli cuisine brings his 'living room' to Ibiza.
Acclaimed Israeli chef Eyal Shani has transplanted his crowd-favourite Tel Aviv restaurant HaSalon (meaning living room) to Ibiza, where it now sits prettily within the elegant confines of the Six Senses hotel.
Reflecting the spirit and tastes of both its origins and its new home in Xarraca Bay, HaSalon Ibiza taps right into the chef and the hotel brand's shared sustainability ethos.
Organic ingredients of the highest quality are sourced from the company's farm outside of Santa Gertrudis for the modern Mediterranean menu and paired with biodynamic wines and an extensive cocktail list using botanicals from the Six Senses garden. Book the beautiful long wooden dining table for a convivial family feast or dinner party with friends under ancient olive trees.
Perfect for: Vegans – Shani elevates humble vegetables to hero status.
Can Domo
Carretera Cala Llonga, 07840 Santa Eulària des Riu
New owners have turned this relaxed 17th-century farmhouse into a luxe hipster enclave with eight bedrooms and an outstanding restaurant.
During one of the first waves of agritoursim in Ibiza, Can Domo was taken over by Spanish partners Pablo Casado, Bernardo Godino, and Álvaro Sasiambarrena last summer – the group, who are also behind Can Tres on Formentera, overhauled the house and grounds outside of Santa Eulalia to create a bohemian hideaway complete with a relaxed fine-dining restaurant.
Helmed by chef Luis Caballero, the Mediterranean menus feature vegetables from the on-site organic gardens and extra-virgin olive oil, courtesy of some 600 olive trees on the 15-hectare farm. We highly recommend the tasting menus, which will have you salivating, with dishes such as mini artichokes served with cockles and bone marrow broth, and Spanish Carabinero prawn with lard and porc negre sobrasada.
Perfect for: Turning dinner into an overnight stay.
Feet-in-the-sand dining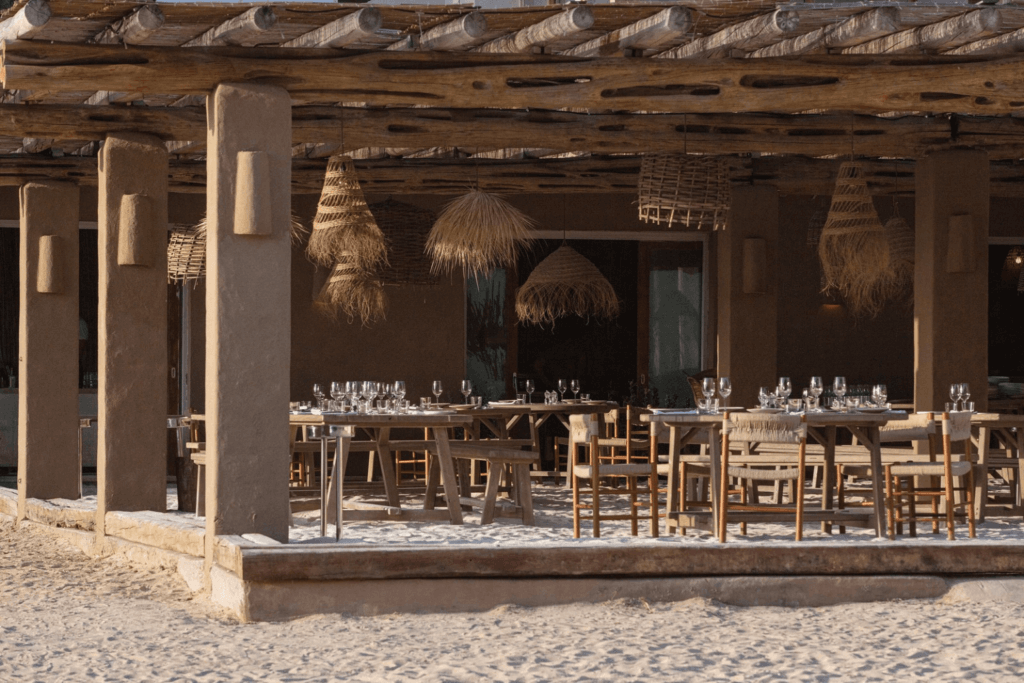 Casa Jondal
Cala Jondal, s/n, 07839
Ibiza's hottest culinary ticket for the past two years.
The atmosphere may be casual (no one will bat an eyelid if you feel like a refreshing dip in between courses) but an air of luxury prevails at the beachfront Casa Jondal, thanks to the star power of chef-patron Rafael Zafra, a Ferran Adrià alumnus and the former head chef at El Bulli.
Here, the chef takes the humble concept of a chiringuito and dials it up a notch or two, with a seafood-led menu that spins local ingredients in two ways – think king crab, grilled with hollandaise sauce, or sautéed with chilli. The only drawback? The restaurant's popularity means that there's a lengthy waiting list – chat to us to try to help you secure a table.
Perfect for: An elevated beach lunch.
El Silencio
Avenida de Cala Molí, 30, 07830 Sant Josep de sa Talaia
Mauro Colagreco is setting up shop on Ibiza.
World-renowned Argentinian chef Mauro Colagreco of Mirazur fame is taking up residence at El Silencio on Ibiza's west coast – a beach house from the Paris-based brand behind the David Lynch-designed private club Silencio – for the summer, in collaboration with his friend and fellow chef Federico Desseno.
Befitting of the feet-in-the-sand setting, the food is a more casual affair than Colagreco's usual Michelin-starred menus and is based on the two chefs' common passion for flame cooking – how does grilled prawns and steak, and pizzas straight from the clay oven, best combined with poolside cocktails overseen by Remy Savage (formerly of the Artesian in London's Langham hotel) sound?
Perfect for: Sundowners followed by dinner – overlooking the seafront of Cala Moli, the restaurant is renowned among locals as a secret sunset spot.
El Chiringuito es Cavallet
Playa es Cavallet, 07830 Ibiza
While away the hours at this relaxing seafront restaurant-cum-beach club.
Restaurateurs Jonathan Thorogood and Olivia Fleury have a great eye for location and style, resulting in this gorgeous beach spot. Set among Es Cavallet's striking salt plains, sand dunes, and crystalline waters, with uninterrupted views to Formentera and Dalt Vila, the wood-clad, white umbrella-ed beachside restaurant will take you from breakfast to tapas and wood-fired grills at lunch, to cocktails – ordered from the comfort of your sunlounger – and chilled live music in the afternoon. Young guests meanwhile will be kept entertained at Little Chiringuito.
Perfect for: Parents in need of a break from their energetic offspring.
Young guns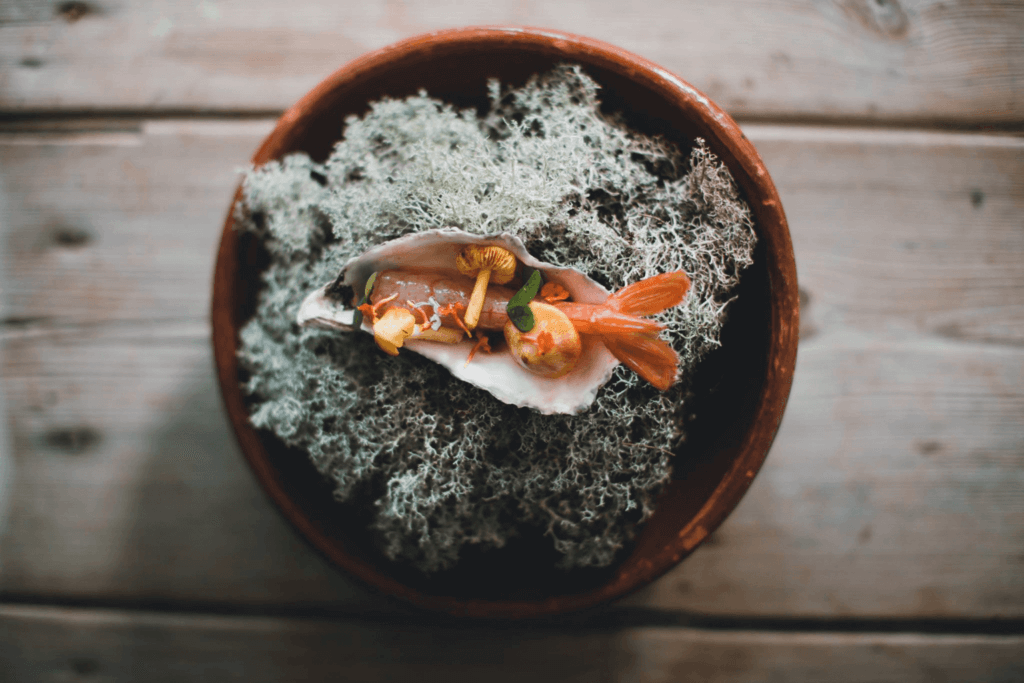 Taller de Tapas by Ibiza Food Studio
Carrer Alt, 2, 07800 Ibiza Town Ibiza Town
Ex-Noma chef Boris Buono dishes up some of the most beautiful food on the island.
Danish-Italian expat Boris Buono is passionate about food and its origins. You'll find his restaurant-within-a-food-studio – a hotpot of experimental small plates – tucked away in the maze of cobbled streets in the fishermen's quarter of the old marina.
Described by the chef as a 'social dining club', Taller de Tapas is all about provenance – you'll feel like you've been invited to a special dinner party at the chef's house as you watch him whip up an innovative Scandinavian take on the original Spanish tapas. Hooked? You can also book cooking classes, or market and foraging trips with Buono himself.
Perfect for: Seeing one of Ibiza's most exciting chefs in action.
Sabbaba Montesol
Gran Hotel Montesol, Passeig de Vara de Rey, 2, 07800 Ibiza Town
The Experimental Group comes to Ibiza.
An Ibiza institution, the Gran Hotel Montesol originally opened in 1933 as the island's first hotel. Many incarnations later, most recently under the Hilton Curio Collection brand, the edgy Experimental Group has taken over – which also spells good news for the recharged restaurant.
For brilliant views of Dalt Vila, start your evening with predictably excellent cocktails – this is the group behind some of Europe's top cocktail bars after all – and small bites on the rooftop, before making your way downstairs for dinner. The moon-and-stars design is bright and breezy, while the menu offers an interesting mix of sharing dishes from Jerusalem and Spain.
Perfect for: Enjoying dishes cooked in a traditional robata – think Iberian pork with capers and anchovies.
Overall
Passeig de Santa Gertrudis N11, Local 3, 07814 Santa Gertrudis de Fruitera
A dynamic duo brings an experimental coctelería to Santa Gertrudis.
Having worked together in Spain, the UK, and Singapore for more than 15 years, Mónica A Patiño and Jorge A Conde ended up in the pretty town of Santa Gertrudis, where they interrupted the bohemian vibe with this cutting-edge cocktail bar-cum-science lab.
Prop yourself up at the bar and watch master mixologist Conde shake up a personalised cocktail for you, featuring strong flavours and distinctive combinations from his home-made distillations, before moving on to the seven-course tasting menu created by Patiño. For something extra special, book the private monthly 'fine-drinking dinner' for 20 guests – it's an experience.
Perfect for: Distinctive liquid creations, paired with melt-in-the-mouth meats and delicious smoky vegetables.
Member favourites
Member benefits at the establishments range from priority access and VIP bookings to complimentary glasses of Champagne and cocktails.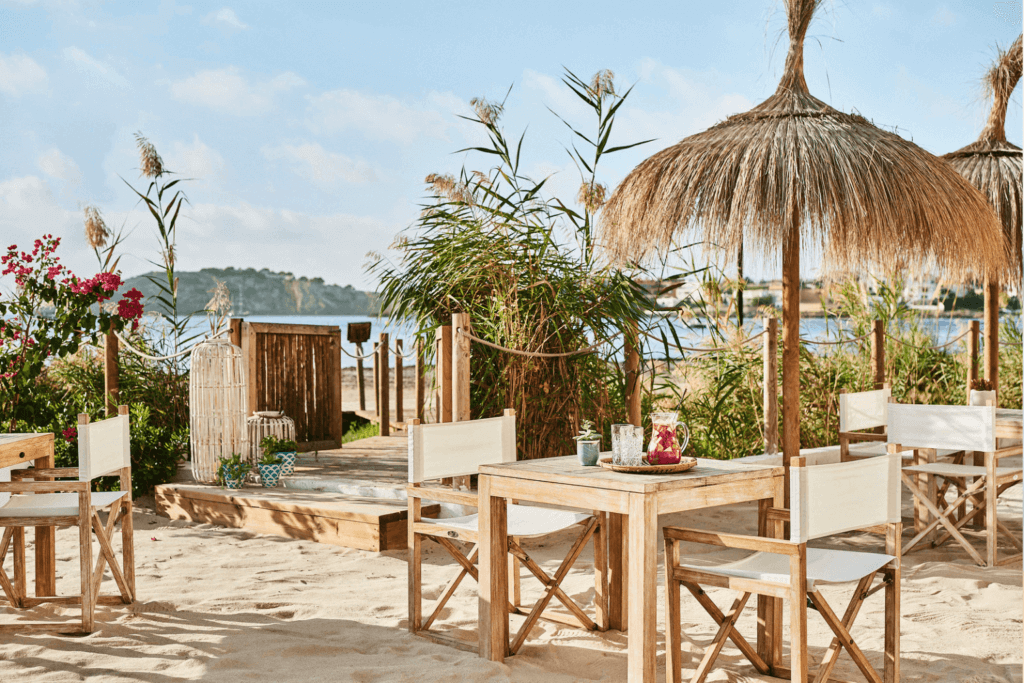 Nikki Beach Ibiza
Avinguda de s'Argamassa, 153, 07840 Santa Eulària des Riu
The hip beach club's Ibiza outpost is an all-day destination.
Situated on the east coast in Santa Eulalia, Nikki Beach's hip Ibiza offering captivates with impressive and uninterrupted views of the Mediterranean Sea. With a beach club, pool, lifestyle boutique, and signature tepees to choose from, boredom won't be an issue – have a stroll on the sand, a dip in the pool, or reside on one of the loungers, cocktail in hand. The eclectic international menu (highlights range from chicken satay to vegan Marrakech falafel salad) is complemented by a varied wine list and live music.
Member benefits: Please enquire with your lifestyle manager.
O Beach Ibiza
Carrer des Molí, 12-14, 07820 Ibiza
Poolside luxury in Sant Antoni.
Put in some pool time at this buzzing day resort, which is renowned for its parties. Begin with brunch or end with a dinner of Mediterranean fusion cuisine – sushi, burgers, and sharing platters satisfy peckish sunbathers, while more substantial mains include steaks, pasta dishes, and Thai green curry. A brand-new addition, Bam-Bu-Ku is a tropical beach club for sunbathers and surfers, while golden hour calls for cocktails at the Sunset Roof Garden.
Member benefit: Please enquire with your lifestyle manager.
Nobu Hotel Ibiza Bay
52 Carrer de Ses Feixes, 07800 Ibiza
Nobu brings sleek design and superb gastronomy to Talamanca Bay.
A spectacular location on the shores of Talamanca sets the scene for Nobu's trademark style and panache. As is to be expected, the culinary offering is equally impressive. From sushi master Nobu Matsuhisa's signature Japanese dishes at his eponymous restaurant, to malagueño chef Dani Garcia's Ibizan outpost of his Michelin-starred BIBO, and relaxed seaside dining at the chiringuito-style Chambao (conveniently located next door to the kids' club), the hotel covers all your epicurean needs in one slick package.
Member benefits: Please enquire with your lifestyle manager.
W Ibiza
Carrer Ricardo Curtoys Gotarredona, 37, 07840 Santa Eulalia del Río
W's Ibiza hotel takes inspiration from the bohemian atmosphere of the island.
Located in Santa Eulalia, in a quieter area known for its food and culture, W Ibiza has half a dozen design-forward dining and drinking venues, starting with the poolside WET Deck bar. After a creative cocktail, adjourn to the amphitheatre-style seating, multicoloured cushions, and ceiling mandalas at W Lounge, an all-day go-to for coffee, light bites, and DJ-soundtracked gatherings. You're on holiday, so finish the evening with more mixologist magic, accompanied by sea views at Glow rooftop pool bar.
Member benefit: Please enquire with your lifestyle manager.
IT Ibiza
Puerto deportivo Marina Botafoch, 110, 07800 Ibiza
A suave spot in Marina Botafoch, with impressive views all the way to the Old Town.
This Ibiza hotspot has served a suave cocktail of Mediterranean cuisine, stylish interiors, and carefully curated music since 2015, expanding from Ibiza's Botafoch marina to Mykonos, Milan, and beyond. The cosmopolitan clientele enjoys the waterfront terraces, with views of Dalt Vila climbing the hill above the yacht-lined harbour. The Italian menu designed by chef Nino Di Costanzo features numerous pasta, seafood, and steak mains.
Member benefit: Please enquire with your lifestyle manager.
STK Ibiza
Carrer de s'Illa Plana, s/n, 07800 Ibiza Town
Ibiza's top destination for world-class steaks.
With branches across the globe, this restaurant chain has done much to differentiate itself from traditional steakhouses. Gone is the usual gentlemen's club-style decor, replaced by a high-energy nightclub atmosphere, with DJs spinning tunes throughout the night. When it comes to the menu, expect a contemporary mix of steaks, cocktails, a raw bar, and a few vegetarian and vegan options.
Member benefit: Please enquire with your lifestyle manager.
Let us book your Ibiza trip for you – from our partner hotels with exclusive member benefits, to flights and itineraries, we'll make sure that you have a brilliant summer holiday. For more information about concierge and to book an exploratory call, explore our membership here.