Andrea Mullineux has a unique way of visualising her wine's components: 'I often associate tannins with shapes that define how the vines grow, such as boxier, more structured tannins from schist soils and longer, more angular tannins from granite soils,' she says. This is typical of the scientific artistic approach that inspired the San Francisco native to become a winemaker – growing up in a family of artists and scientists, who enjoyed wine with most meals, she was drawn to 'this wonderful world that combined the science of farming with the art of making something beautiful to drink.
A South African love story
Andrea Mullineux's journey from California girl to becoming one of South Africa's most revered winemakers was characterised not only by science, but also by some fateful encounters. The first was her husband, South African winemaker Chris Mullineux. She initially came to South African shores for an internship in the winemaking town of Stellenbosch, having worked in the Napa Valley for several years, but it was during a subsequent stint in the South of France that she met Chris.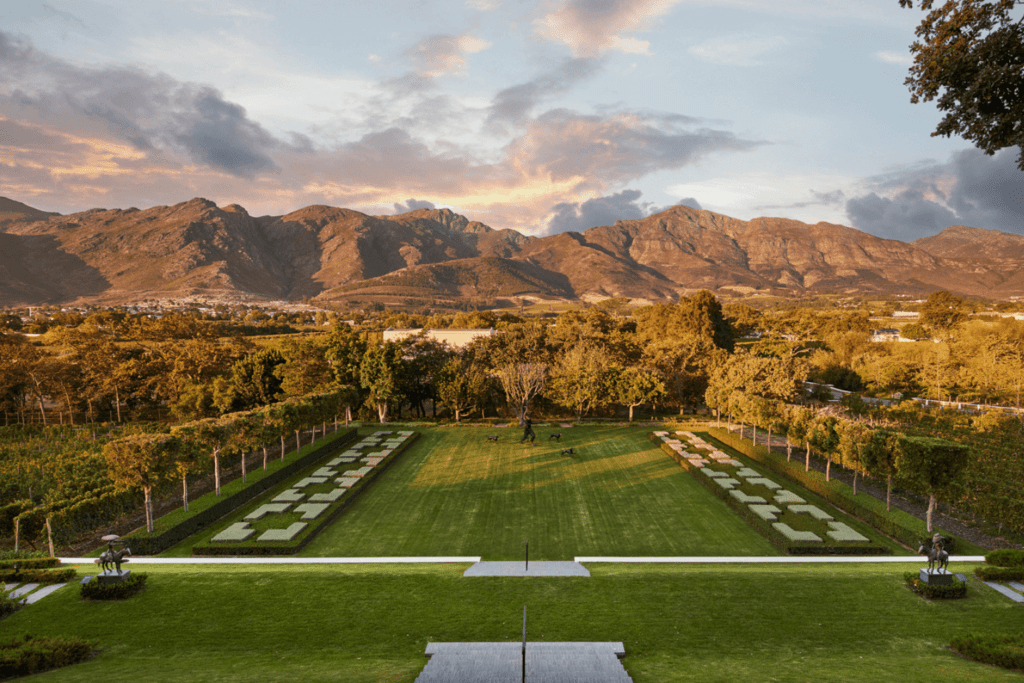 They returned to South Africa and founded Mullineux in 2007 in the Swartland, a rugged, deep-rooted region characterised by an undulating landscape of sprawling wheat fields, thriving vineyards and soaring mountains that, at the time, stood in the shadow of South Africa's more famous winemaking areas – notably Stellenbosch and Franschhoek.
The couple firmly believed that the granite- and schist-based terroirs had the potential to produce extraordinary wines, as Mullineux explains: 'The Swartland has a relatively warm, dry climate that favours natural farming, which allows us to make the wine with very little intervention. The region is also blessed with ancient, weathered soils and old vines that naturally give low yields – the perfect terroir for incredibly healthy, intense fruit.'
They focused on Swartland syrah and chenin blanc, blending vineyards from the Swartland's granite-, schist-, quartz- and iron-based soil types to express them in single-terroir wines, with a balanced intensity and authentic Swartland DNA. The resulting wines won them numerous accolades (including Wine Enthusiast's Winemaker of the Year, and being named Platter's Winery of the Year an unprecedented four times by the prestigious guide), and established Mullineux as one of South Africa's most noteworthy wine brands.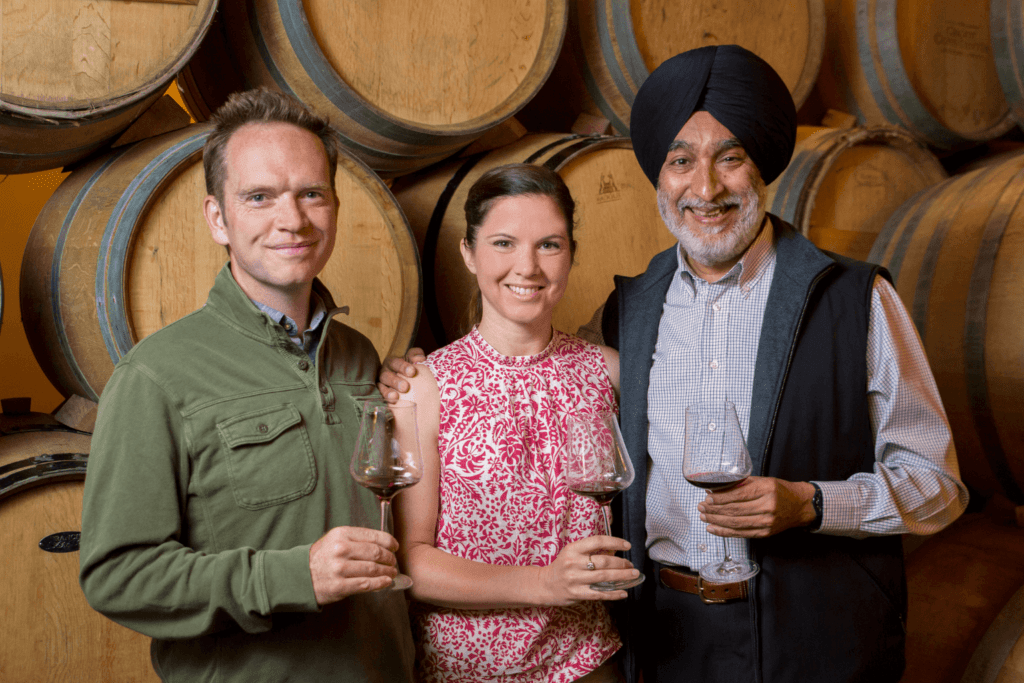 Fruitful encounters
The second chance encounter happened in 2013, when the Mullineuxs met Indian entrepreneur Analjit 'Bas' Singh, who had set his sights on developing Leeu Estates in the heart of Franschhoek, and was looking for a partner to build a winery. The Mullineuxs grabbed the chance to expand beyond the Swartland with someone who shared their no-compromise approach to quality and authenticity. Their subsequent partnership, and the renaming of the company to Mullineux & Leeu Family Wines, opened the way for new label Leeu Passant, based at the wine cellar on Leeu Estates in Franschhoek, which also features an elegant wine studio for tastings.
Andrea Mullineux explains that, while the farming and winemaking is broadly similar for both wineries, with natural fermentation, minimal sulphur and no other additives, 'For Leeu Passant, we're looking to express South African wine in a broader context – we want to bottle wines that speak of South Africa.' The multiregional fine wines incorporate old vineyards and take their inspiration from historic, age-worthy Cape red wines – with Mullineux de- and reconstructing the wines to create compelling cinsault, cabernet sauvignon and the dry red blend, as well as an excellent chardonnay.
A winemaker in her prime
Speaking to Mullineux, one senses that quiet confidence and a clear vision play an integral part in her success, as she confirms: 'I think it comes down to having a very clear idea of the type of wines we love and want to make, and focusing all our energy on that. From there it's easy – you just have to work very hard!'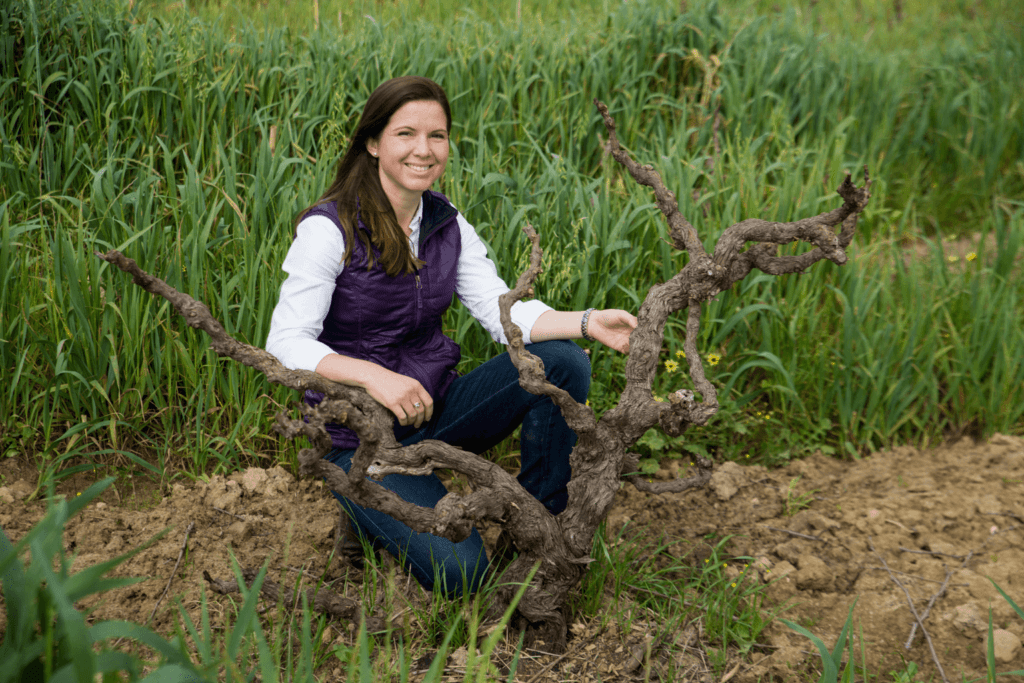 As one of only a handful of women who have been invited to join the esteemed Cape Winemakers Guild, does she think there are still challenges to overcome as a female winemaker in what remains a male-dominated industry? Yes and no. 'In many ways it is challenging, but I always believe that we should look at the opportunities that life presents. Being female gives me advantages over some of the guys in the industry, and I focus my energy on doing what I know I do well.'
As the South African wine industry emerges from the country's strict lockdowns, and the devastating effects of the prohibition of alcohol sales and the lack of tourism, Andrea Mullineux remains optimistic – and open to important new markets such as China, which she has approached through social media events. Between producing award-winning Mullineux and Leeu Passant wines, and connecting with both new and existing markets – not to mention looking after her two children – does she ever find the time to take a step back and just breathe? 'My veggie garden and cooking are my sanctuary, where I get to relax after a long day – it just feels natural and enjoyable to be there!'
Interview by Verena Neumayr-Howes
Andrea Mullineux may be one of South Africa's most revered winemakers – but she originally hails from California. Uncover more about California's craft wine scene here, which itself boasts a world-renowned wine country.