One of our most requested restaurants in London, Clare Smyth's CORE has been shattering proverbial glass ceilings by becoming the first three-Michelin-starred restaurant in the UK to be helmed by a female chef. Now she has launched her first international venture, Oncore by Clare Smyth at Crown Sydney. Unsurprisingly, it's already proving to be a trailblazing success.
Following a lockdown-induced delay that pushed its opening back from February to November 2021, debuted amid overwhelming demand – so much so that first-day bookings crashed the restaurant's website. And the anticipation hasn't subsided, with tables for February 2022 being snapped up within a mere 20 minutes of release.
Smyth lived and travelled in Australia early in her career and chose her 'home away from home' as the location for her first restaurant abroad. As the headliner of the newly opened Crown Sydney, the country's first six-star hotel, Oncore enjoys an enviable location on level 26 of the hotel's towering glass building in Barangaroo, with sweeping 180-degree views of the city and its harbour.

In a sign of our times, Smyth couldn't set foot in her restaurant during the launch, kept out by Australia's strict border restrictions. Not that you'd know – the chef confidently put her stamp on everything from afar, from New Zealand-born head chef Alan Stuart's assured reign (he worked with her both at Restaurant Gordon Ramsay and CORE) to the serene, elegant interiors, personalised playlist, and plates that are subtly ridged with her fingerprints.
The fact that Oncore is one of the most talked about restaurant openings to hit Sydney in years says a lot about Smyth's reputation. Clocking in at a good three-and-a-half hours, her seven-course menu goes against the food-obsessed city's recent shift away from expensive, lengthy fine dining. It's a bold move, its success testimony to the British chef's clout.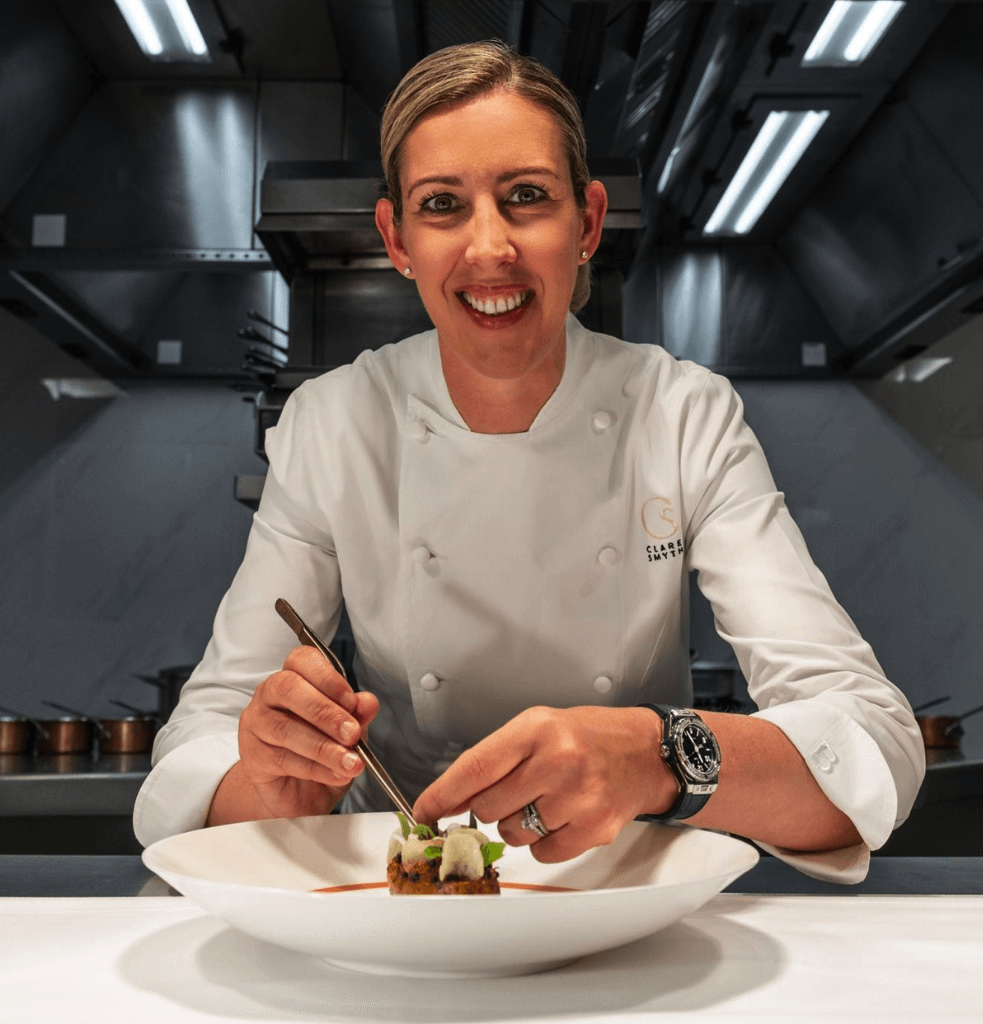 As for the food itself, Smyth effortlessly positions CORE's DNA within an Australian context, with striking dishes that focus on sustainable, local produce. Perfectly executed courses are presented with theatrical flourish – served on a bed of succulents and native flowers, or on a moss-covered log.
Fans of the London flagship will find much familiarity on the menu, not least a local twist on Smyth's signature dish, potato and roe. Harking back to her farming childhood in Northern Ireland, the dish elevates a humble New South Wales potato to new culinary heights, slow-cooked in kombu butter then topped with smoked trout and herring roe for a salty, flavour-packed hit. While the menu is set to evolve in line with the chef's arrival in Sydney, this much-loved classic is sure to stay put.
Our verdict? Dining at Oncore is a highly indulgent affair that already has Australia's food critics and epicureans enthralled – the Michelin guide won't be far behind.
Words by Verena Neumayr-Howes
Tables at Oncore are in high demand, but our local lifestyle managers in Sydney can help you get a reservation. Our Travel team is also on hand to plan your trip to Australia, with exclusive benefits at luxury partnered hotels.
Oncore by Clare Smyth
Crown Sydney, Level 26
1 Barangaroo Avenue
Barangaroo NSW 2000
Australia
Interested in becoming a member? Book a call here.
For more stories on travel and lifestyle experiences, visit our sister site here.